The worst part was the constant feeling of shame.
It clung to Kuneshia "Kiesha" Casey no matter where she went, all alone in an itinerant world of squatting on the streets of Seattle. After being consumed by addiction, she had lost her home, her 8-year-old son and her dignity.
"It's embarrassing for a woman to be out homeless on the street, to not have somewhere to sleep in, to not have someone to talk to or to cry with or to hug," she told ABC News in an interview. "It can be very difficult for her to walk around with her head up."
In June 2018, 10 months after she enrolled in a faith-based program and finally began to get her life back, Casey was back in the same neighborhood where she had reached one of her lowest points -- sleeping behind a Jack in the Box fast food restaurant and using its dumpster as a toilet.
But this time, she was not alone and not ashamed.
She was with a group of other women, laughing and joking together as they set up walls, hammered in nails, framed doorways and painted houses for the city's unique "Women4Women" project.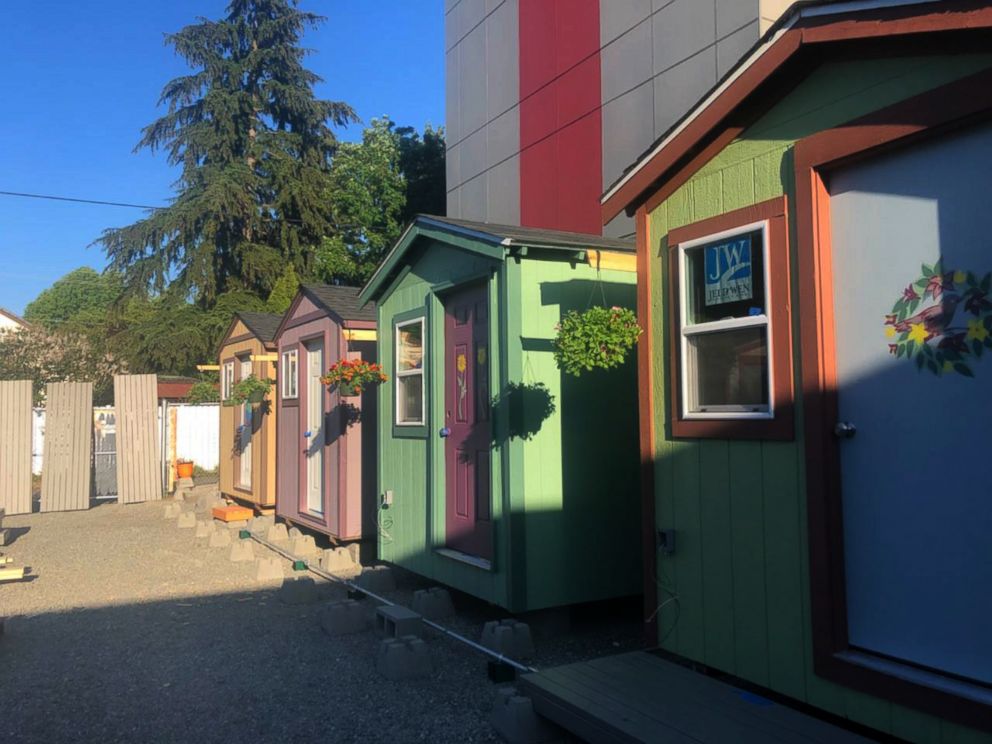 The project, run by the Low Income Housing Institute (LIHI), was to construct a "tiny house" village, one of many similar villages developed to fight Seattle's rising homelessness problem -- but with a twist.
In this village, the houses were exclusively for homeless women, and were built mostly by women.
"At first I was like, 'no I'm not going back there. It's a trigger,'" Casey said.
"That was the same place I became homeless, and where I began to abuse substances," she said. "But I felt like this is something I have to do because I stayed in one of those tiny homes projects before and I know how good it felt to me when I had nowhere else to go, when I was sleeping on the ground. So I decided to join the Women4Women project."
We loved the idea of the women coming here and getting tucked in, the idea that our sisters know that they're beautiful and cared for.
Casey even brought her son Juju to join in the project, a few weeks after she was once again granted custody of him.
In the tiny homes village, which opened last week, each house has about 96 square feet of space and is built to last about eight years, said Melinda Nichols, a longtime LIHI board member and one of the women who spearheaded the project.
"This is an emergency response because we're desperate," Nichols said. "We've got 12,000 homeless people in Seattle King County and we lose almost 200 of them a year. It gives me a sense of urgency that every house that we can put together and put someone in is going to help them have a better life.
"And if they have some stability in their living, if there's a fence around to protect them, they can go to sleep at night and not be afraid that they're going to be assaulted or lose everything they possess."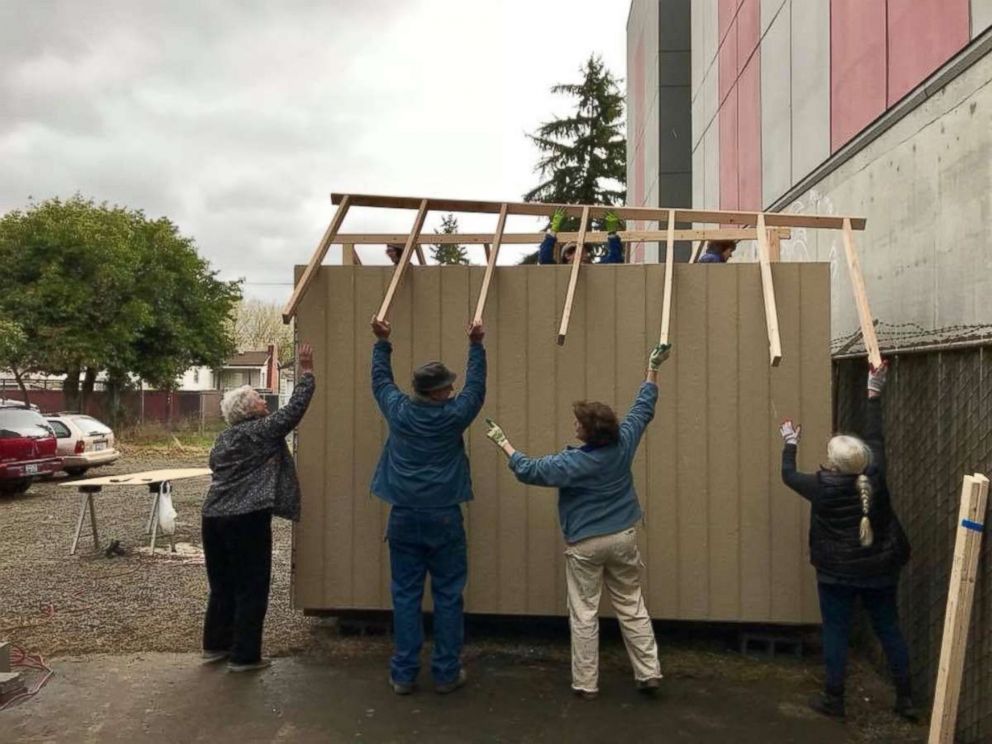 That's a fear Casey remembers vividly. One night, as she slept at her usual spot behind the Jack in the Box outlet, she awoke to the sound of a man walking up to her in the dark.
Terror kept her frozen until she felt her bag, nestled in between her legs, moving softly from underneath her. That's when she jumped up. She was afraid she would be attacked but even more afraid that her only possessions -- a toothbrush, toothpaste and a washcloth -- would be taken from her.
"To him it meant nothing, he would've thrown it away, but to me, it was everything I had, and I needed it every day," Casey said. "I was half awake and half asleep, scared for my life. I was so scared I peed myself."
Somehow she managed to drive the man away -- but the fear remained.
"It's never safe to be a woman and on the street because you're a vulnerable victim," she said. "Anybody can steal from you, rape you, hit you, beat you."
Studies have found that homeless women face a disproportionately high degree of violence and sexual assault, even at shelters.
They are often fleeing domestic violence and are more likely to have been victims of sexual abuse in the past, which makes them particularly vulnerable to mental health issues.
They also face unique problems, such as not having access to feminine hygiene products or a clean place to change them.
These are some needs that the tiny house village tries to fulfil for its residents, said Josh Castle, Community Engagement and Advocacy Director of the LIHI. The village is equipped with communal restrooms with feminine hygiene products. The area is fenced, has only one point of entry past a security guard and its perimeter is constantly patrolled.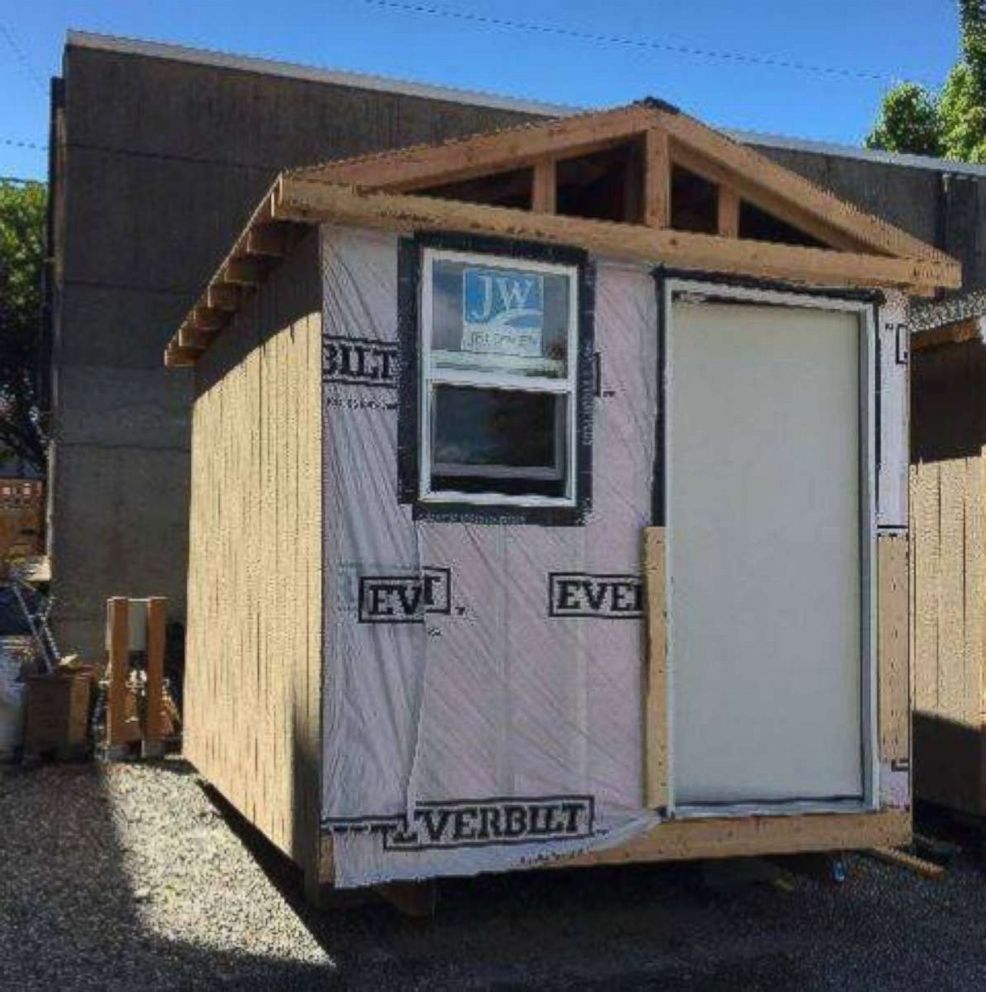 And what may go further in helping the residents of the village, said Casey, is having a community of women with similar troubles who can provide much-needed mental and emotional support.
"A lot of the women you hear screaming and shouting on the street, you think they're crazy," she said. "They're not crazy. Many of the women experiencing homelessness don't understand the position we're in, don't know how to clean up our act, because we don't know how to ask for help.
"We're too scared of being judged first," she explained. "So then we isolate ourselves because we are too embarrassed to be around other people and then we start to lose our minds. But having a lot of other women around going through the same thing makes it a little bit easier, makes us more open to asking for help because we know someone else is going through what we are going through."
But the Women4Women project's goal goes beyond helping women who are experiencing homelessness, said Alice Lockridge, one of the leaders of the project. It also empowers an oft-overlooked community -- that of tradeswomen.
Before joining the project, Lockridge had served for 30 years as a physical education teacher who helped women get physically demanding jobs, survive them and be successful at them. She said that in the male-dominated trades industry, these women are often undervalued and seen as impositions.
"During the week, people are telling them -- 'You're not doing it right. You're not doing it my way. You're taking a man's job. Why are you here anyway?'" Lockridge said. "We wanted to make a great working environment where during the weekends, they could come and volunteer and teach others and build each other up."
So she set up a Facebook page at the end of March and sent out requests to tradeswomen whom she had taught for 30 years, and soon enough, a steady stream of volunteers began to arrive at the build site every weekend: former students and their friends and friends of their friends, electricians and plumbers and carpenters and women with no trades skills at all, eager to build houses for other women who had never gotten the opportunities they did.
Melinda Nichols, who aside from being an LIHI board member was also a carpenter for 45 years and had supervised several other tiny house sites, said the atmosphere at this site was unlike any other she'd ever been on.
"On construction sites women will never be in the majority," she said. "It's always going to be 95 percent males at least. And when I'm supervising on those sites, most wouldn't pay attention to what I said."
"If I was standing there with a guy and somebody came up to ask a question, invariably the guy would look at the other guy instead of at me. So it was refreshing to be in a world where you are judged as an equal."
Nichols said enthusiasm for the project grew quickly.
"There were some women who started coming in March and then they didn't stop," she said. "They worked on it for two or three months, every weekend. And I think part of the reason was just was the camaraderie and the feeling of connection with the other women that were working."
Shannon Noel, a veteran painting contractor who has become the site's 'paint master,' said she bought and mixed the colors and taught everyone on the site to use them.
"It really was quite like the world you'd want it to be," Noel said.
And for her too, the energy and the devotion the volunteers brought to their work felt different.
"There was a nurturing motherliness about us all, even among those who weren't mothers," she said. "It was as if these were our children who had gone astray somewhere and were struggling to stay afloat, and we were working to give them some rest."
"We loved the idea of the women coming here and getting tucked in, the idea that our sisters know that they're beautiful and cared for."
Last week, about three and a half months after work on the site began, the row of pretty little houses was finally ready, with welcome mats laid out, the interiors decorated, the beds made.
There were unique little touches that the female workers had left: pots of blooming flowers hanging from every porch and hand-made artwork on the doors of the houses.
Their labor of love was complete.