— -- Floodwaters that inundated Houston, bringing the city to a standstill, were blamed Tuesday for at least five deaths, and statewide the disaster claimed at least 12 lives, authorities said today.
Houston Mayor Annise Parker did not identify the fatalities, but said that two were found inside vehicles and another was found in a bayou and police suspect that the individual suffered from a heart attack while trying to push their vehicle.
A fourth person was also found in a bayou, and officials said it is possible he was a man who was lost during a rescue attempt earlier today. Another man had a heart attack trying to push his car out of flood waters.
"Given the magnitude and how quickly it happened, in such a short period of time, I've never seen this before," said Rick Flanagan, Houston's emergency management coordinator.
There are still 30 people unaccounted for in Hays County, according to the latest figures from a Texas Department of Public Safety spokesperson.
"We have a thousand properties that have been visually inspected. We believe that there are as many as 4,000 with significant damage," Parker said this afternoon.
Overall the storms and flooding were blamed for 15 deaths since Friday, including four people who were killed in Oklahoma. Another 13 were killed in a tornado that touched down Monday in Ciudad Acuna, a Mexican town on the border with Texas.
Among the dead was Alyssa Ramirez, a homecoming queen and student council president who was driving home Saturday night from her prom in the small town of Devine southwest of San Antonio when she got stranded in high water. She called 911 and even called her father, but the flood waters rose too fast for her to be rescued.
Some of the underpasses in Houston that flood in normal rainfalls were the first areas affected when 6 to 11 inches of rain fell by early this morning. Parker said there have been more than 2,500 cars left stranded on highways and roadways.
Parker explained the rain created two problems: the first being that the ground was largely saturated and couldn't absorb all of the evening's rainfall because of "several weeks of really heavy rainfall." On top of that, the small rivers that surround and run through Houston began overflowing their banks and flooding neighborhoods.
"It's still a dangerous situation along the bayous, they're flowing very, very rapidly," Parker said.
A city official noted that they responded to 968 incidents overnight, 531 of which were water-related.
As a result of the rainfall and flooded roadways, the National Weather Service issued a flash flood emergency for the Texas counties of Harris and Fort Bend.
Texas Department of Transportation spokesman Danny Perez encourages area commuters to take the day off.
"We're just asking folks to, if you're at home, stay put," Perez said. "If you need to be on the roadway, make sure you're checking in with supervisors or whoever you need to check in with. It's not worth it if you can stay home."
The high water shut down the Katy Freeway eastbound and westbound at the 610 West loop.
Hundreds of homes are currently impacted by the flooding, Harris County Emergency management said.
The White Oak Bayou in Houston is rapidly rising and spilling over highways, currently at major flood stage and expected to rise to more than 40 feet, according to the National Weather Service. The last time the bayou crested to this level was during Hurricane Ike in 2008.
The Brays Bayou is expected to expand to 45 feet before receding, while the Keegans Bayor, which feeds into Brays Bayou, has reached record levels.
Those conditions caused some fans at Houston's Toyota Center to remain in their seats following Monday's Western Conference Finals basketball game between the Houston Rockets and Golden State Warriors.
Fans and players were asked not to leave the arena following the Rockets' 128-115 Game 4 victory.
When someone's phone beeped loudly with a flash flood warning during Rockets center Dwight Howard's postgame press conference he shook his head and said: "It's bad outside."
Howard stayed at the arena, hoping to wait out the storm.
The flash flooding follows a series of deadly, powerful storms across the southern Great Plains. Earlier Monday, a tornado ripped through Ciudad Acuna, Mexico, a city on the U.S. Mexico border, killing at least 13 people.
The deadly tornado was one of at least 15 reported Monday. It tore a baby from its mother's arms, ripped apart buildings, tossed cars and trucks around, in some cases leaving them standing on end.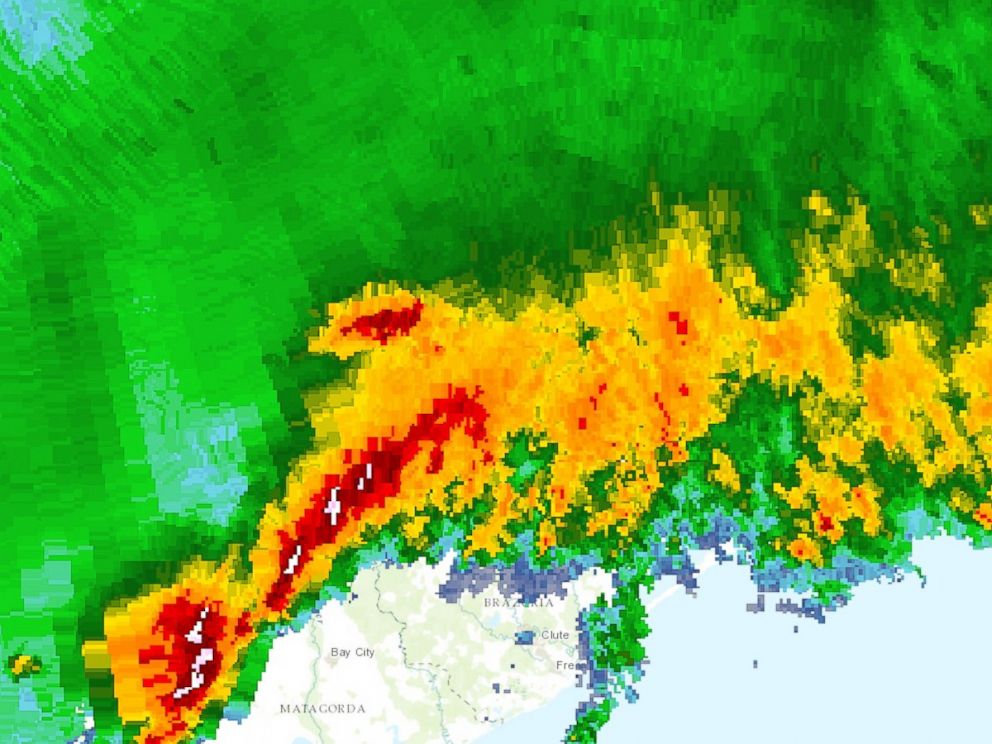 In weekend flooding that hit parts of Texas, one driver had to be rescued as the surge of water swept away his SUV outside San Antonio. At least five people were killed over the weekend as a result of flash floods along the Blanco River between Austin and San Antonio, officials said Monday.
Among the dead was 14-year-old Damien Blade, who was found with his dog in a suburban Dallas storm drain. Investigators said they apparently had drowned but their investigation continues. According to police, Damien's family reported him missing about 10 p.m. Sunday after one of his two dogs showed up alone at the house, wet and extremely muddy.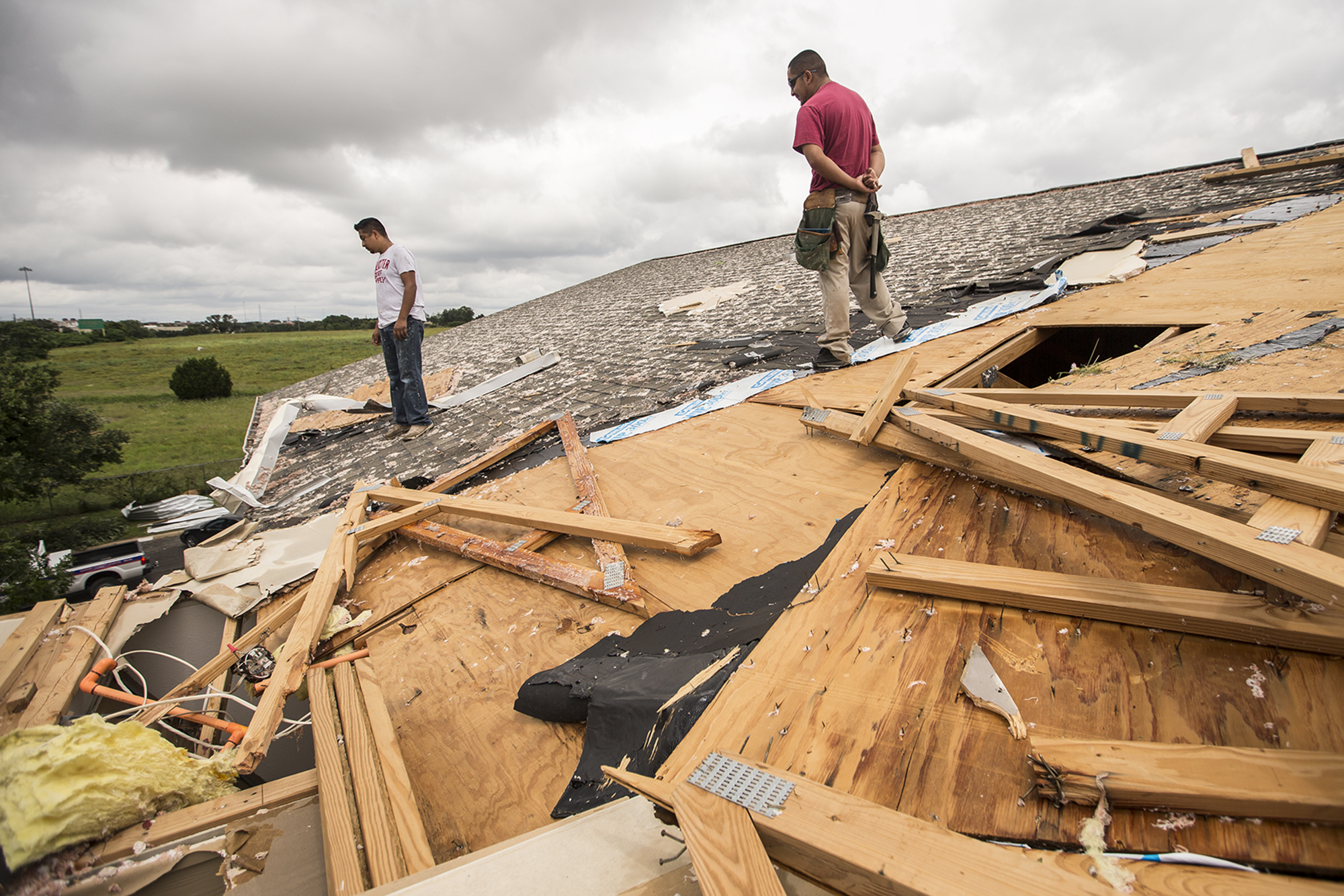 In the town of Wimberley alone, as many as 400 homes have been destroyed.
Texas Gov. Greg Abbott added 24 counties Monday to the list of those where he has declared a state of emergency, and he said with more rain in the forecast, he could add additional counties.
The weekend storms were blamed for three deaths, including two in Oklahoma and one in Texas, where a man's body was recovered from a flooded area along the Blanco River.