— -- Houston Mayor Sylvester Turner has imposed a mandatory curfew in the city from midnight to 5 a.m. in an effort to prevent potential looting, he announced at a press conference Tuesday evening.
The curfew is a "tool to assess the intentions of the people who are out there," Houston Police Chief Art Acevedo said, warning residents to stay off the streets during the curfew unless "absolutely necessary."
The Houston Police Department is going to stop assisting in search-and-rescue missions to focus on "going after criminals and keeping the good people of Houston safe," Acevedo said.
Turner also warned residents of people impersonating police officers going door to door in the Kingwood area, one of the areas hit hardest by flooding, and telling people there that evacuations are now mandatory.
Earlier in the day, Acevedo urged potential robbers to stay out of the city, promising to catch any criminals and "seek the fullest prosecution possible available."
Armed robbers and looters have been arrested amid the devastation left behind by Hurricane Harvey, Acevedo said.
Acevedo said that while Houston police have made over 3,500 rescues since the storm tore through the Houston area this weekend, wiping out homes and forcing evacuations, the department is still operating as a law enforcement agency and will not tolerate people victimizing others.
Eleven people have died as a result of Harvey, according to officials.
Among the fatalities announced on Tuesday by The Beaumont Police Department was a woman who died after the car she was driving in with her young daughter ended up in high water. She and her daughter exited the vehicle, only to be swept up into the canal. First responders rescued the pair, but the mother was unresponsive and died. The child is in stable condition.
"This is the state of Texas. We're a welcoming city, but we are not going to tolerate people victimizing, especially committing armed robberies in our community," the police chief said. "We're going to catch you, and I promise you this: We are going to push hard -- I've talked to the district attorney -- to seek the fullest prosecution possible available for any crime that is committed."
The police chief added, "Secondly, we're going to urge juries and judges to give you the toughest sentence that you can possibly get."
"So word to the wise: Don't come to Houston," he said, "because you're going to be caught. And I guarantee you when you take advantage of people and prey on them in these circumstances, that's despicable behavior and we're all going to push hard to make sure you don't see the sunlight anytime soon."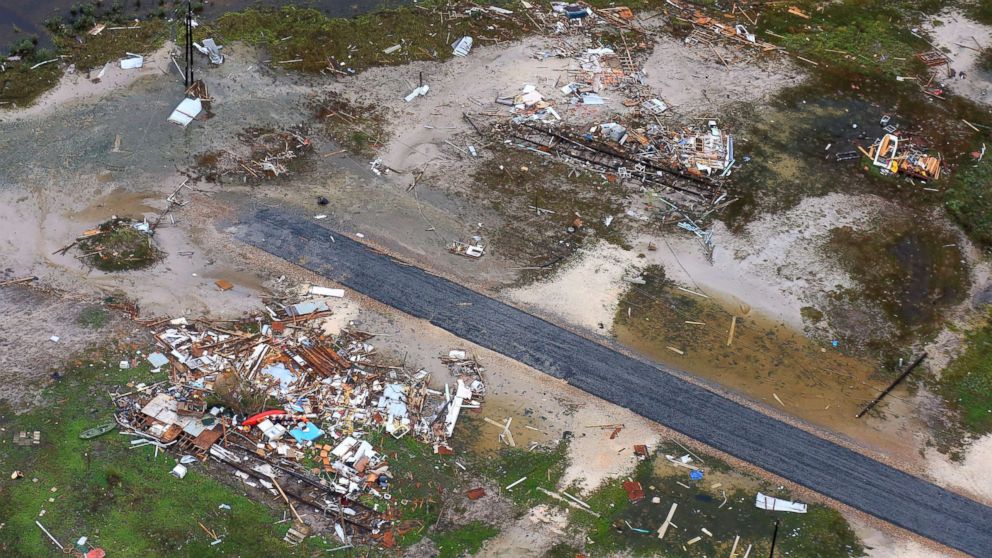 The Harris County District Attorney's Office said in a press release today that 14 looters arrested in the past two days "will face stiffer punishments under a Texas law providing heftier penalties during a crisis."
"Under Texas law, punishment increases for crimes such as assault, robbery, burglary and theft if they are committed in a county declared a disaster area by the governor," the press release said. "Burglarizing a home would normally bring a penalty of two to 20 years in prison, but now brings five years to life."
"People displaced or harmed in this storm are not going to be easy prey," Harris County District Attorney Kim Ogg said in the press release. "Anyone who tries to take advantage of this storm to break into homes or businesses should know that they are going to feel the full weight of the law."