Hurricane Andrew 25 years later: The monster storm that devastated South Miami
One survivor opened his kitchen cabinets to find fish spilling out of them.
— -- Imagine if Armageddon struck modern-day America, where once-busy roads are filled with silence, and destruction is visible as far as the eye can see.
Entire trailer parks are flattened. Facades of hotels have been completely ripped off. Rows of concrete telephone poles have fallen to the ground like dominoes. Looters begin taking to the streets to cause further chaos.
Hurricane Andrew: A look back
A day like no other, Aug. 24, 1992, was the day Hurricane Andrew wreaked havoc on southern Florida, leaving entire trailer parks flattened and rows of concrete power poles toppled. Tens of thousands of people were left homeless as the storm, known as the Big One, ripped through the area before moving west toward the Gulf and Louisiana. </br></br>A sailboat sits on a sidewalk at Dinner Key in Miami after it was washed ashore by Hurricane Andrew.
The day is August 24, 1992, and Hurricane Andrew, the last Category 5 hurricane to strike the U.S., had just wreaked havoc on the South Miami area early that morning.
The storm came to be known as "The Big One," according to the HistoryMiami Museum's website. While nearby areas remained relatively unscathed -- including the cities that were originally slated to fall under the monster storm's path –- South Miami neighborhoods experienced utter devastation that left hundreds of thousands of people homeless in Miami-Dade County.
The track of the storm
Earlier this year, National Hurricane Center meteorologist Daniel Brown created a report for the Florida Governor's Hurricane Conference detailing the track of Hurricane Andrew.
Friday, Aug. 14, 1992: Ten days before making landfall in Florida, Hurricane Andrew began as a tropical wave, which models detected off the coast of Africa.
Sunday, Aug. 16, 1992: The National Hurricane Center issues its first advisory detailing a tropical depression with 35 mph maximum sustained winds at 11 p.m. The storm has not yet been named.
Monday, Aug. 17, 1992: At 11 a.m., the depression becomes Tropical Storm Andrew, the first of that year's hurricane season. Maximum sustained winds are listed at 40 mph, with "some gradual strengthening possible" through the evening, the NHC alert reads.
By 11 p.m., winds continued to strengthen to nearly 50 mph as it heads west.
Thursday, Aug. 20, 1992: Tropical Storm Andrew weakens after interacting with an upper-level low in the Atlantic Ocean west of the Bahamas.
Friday, Aug. 21, 1992: Tropical Storm Andrew strengthens.
Saturday, Aug. 22, 1992: Two days before making landfall, Andrew becomes the first hurricane of the 1992 season after rapidly strengthening overnight. At 5 a.m., the center of the storm is located about 800 miles east of Miami.
At 5 p.m., the National Weather Center issues hurricane warnings for portions of the Bahamas and a hurricane watch for portions of Florida. The Bahamas government also issued a hurricane warning, which included the northwest islands of Andros, Eleuthera, Grand Bahama and Great Abaco.
Sunday, Aug. 23, 1992: At 8 a.m., the first hurricane warnings are issued for southeast Florida after Andrew becomes a major hurricane. The hurricane warning is in effect from Vero Beach to the Florida Keys, while a tropical storm warning is in effect north of Vero Beach to Titusville, Florida. A hurricane watch is in effect for the west coast of Florida, including the greater Tampa area.
At 2 p.m., Andrew reaches peak intensity with sustained winds of 175 mph as it makes landfall on the Eluthera and Berry islands in the Bahamas. The storm then heads toward South Florida.
Monday, Aug. 24, 1992: Just before 5 a.m., Hurricane Andrew –- now a category 5 storm -- makes landfall in southern Miami-Dade County near Elliot Key. At 5 a.m., the storm is 10 miles east of Homestead and 25 miles south of downtown Miami.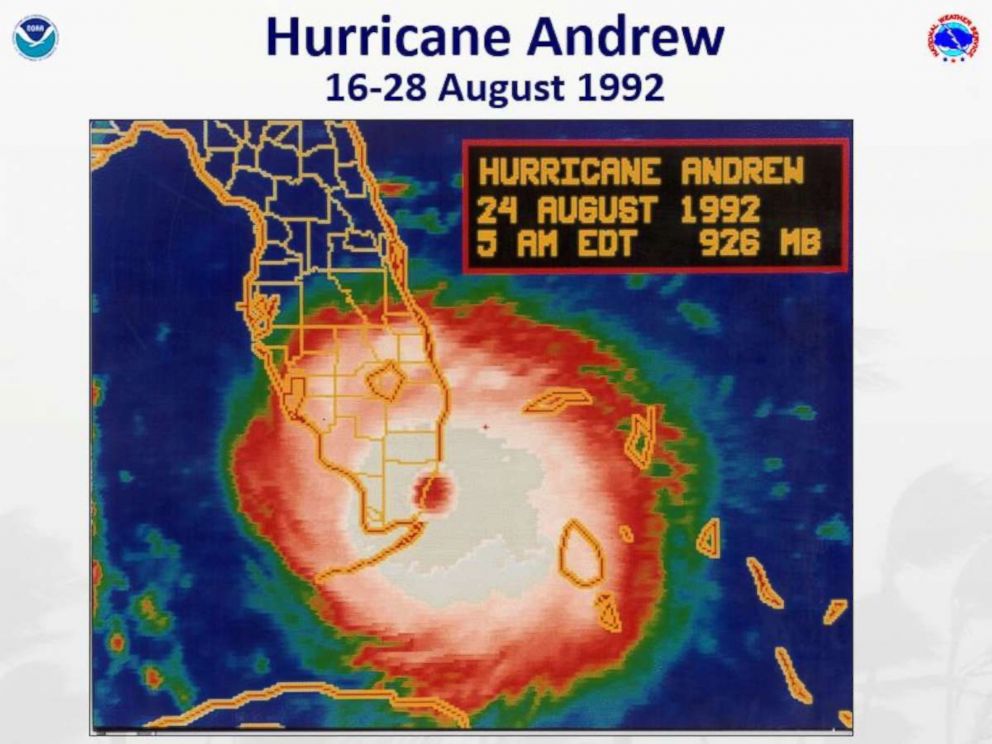 Wind gusts reached up to 177 mph in some areas before the instruments failed. Storm surge of 9 to 13 feet is possible in areas near Biscayne Bay.
The NHC says the storm will move across South Florida and exit in the Gulf of Mexico.
Everyone has a Hurricane Andrew story
Longtime South Florida residents of a certain age tend to divide the timeline of their lives into two categories: pre- and post-Andrew.
"Everyone remembers where they were before the storm, during the storm and after the storm," Jorge Zamanillo, director of the HistoryMiami Museum, told ABC News.
More than 18,000 people belong to a Facebook group called "I Survived Hurricane Andrew," where members share their experiences of how they weathered the storm as well as photos of post-hurricane destruction.
One of the most distinct memories survivors of the storm seem to remember is the deafening sounds of the hurricane-force winds as they howled in and out of homes.
"Each and every [survivor] story is riveting," said Erik Salna, associate director of the International Hurricane Research Center at Florida International University, who was working as a meteorologist for WBBH in Fort Meyers at the time. "Each and every story will captivate you."
Here are some incredible tales from survivors of the storm:
Bryan Petersen, 29
Fort Myers resident Bryan Petersen was only 4 years old when Hurricane Andrew struck, but he has a vivid memory of the flooding that destroyed his home near Lakes of the Bay in Miami.
Petersen and his family evacuated further north to escape the storm at a family friend's home. They returned to a "stump of a house," Petersen told ABC News.
"Not a single house was left standing [in my neighborhood]," he said.
The truck his family used for their landscaping business was in the "exact spot" where they left it, but "completely flipped over." The entire roof had been ripped off, and chest-deep water filled the home.
"I can remember being on my dad's shoulders ... and my feet were in the water when he was walking up to the house," Petersen said.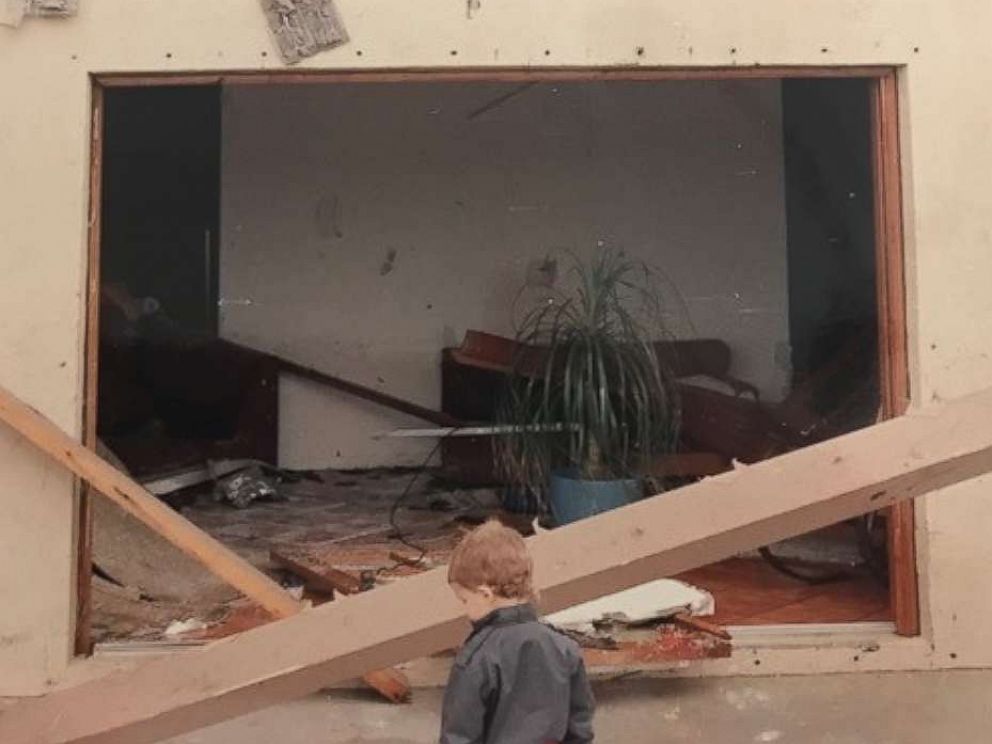 Fish poured out of the kitchen cabinets when opened, he said, and everything –- including the water -- was stained purple.
"It took me forever to figure it out," he said. The family later found a squid in the house and realized that it must have released its ink.
It took at least a year for Petersen's family to rebuild their home in the same spot. They still live there today, he said.
Steve Warner, 66
Steve Warner, a psychologist who recently moved to Cape Canaveral, said his home in Redlands, Florida was "right on the eye wall for the entire length of the hurricane."
"It was quite an experience," Warner told ABC News. "You gain a whole new appreciation for the power of nature."
Warner, 41 at the time, had hunkered down in his home with his wife, Judy, their 7-year-old daughter and 2-year-old son. His parents, two friends and their teenage son came to stay with them as well.
"We were inland," Warner said. "We were 'safe.'"
They were "well-prepared" for the storm, with hurricane panels and shutters already in place, Warner said. As the entire group was huddled in a double-wide bedroom closet –- using a mattress for extra protection -- Warner's mother turned to him to say she forgot her knitting.
Soon after, when Warner exited the closet to retrieve the knitting, he realized they may not make it through the night.
Warner said he watched in "utter disbelief" as the wind peeled off the Dade-county approved door panels he outfitted his home with one by one. The French doors leading to the backyard blew in, and rain began to come into the house horizontally, he said.
"When people say it sounds like a freight train, they're not exaggerating," he said. "The winds come with such force, that it sounds like there is a freight train coming through the house."
Warner then "hurried" back to the bedroom and spent the next two and a half hours -– along with his friends' son – with his back pressed against the door, holding it shut to protect the rest of the group from the terrifying winds. He was in "flight-or-fight" mode and thought they'd be safer that way, he said.
"I look over at my father, who has a cardiac condition, as he's kind of gray," Warner said. "I mean, it's terrifying. You just kind of feel like you may not make it through the night. There's nothing to compare it to."
Warner's son, only 2 at the time, slept through the entire ordeal, he said.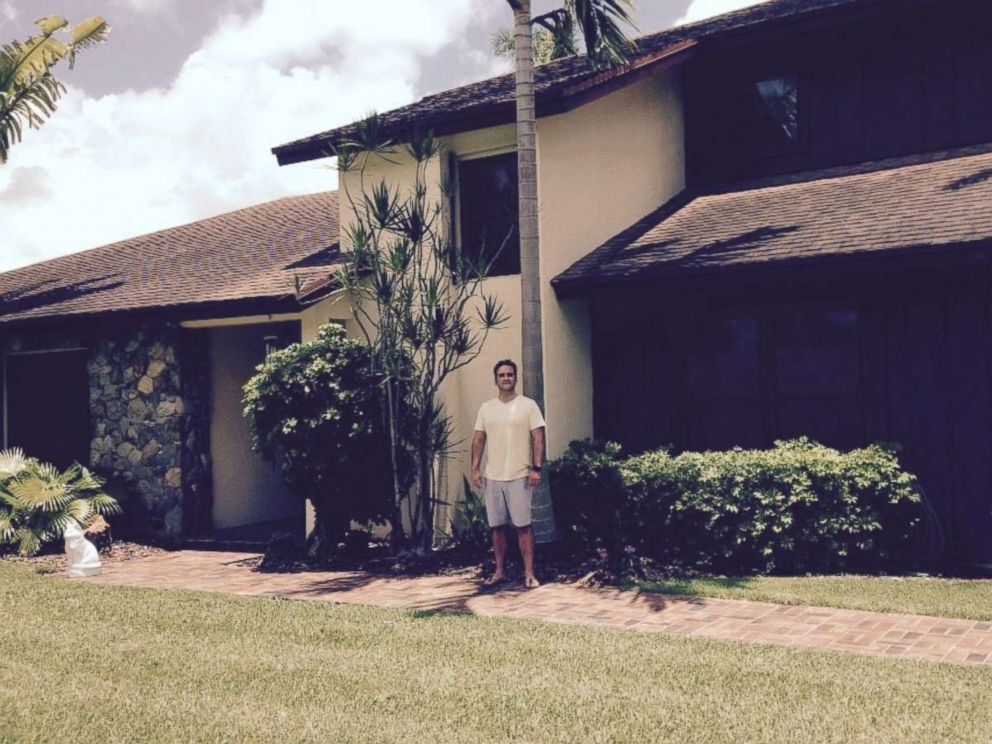 When it was over, the first sounds Warner heard were his neighbors calling out to see if everyone was OK, he said.
"We were very fortunate because my next-door neighbors were in the closet, and the closet collapsed," he said. The neighbors ended up being fine, he said.
Warner said he was so "shocked" at the amount of damage his house endured that he didn't want his wife to come out of the bedroom to see what happened.
"Everything was moved. Everything was destroyed," he said. "The paint came off the walls like sheets of wallpaper. I'd never seen anything like it before. The ceiling fan make a circular hole in the ceiling. The doors were blown off. ... The refrigerator had been pulled out of the kitchen. When you opened the door, we had seaweed in the refrigerator, and I know we hadn't bought any recently."
Even though every single cabinet door in the kitchen had been blown off, "every piece of china and crystal was untouched," Warner said.
The sedan owned by Warner's friends, which had been parked next to his garage, had been lifted, flipped over multiple times, and carried several hundred feet away to the end of their driveway, he said. The car's roof was completely dented in, but somehow it landed upright on its tires, Warner said.
Warner said he credits his home, which had been built with concrete blocks, for saving their lives. It was deemed untenable, so the family rented a home in Coral Gables for 10 months while it was reconstructed.
They sold the home just last year after 35 years of living there.
"We walked away form a category 5 hurricane, pretty much unscathed, physically," he said. "We love the house."
Marcie Lopez, 32
Marcie Lopez and her family weathered the storm in their home in Cutler Ridge when its roof "flew off," she told ABC News.
Lopez, who was 5 years old at the time, said she remembers that the hurricane wasn't supposed to hit her neighborhood directly, but it "shifted last-minute."
The family, which included Lopez's mother, father and 7-year-old brother, went from room to room attempting to hide from the winds, she said.
The howling winds were ripping off shutters and causing interior walls to shake, she said. They were in her parents' room when the roof detached from the structure.
Although she was petrified, Lopez said her father attempted to calm her and her brother by saying, "That's just the spirits helping us. They're moving furniture around, but they're here to help us."
The family lost "almost everything," but no one was hurt.
Lopez, who now lives in Homestead, said she and her family slept in the living room for about four months while their home was reconstructed. They went without electricity for three months.
At night, neighbors would switch on the headlights to their cars so there would be "some sort of light," Lopez recalled. Her mother would also find seashells all over the house, even though they didn't live near the beach, she said.
How local meteorologist Bryan Norcross calmed millions of people during the storm
When Hurricane Andrew's 165 mph winds blew out three of the four broadcasting towers in the greater Miami area, WTVJ-NBC6 meteorologist Bryan Norcross was propelled into local stardom.
"There was that one voice, and that voice was Bryan Norcross," Salna said.
Norcross' voice was on the air for 23 hours straight, Zamanillo said. No other broadcast outlets were open, and Norcross' station had made arrangements with a local radio station to carry a broadcast in case the power went out.
"Everyone was listening to Bryan Norcross," Warner said. "There was no question."
Through the hours-long duration of the storm, people listened to Norcross' ad-libbed advice on how to survive. As people were calling in hysterically crying, describing to Norcross the damage their homes were sustaining as the menacing winds could be heard howling in the background, Norcross had to come up with survival tactics on the spot, Zamanillo said.
Norcross, with his "calm, reassuring voice," told people to get out of danger's way by hunkering down in closets, bathtubs or a tight room with no windows, Zamanillo said. One of his most memorable instructions is when he instructed people to cover themselves with a mattress.
"Over the years, so many people are thankful that he said that one thing to protect themselves," Salna said.
"He helped them survive the storm," Zamanillo said.
As the anniversary of Hurricane Andrew approached, Norcross provided daily updates of how it developed on his Facebook page.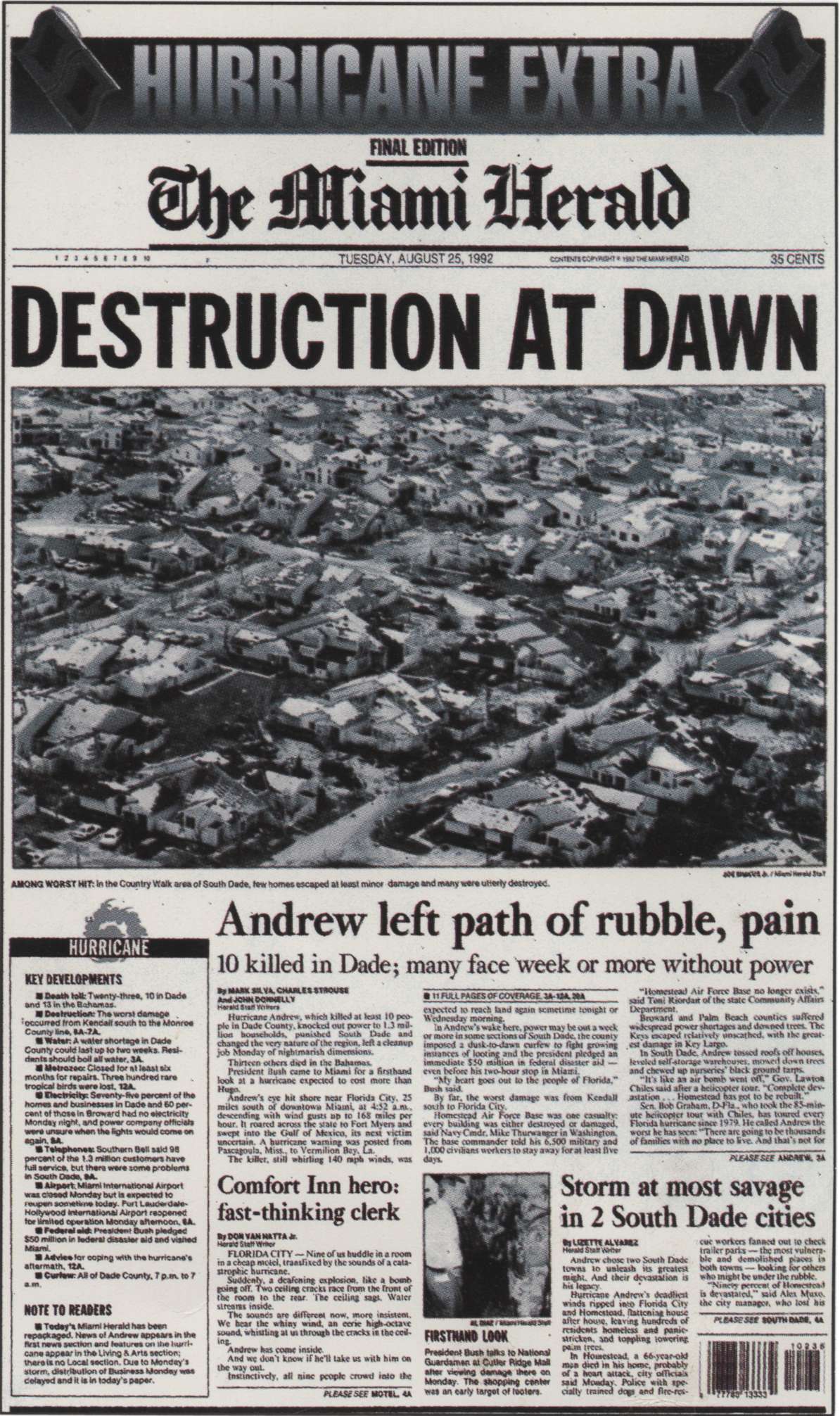 On June 1, the HistoryMiami debuted the commemorative exhibit "Hurricane Andrew: 25 Years Later." Zamanillo said he believes the most poignant part of the exhibit are the letters people wrote to Norcross, thanking him for helping them ride out the storm.
Admission to the anniversary exhibit will be free for residents of Miami-Dade County on Thursday and will run through Jan. 15. Norcross, who served as a guest curator for the exhibit, will be speaking at the anniversary event.
The aftermath of Andrew
The next day, Tuesday, Aug. 25, 1992, the front pages of local newspapers –- still printed in black and white -– recounted the horror that South Florida faced with headlines such as "Destruction at Dawn" and "Path of terror: Andrew wreaks havoc in S. Florida"
Areas south of Coral Reef Drive to Homestead were completely devastated, Warner recalled. North of Coral Reef Drive to Kendall experienced "a lot of damage" but not to the same extent, he said.
Video footage from the aftermath of Hurricane Andrew portray a bleak scene. Houses are either missing their roofs or reduced to piles of rubble on the ground. Boats have washed ashore. Roads –- littered with an array of downed trees and other debris –- have become impassable. The few trees that were left standing were completely bare of leaves.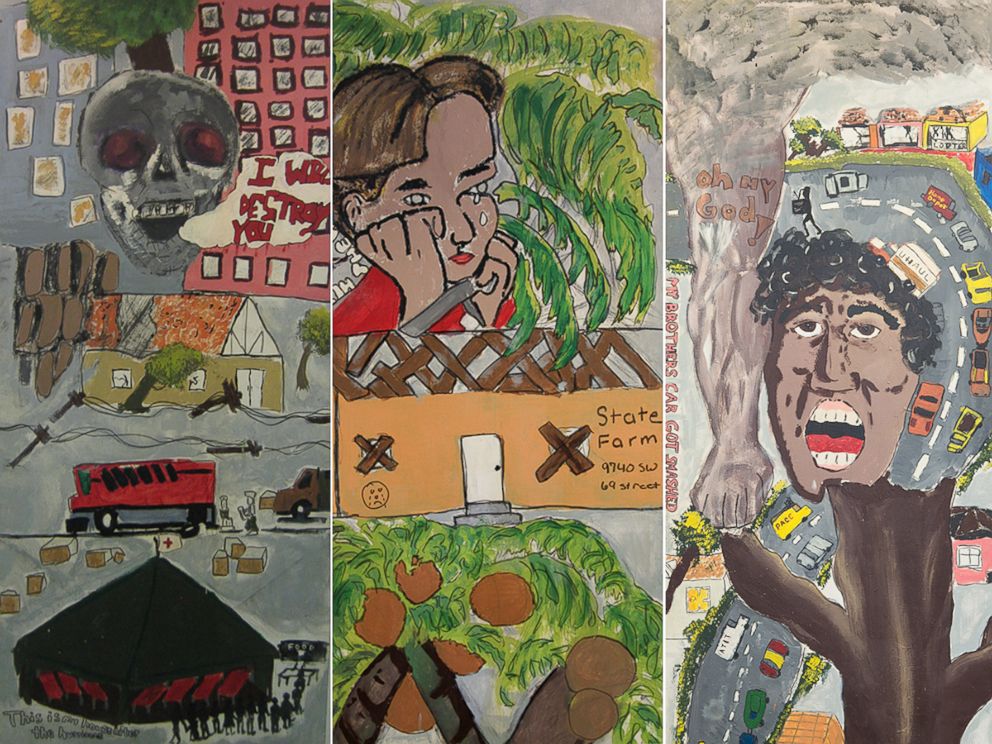 When Zamanillo drove to Homestead the next day to check on a relative, it was difficult to navigate his way south. There were no working street lights, no street signs and no landmarks. The farther south he drove, the more it was clear that there was "destruction everywhere," he said.
Salna said he remembers being in the newsroom in Fort Myers, which remained relatively untouched, when a wire from The Associated Press came in with only one line.
"All it said was, 'Homestead Air Force base is gone,'" Salna said. "We said, 'Oh my goodness. What does that mean?' It didn't take long for news crews to get down there, and then we saw what the damage really was."
Salna, who was 32 at the time, compared the aftermath of Andrew to a war zone. It was his first major event as a television meteorologist.
"All of a sudden you're hit with, 'Wow. That's the power of a category 5 hurricane.'"
Millions of residents were without power, some for months, Zamanillo said. Customers in Palmetto Bay, northeast of Homestead, were without power for about two and a half months, Zamanillo said.
The temperatures hovered in the 90s, and without working air conditioners, people took to the streets, pooling food that they cooked with gas barbecue grills, Warner recalled.
Wild animals ran rampant. Monkeys from Monkey Jungle escaped, as did parrots from Parrot Jungle, Zamanillo said.
The newly built exotic bird aviary at the Metro Zoo –- now called Zoo Miami –- was destroyed and later rebuilt, Zamanillo said.
"For years, I would walk around the neighborhood for exercise, and I would see flocks of parrots," Warner said. "I think those were the Hurricane Andrew parrots."
Warner called the experience "primitive."
"On some level it was compelling," he said. "You weren't about making a living. You weren't about getting to work. You were just worried."
As a result of the hurricane, Warner said that, despite his experience as a psychologist, he finally "truly understood the nature of trauma."
"It took years to kind of settle with Hurricane Andrew –- to kind of get over the trauma," he said.
Lopez said that, for some time, every time she heard a hurricane approaching, she would "freak out." She would even get scared during thunderstorms, she said.
Zamanillo said the museum's exhibit has helped survivors who were traumatized by the storm "cope ... to some degree."
"It was a story about a storm that really devastated these areas, and more importantly, how the community really bounced back," he said.
As part of the "Love Can Build Anything Project," school-age children who experienced the hurricane were asked to paint their feelings on door panels. Some of the panels now hang near Salna's office at FIU.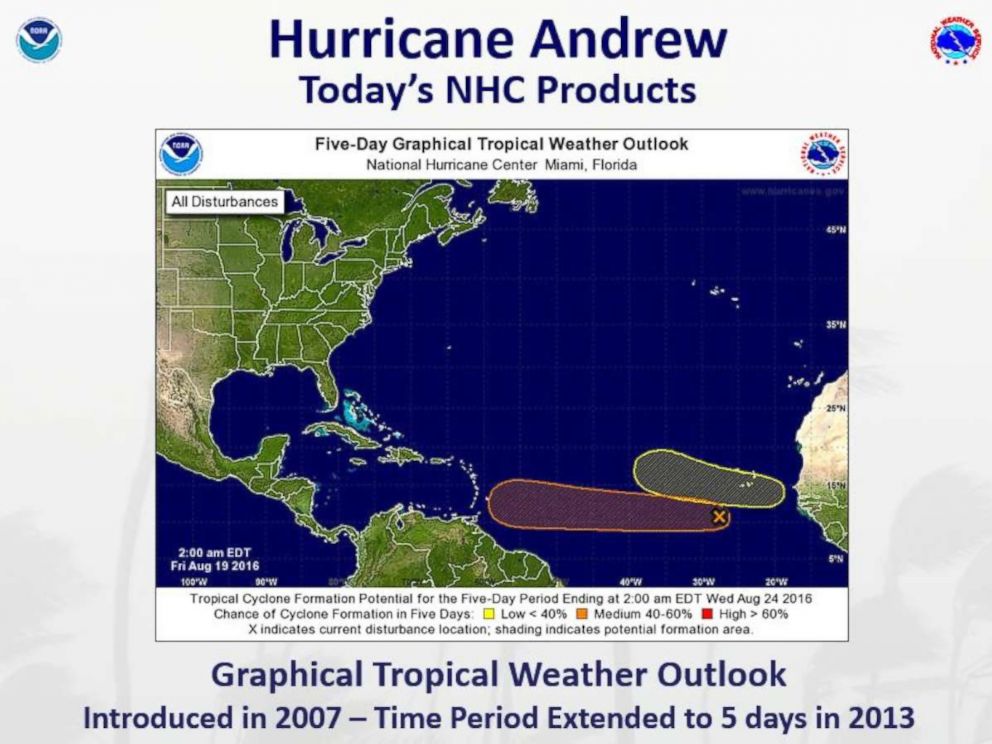 Hurricane Andrew by the numbers
Hurricane Andrew caused $26.5 billion in damage, making it the most expensive and most destructive hurricane on record in American history at the time, according to the NHC.
Now, it is ranked as the fourth-most expensive storm in recorded U.S. history, behind Katrina in 2005, Sandy in 2012 and Ike in 2008, according to the NHC.
Twenty-six deaths were directly associated with Hurricane Andrew –- including 15 in Miami-Dade County –- a relatively low number considering the vast destruction it caused to the landscape, according to the NHC.
The hurricane completely destroyed 63,000 homes and damaged an additional 100,000 homes, Zamanillo said. Ninety-nine percent of mobile homes in Miami-Dade County were destroyed, he added.
About 1.4 million customers lost power –- some for months, Zamanillo said.
Hurricane Andrew can also be blamed for the exodus of people from Miami-Dade County north to Broward County, near Fort Lauderdale, Zamanillo said. Thousands of people decided not to rebuild.
A total of 83,000 people left Miami-Dade County in the aftermath, according to a 1995 Sun Sentinel report based on IRS records. Broward County gained nearly 20,000 of Miami-Dade's former residents, the Sun Sentinel reported.
"Some of our neighbors just didn't come back," Petersen said.
Economically, the southern half of Miami-Dade County was "never the same again," after it lost one of its "true economic motors," the U.S. Air Force base in Homestead, Richard Olson, director of the International Hurricane Research Center at FIU in Miami, told ABC News.
The base employed thousands of people and was only rebuilt to a small fraction of its former size when it was converted into a base for the National Guard, Olson said.
"It was the economic keystone for Homestead, and it went with the hurricane," Olson said of the Air Force base.
The devastation could have been much worse
The area in south Miami-Dade County that was decimated by Hurricane Andrew is mostly rural and suburban, Zamanillo said. Had the storm stayed on course and hit farther north, it would have ripped through major metropolitan areas, including downtown Miami, Zamanillo said.
Warner recalls meteorologists predicting that the storm would strike "about a half degree north" into the Coral Gables area.
Had the storm not taken a "little jog south," it would have hit skyscrapers and other major buildings instead, Zamanillo said.
Hundreds of thousands more people may have been affected had the storm stayed north. In 1992, about 350,000 people were living south of Miami's Kendall Drive, the area that experienced the brunt of the destruction, according to the NHC. In comparison, 1.6 million people were living north of Kendall Drive.
Why people weren't prepared
The 1992 hurricane season was relatively quiet, exemplified by a letter "A" storm being named in late August, Zamanillo said.
Before 1992, the state experienced a decades-long hurricane dry spell, Salna said. Floridians hadn't seen a major storm since the 1960s, and there were a lot of false warnings since then, Zamanillo said.
"People took it for granted, and they didn't have warning," Zamanillo said of the short time people had to prepare.
Zamanillo, who was 23 years old when the storm hit, said he distinctly remembers the moment he found out that a storm was imminent. On the morning of Saturday, Aug. 22, 1992, he and his girlfriend –- who is now his wife –- were washing the car outside of their apartment in Little Havana. The next day, less than 24 hours before the storm hit, he was at his parent's house nearby, helping them nail plywood boards over their windows.
"Now, that wouldn't happen," he said, emphasizing that today people would have a four- to five-day window to prepare.
Even if there had been ample warning, before Andrew, the news of a hurricane brewing in the Atlantic was almost a cause for celebration.
"There was a prevailing culture of not taking hurricanes seriously until Andrew," Olson said.
Florida is a transplant state, Olson said. So, in addition to the life-long Floridians who had never been through a storm, millions of residents new to the state had "no idea" what a category 4 or 5 storm could do, Olson said.
Hurricane Andrew revealed the shoddy building practices and poor enforcement of building codes in South Florida
Country Walk -– a planned suburban neighborhood north of Homestead –- was a scene of utter devastation in the wake of the storm due to the shoddy construction practices used to build the homes, Olson said.
Roofs were attached to the homes with staples instead of nails, and homes were built with low-grade plywood, Olson said. The homes in Country Walk were built so poorly that a grand jury investigation looking into the construction practices was launched and there were talks of criminal indictments on the builder, Olson said.
Cheryl Lani Juarez, 62, who was living in Country Walk when Andrew hit, said the second floor of her home didn't stand up to the "three hours of horror."
"You could see the sky from the upstairs loft where the kids' bedrooms were," she told ABC News. "You could see where two pieces of wood were not connected by nails."
The same destruction was true for her neighbors. When she went outside, "it just did not look like our neighborhood anymore," she said. Asphalt shingles that had not been properly attached to roofs littered the street.
"You don't see that kind of stuff when you're looking to buy a house," she said.
The shortcuts in construction resulted from pressure to accommodate the population explosion in Florida in the 1970s and 1980s, Olson said.
"How do you build fast enough to handle that population growth?" Olson asked.
Building codes were not "rigorously enforced" because "that tended to slow down construction and raise costs," he said.
In terms of building codes, "Florida took Andrew as a lesson learned," Bryan Koon, director of the Florida Division of Emergency Management, told ABC News.
"It changed –- forever -- building codes and especially building code enforcement, which Andrew proved to be inadequate, incompetent or avoidant," Olson said.
At the time, the South Florida Building Code, which included Dade and Broward counties, had been considered one of the best in the country, but those standards were not adequately enforced, the Sun Sentinel reported.
After Andrew, the state worked on building codes and better enforcing them, Koon said. Today, "you'll see that buildings will stand up better against hurricane-force winds," he said.
The building practices in Country Walk were so infamous that Juarez's friend, an architecture professor at FIU, asked if he could bring his students to see the remainder of her home, she said.
Warner's parents had only lived in Country Walk for about two years when their home was "totaled," he said. They were so traumatized by the storm that they "wanted to put it behind them" and sold the damaged structure before moving back to the West Palm Beach area.
How forecasting has improved since Hurricane Andrew
The ability to forecast storms has improved greatly in the past 25 years and gives residents and emergency managers additional -– perhaps invaluable -- time to prepare for a dangerous storm, Brown said.
The first hurricane warning for Andrew was issued a mere 24 hours before it hit, making preparations challenging for those who heeded the warning and almost impossible for those who missed or ignored it. The forecast also showed the storm making landfall several hours later than it actually occurred, Brown said.
"Folks only had one day to really complete all of their preparations," Brown said. "Back then, forecasts were only out three days. Now, the hurricane forecast is out five days."
A flurry of technological advances -– including observational tools, satellites, new tools on tracking aircraft and advancements on numerical modeling -- make it easier for meteorologists to more accurately track the storm.
In 1992, the NHC did not produce any graphical products, Brown said. One of the most recognizable graphics today is the cone model, which shows an approximate representation of coastal areas under hurricane threat, but was not introduced until 2001.
Wind speed probabilities weren't introduced until 2005.
When the NHC's graphical tropical weather outlook was introduced in 2007, it was able to provide a probability of a tropical cyclone formation in the next two days. In 2013, the technology was improved to provide a probability over the next five days.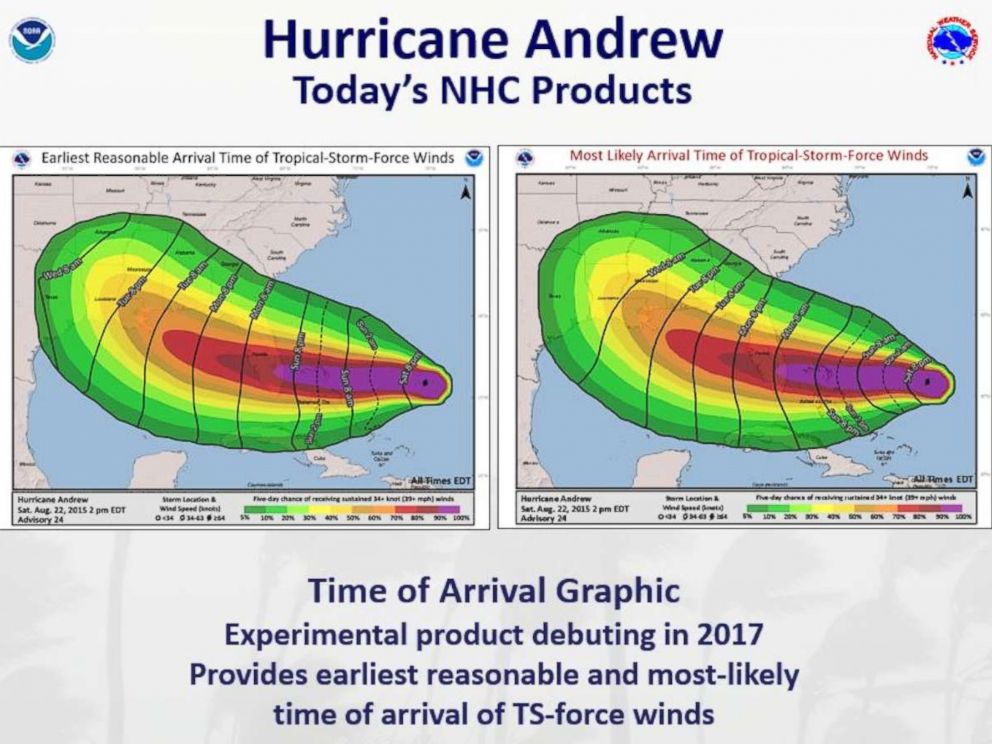 In 2010, storm watch and warning lead times have since increased to 48 hours and 36 hours, respectively, before the arrival of tropical storm-force winds.
In 2015, a potential storm surge flooding map was introduced, and in 2017, a storm surge watching and warning graphic became operational after the NHC tested it out in the 2016 season. This year, a graphic showing the estimated time of arrival of tropical storm-force winds has debuted as an experimental product.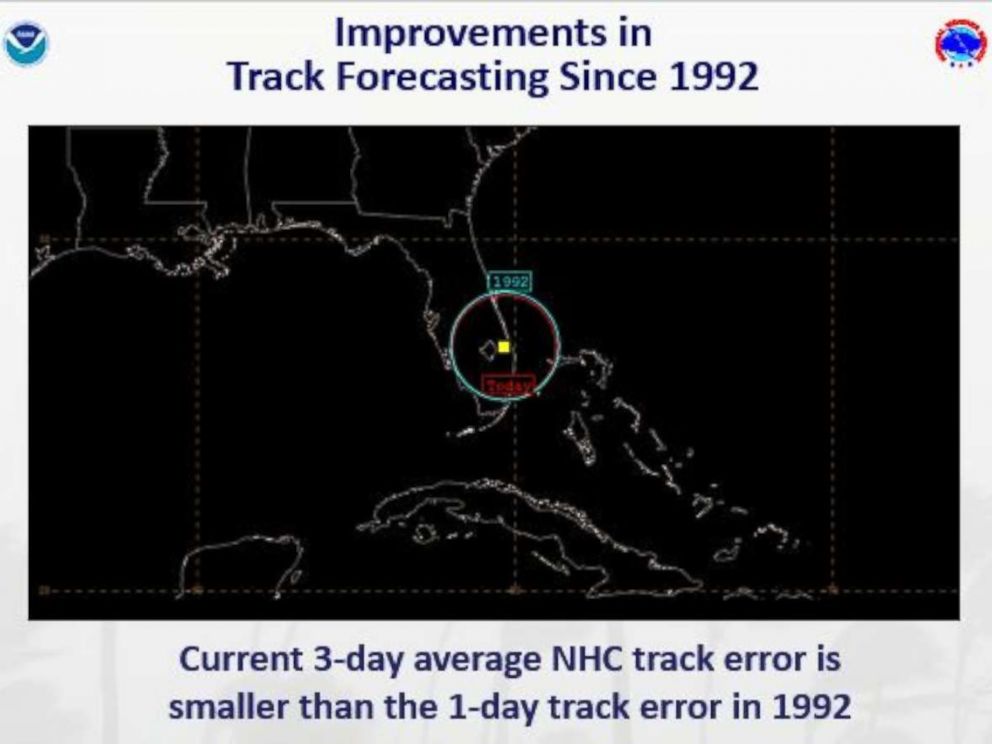 An NHC graphic shows just how far forecasting has come in terms of accuracy in the last 25 years. The average error in 1992 versus today has been cut in half, Brown said.
Still, there is room for improvement. It is still difficult for the NHC to predict rapid changes in a storm's intensity. When Hurricane Matthew was developing in the Atlantic in October 2016, it went from a tropical storm with 70 mph winds to a category 5 hurricane with 165 mph winds in just 26 hours, the NHC said.
Andrew: a lesson in the importance of hurricane preparedness
After the storm, as aid was slow to arrive to South Florida, then-Dade County Emergency Management Director Kate Hale famously asked, "Where in the hell is the cavalry on this one?"
Preparedness and response procedures at the local, state and federal levels have improved so "tremendously" since 1992 that emergency managers hope that "the impact from such a storm today would be lessened," Koon said.
With improvements in funding and regular hurricane practice exercises, "officials at every level know what their role is," Koon said.
Every year in May, officials hold a state-wide hurricane exercise involving all state and county agencies as well as partners from the federal government, Koon said.
At the onset of a big storm's approach, officials immediately activate the emergency operation center in Tallahassee to start setting up shelters and gather food, water and supplies, Koon said.
The biggest concern for emergency manager is focusing on life safety, which includes making sure people understand what the hazard is and where they can get away from that, Koon said. These warnings include telling people to get away from storm surge and strong winds, he said.
"We can rebuild community, houses, roads, but we can't rebuild lives," Koon said.
The next concern after a big storm is damage assessments, getting people into shelters and restoring power, Koon said.
Since 1992, the state's utility companies have spent billions of dollars to strengthen the power grids' infrastructures so that the "power will stay on for more people during the storm" and to ensure a speedier recovery effort for those who do lose power, Koon said. The plans and processes continue to evolve over time.
Throughout the year, the NHC works closely with emergency managers, who make the evacuation decisions and advise residents what they should do to prepare, Brown said.
Florida is now the country's leader in emergency management and preparedness, Salna said.
Technology: a catalyst for hurricane preparedness
Even informing the public of the onset of a storm has changed drastically since 1992.
News traveled much slower 25 years ago. Without social media, smartphones or the internet, residents had to rely on television and radio for their news, making it easy to miss information. The NHC website hadn't even been developed until the late mid-1990s.
"You had your radio or television," as well as the brick Motorola cell phones, Zamanillo said.
In 1992, without graphics from the NHC, a meteorologist had to rely on a paper map to show viewers where the storm may hit, Koon said. Today, residents "can get information instantaneously over their cell phone," Koon said.
Decision-makers are now able "to give information to people about the storm in real time," Koon said.
Since 2011, the NHC has been using its social media accounts to keep residents informed on the potential threats that come their way.
"The improvements in forecasting and really overall in the warning and communication process has really helped to get the public prepared," Brown said.
Why Andrew was different from other hurricanes
Andrew was a relatively small hurricane considering how much damage it caused, Zamanillo said.
It wasn't a "Katrina-sized storm," he said. It was rather "tight" and "compact."
"The outer bands didn't stretch out and cause as much damage as it could have," he said.
The path of destruction was "very narrow," Salna said.
Areas like Broward County to the north and Naples to the west were "almost like, 'What hurricane?'" Salna said.
The storm also wasn't a very "wet" storm, Zamanillo said, which is atypical for hurricanes, which usually pose a large water threat.
In the case of Andrew, the dangerous winds were the culprit for most of the destruction, Zamanillo said.
"There's kind of a false lesson about Andrew," Olson said. "As a result of being through Andrew, people forgot that most hurricanes are about water, not wind."
That notion was corrected after Hurricane Katrina in New Orleans and Hurricane Sandy in the Northeast, Olson said.
"Only now are we seeing a correction that hurricanes are about storm surge and flooding," Olson said.
It's important that people who are threatened by an oncoming hurricane "hide from the wind and run from the water," Brown said.
ABC News' Emilie Richardson and Jeff Swartz contributed to this report.