With Hurricane Earl barreling toward the East Coast, President Obama signed a disaster declaration late Wednesday night for North Carolina, clearing the way for federal aid to help supplement state and local efforts and resources.
Earlier, both North Carolina and Virginia have declared states of emergency.
Coastal residents from the Carolinas as far north as Cape Cod are on high alert for Earl, which returned to Category 4 strength this afternoon, packing maximum sustained winds of 135 mph. Earl had been downgraded to Category 3. Officials said they expect "fluctuations" in the storm's force in the coming days.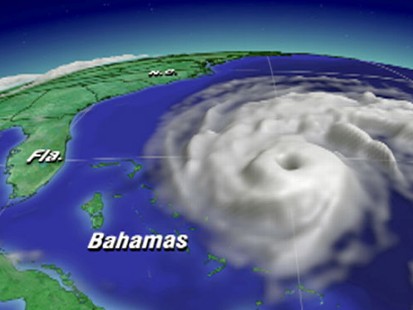 No matter the label, Earl is expected to pack a wallop. The National Hurricane Center warned that Earl could send water rising 3 to 5 feet along coastal areas.
With Earl tracking northwest, North Carolina Gov. Beverly Perdue declared a state of emergency today, and officials have ordered mandatory evacuations in parts of the state. The storm could hit the North Carolina coastline by late Thursday.
The storm, 400 miles wide, is still forecast to skirt the eastern coastline, but state officials worry it could change its mind.
"There have been times when people have sworn to us that it's not going to touch us, and within three hours, it's right on top of us," Perdue said today.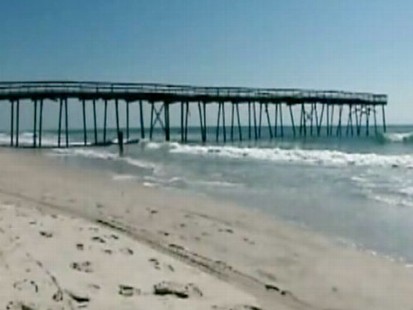 Federal authorities are sending supplies in case of an emergency. The Federal Emergency Management Agency (FEMA) announced this afternoon that 300,000 ready-to-eat meals as well as bottled water and generators are being sent to North Carolina in anticipation of an emergency response. The supplies are expected to arrive by Thursday. The Department of Health and Human Services also has two medical assistance teams already on standby in the state.
In Dare County, N.C., officials this morning ordered a mandatory evacuation for all visitors to Hatteras Island. This evening, they ordered the island's approximately 5,000 residents out, too.
Hyde County Manager David Smitherman ordered an evacuation this morning of Ocracoke Island, N.C., a barrier island accessible only by ferry.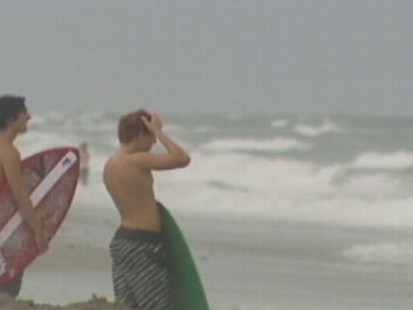 In other parts of North Carolina, the chief of police ordered visitors to leave Atlantic Beach, and strongly suggested residents leave, as well.
State of Emregency in Virginia
Virginia Gov. Bob McDonnell also declared a state of emergency Wednesday in anticipation that Earl could shift and head for coastal communities as early as Thursday night.
"The current forecast has Hurricane Earl passing east of Virginia later this week. However, a change in the storm's path could bring hazardous weather conditions to eastern Virginia," McDonnell said in a statement. "This declaration is a precautionary move which will allow state agencies to be ready just in case resources are needed."
The state's coastline already is under a hurricane watch.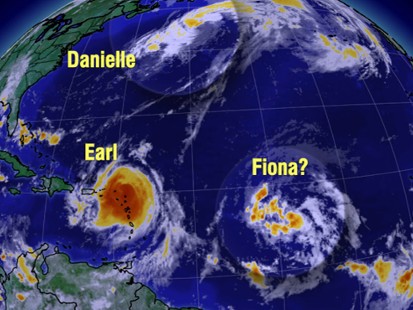 The emergency designation authorizes various state agencies, from the Virginia National Guard to the Department of Emergency Management, to "position resources and manpower" ahead of the storm.
The U.S. naval fleet in Norfolk, Va., is remaining in port, but is under orders to be ready to get underway within 24 hours if necessary.
Storm Disrupts Air Travel
The high winds and heavy rains are also expected to disrupt air traffic along the east coast through the Labor Day weekend, with many flights delayed and others canceled.
"To avoid inconvenience, travelers may wish to delay commencement of their trip," Continental Airlines said in a release today.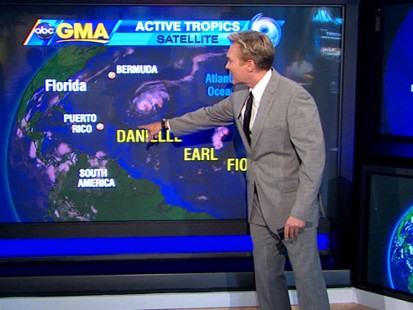 Will the Northeast Need to Evacuate?
Officials in the Northeast have activated emergency centers to monitor the storm closely to determine whether evacuations are needed, and FEMA has also dispatched disaster supplies to Westover, Mass. which will arrive Thursday.
"We are watching like a hawk, day by day, hour by hour," said Steve Levy, chief executive for Long Island's Suffolk County, in New York.
A powerful hurricane such as Earl could affect Long Island, which has about 900 miles of coastline and about 2.7 million people.
New Jersey officials plan to be extra vigilant as the New Jersey shore has more than 1.5 million people.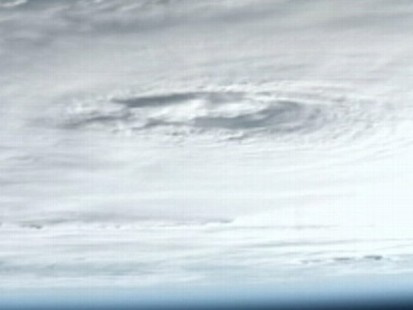 In Cape Cod, there are more than 200,000 full-time residents and more people are expected to be in the area this holiday weekend.
The biggest fear for officials now is not enough fear.
Joe Williams, commissioner of emergency management for Suffolk County, worried that people are not taking the situation seriously.
"They are still saying, 'What storm?'" he said.
In 1991, Hurricane Bob hit the Northeast and killed 18 people. The infamous hurricane of 1938 left an estimated 700 dead.
On "Good Morning America" today, FEMA Administrator Craig Fugate advised residents along the east coast, and particularly those people visiting from out of town, to have a disaster plan in place and heed evacuation orders.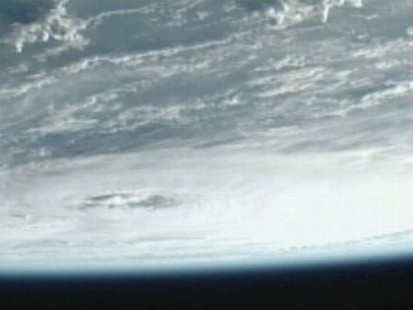 "You need to make sure you know where to go when you need to go," he said.
Hurricane Earl Lashes Caribbean
The hurricane already has torn through the Caribbean with winds up to 135 miles per hour.
Strong winds flipped over an airplane and tore the roofs off homes in Puerto Rico.
In St. Kitts, waves continued to pound the shoreline as residents used barriers of sandbags to protect their homes.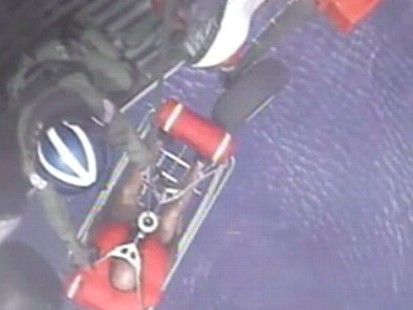 High winds in St. Martin toppled trees and split some in half, and a once popular fishing port in Virgin Gorda was destroyed.
In Antigua, fallen trees blocked roads and homes were flooded as nearby rivers overflowed.
"A couple boats sank. There was a lot of wind and a lot of rain ... a lot of the streets are flooded, a lot of the villages are flooded out," said Atiba Warner, who witnessed the unfolding scene in Antigua.
ABC News' Michael S. James, Gerard McNiff, Steve Osunsami, Bradley Blackburn and Lee Ferran contributed to this report.
Residents can monitor the hurricane's location on the National Hurricane Center's website.