A new tropical storm formed off the coast of Chetumal, Mexico, Sunday and it could develop into a hurricane with a direct impact to the Gulf Coast later this week.
Tropical Storm Michael had maximum sustained winds were at 60 mph at 8 p.m. Eastern time and it was located 140 miles south-southwest of the western tip of Cuba. It was moving north at 5 mph and was expected to continue in that direction through Wednesday.
Tropical storm warnings are in effect for Mexico's Yucatan Peninsula, including Cancun, and western Cuba, where tropical storm conditions will develop overnight.
The overall forecast track has shifted slightly east, but the Florida Panhandle to the Big Bend remains the most likely region for a landfall at this point.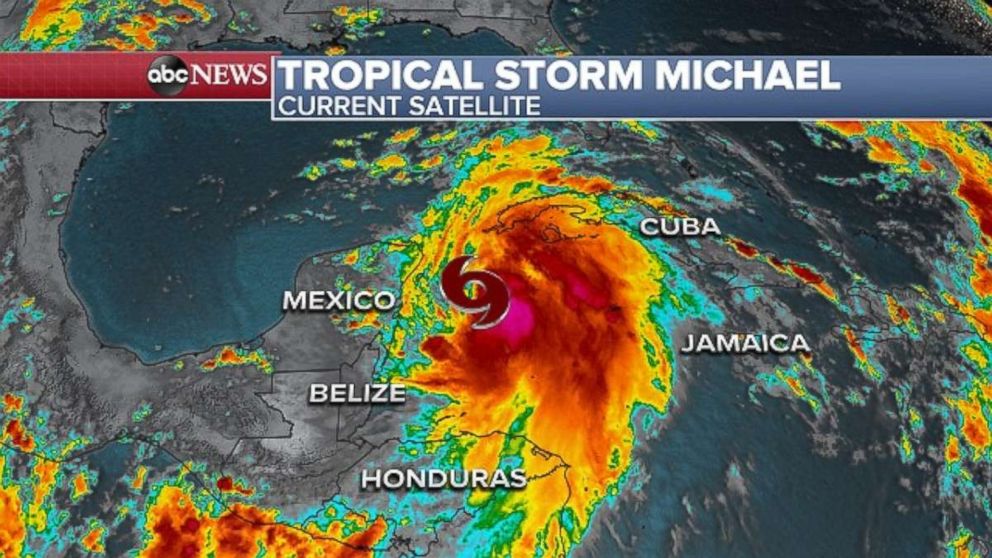 Florida Gov. Rick Scott declared a state of emergency in Florida Sunday night in the Panhandle and several northern counties, warning the storm could be "life-threatening and extremely dangerous."
Rainfall amounts in parts of Central America and western Cuba will range from 3 to 6 inches, with up to 1 foot possible locally. The Florida Keys will begin to see some rain from the outer bands of this depression late Sunday and into Monday with totals reaching 2 to 4 inches.
As the storm moves through the Gulf of Mexico, it will likely begin to strengthen because of very warm waters and relatively weak wind shear. The current forecast track has the depression becoming a Category 1 hurricane by early Wednesday morning and likely bringing storm surge, rainfall and strong winds to the Gulf later this week. It's possible the storm could even be Category 2 by the time it makes landfall.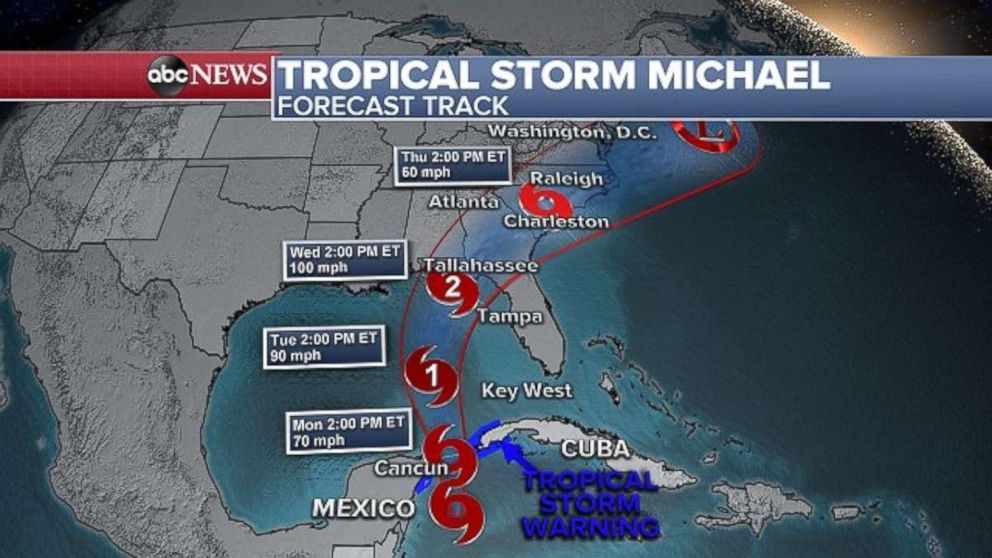 It seems that after the storm makes a potential landfall, it will quickly race north and east. At this time it is too early to indicate what potential impacts this could have to the U.S. East Coast.
Heavy rain in central US
A very active weather pattern will bring several rounds of heavy rain to the central U.S. over the next few days, which could lead to flash flooding, as well as severe weather in parts of the Plains, and even snow to the Northern Rockies and Plains.
Several rounds of thunderstorms and heavy rain are once again developing in the Plains and Midwest on Sunday morning. This set of storms comes after heavy rain fell in parts of the same region on Friday and Saturday. From Kansas to Michigan, 24-hour rainfall totals range from 1 to 3 inches. Radar indicates that these same areas are still receiving rain and will continue to do so throughout the day. Flash flood watches are in effect from western New Mexico to Nebraska.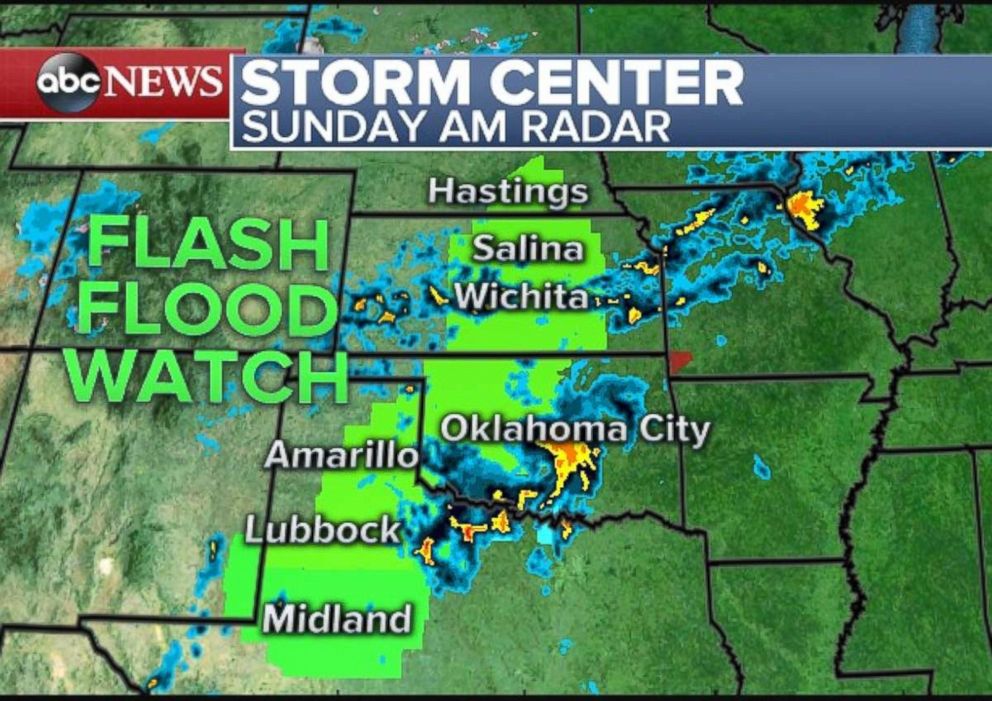 Heavy rain and strong thunderstorms will be likely across much of the central U.S. by Sunday night, especially in Oklahoma and northern Texas. Colder air coming in from Canada will cause some precipitation to fall as snow in the Northern Rockies and near the Black Hills in the Northern Plains.
By Monday morning, nearly the entire central U.S. will see very heavy rain and possible strong storms. Also, the first widespread snowfall is expected from Colorado to parts of North Dakota.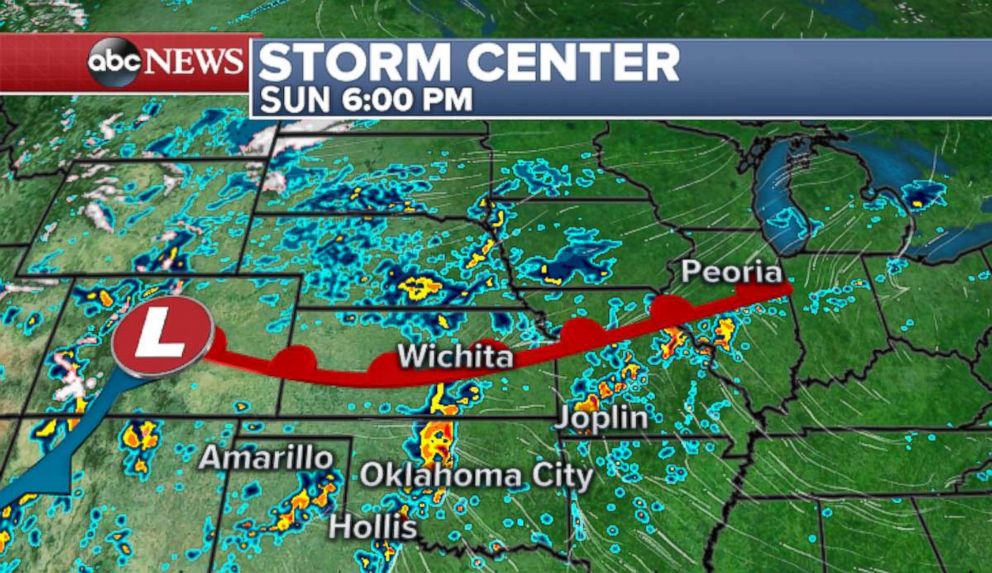 The storm moves slightly east on Monday night and brings another round of strong storms and heavy rain to parts of the Southern Plains. The storm will pull much colder air down from Canada and bring heavy snow across the Rockies and into the high plains of Wyoming, Nebraska and South Dakota.
On Tuesday, the severe threat will move into more-populated areas from Dallas to Des Moines, Iowa. There is the potential for severe thunderstorms in this region, with very strong winds, large hail and possible tornadoes.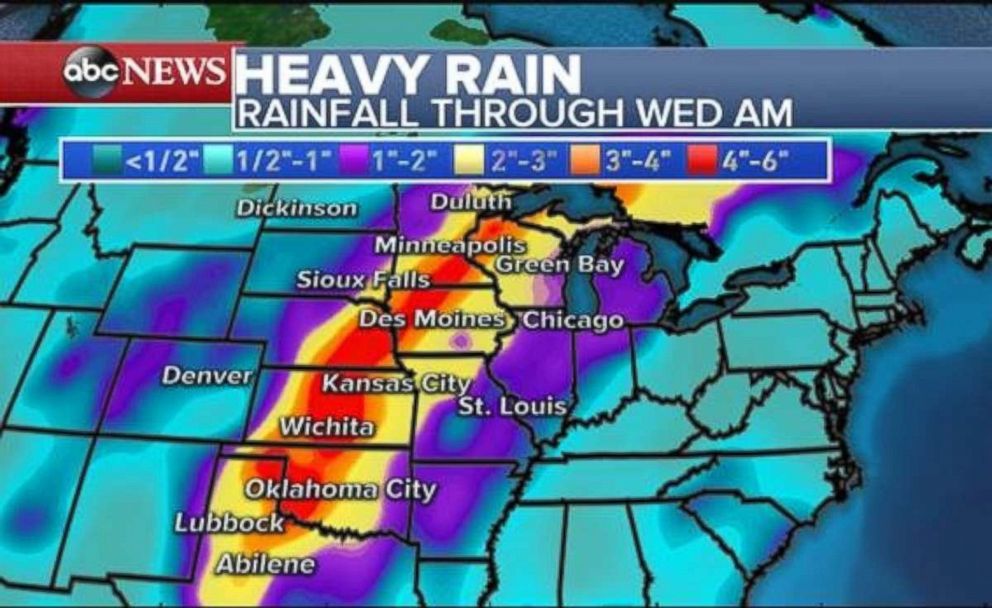 Due to several rounds of very heavy rain, much of the central US could see nearly 3 to 6 inches of rain through Wednesday. This will cause possible flash flooding. Meanwhile, the Rocky Mountains could see snowfall totals of 3 to 6 inches.