— -- There are many remarkable rescue stories and acts of kindness coming out of Texas in Hurricane Harvey's wake, with hometown heroes braving the floodwaters in everything from boats to big rigs to jet skis.
People are banding together to help where they can. The powerful visuals of these heartwarming moments have lifted people up in these times of peril and will continue to do so as the entire state moves toward recovery.
Here are highlights of the incredible acts of kindness coming from flood-ravaged southeast Texas.
Nick Sheridan drove nearly 200 miles with his big rig to help rescue those stranded in the floodwaters.
With the help of two other truck drivers, the three of them rescued more than 1,000 people.
"It's been something I hope I never experience again just because it's hard to see," Sheridan said on "Good Morning America" today. "We worked together. We drove through the streets in teams so that if one of us got stuck we had each other to keep moving because you can't see where the gullies are. One of the tractor trailers went into one and almost rolled over so I used the front of my truck to pull him out of the gully because you can't see where the curves are. It's tough."
Sheridan told "GMA" he was inspired to take action because he's previously served in the military.
"My whole life I've kind of been in that civil service role, but being on my own gave me the ability to go where they needed me rather than be stationed to go direct traffic on a street corner or something like that," he said. "I was really able to put my equipment to use here being a freelance rescuer."
Take part in Disney's Day of Giving: To support people impacted by Hurricane Harvey, call 1-855-999-GIVE, donate at www.RedCross.org/ABC or text "HARVEY" to 90999 to make a $10 donation.
Realtor Stephanie Fry offered up her own apartment to families who have needed a place to stay.
"People walking down the streets with backpacks, trash bags of clothes and babies on their backs. It's really hard for everybody right now," Fry told ABC News while fighting back tears.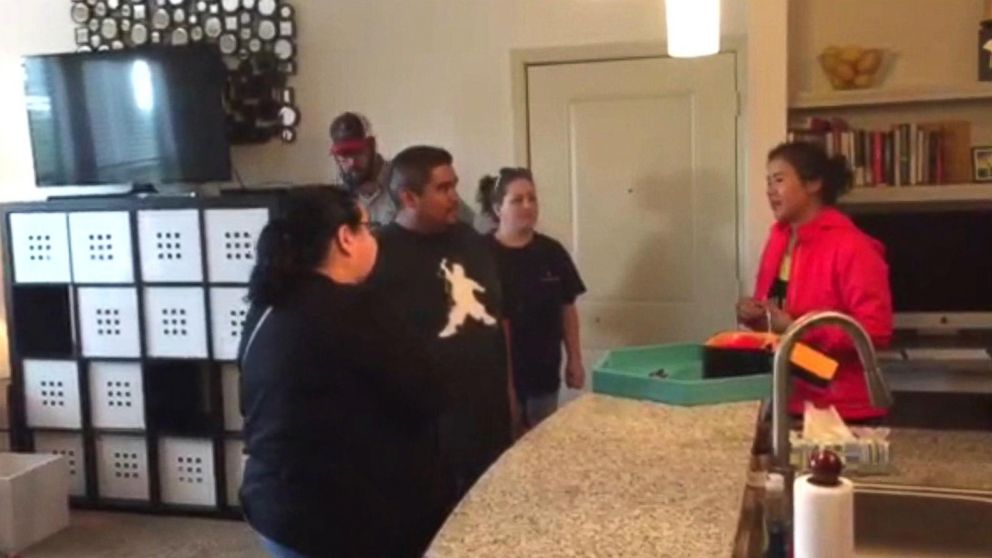 She then told one of displaced families staying in her apartment to call or text her if they need anything.
"I really mean that," she said as tears streamed down her face. "I'm right down the street. I'm right here for you guys."
Team Rubicon, a nonprofit composed of a group of military veterans, is helping people get to safety.
ABC News' cameras were there when the group came across a family of seven and brought them one by one to dry land in a boat.
"Lack of information I'm worried about," Roe Burns, one of the Team Rubicon members, told ABC News. "Lack of communication. Because water is getting ready to rise and these people don't want to leave their homes."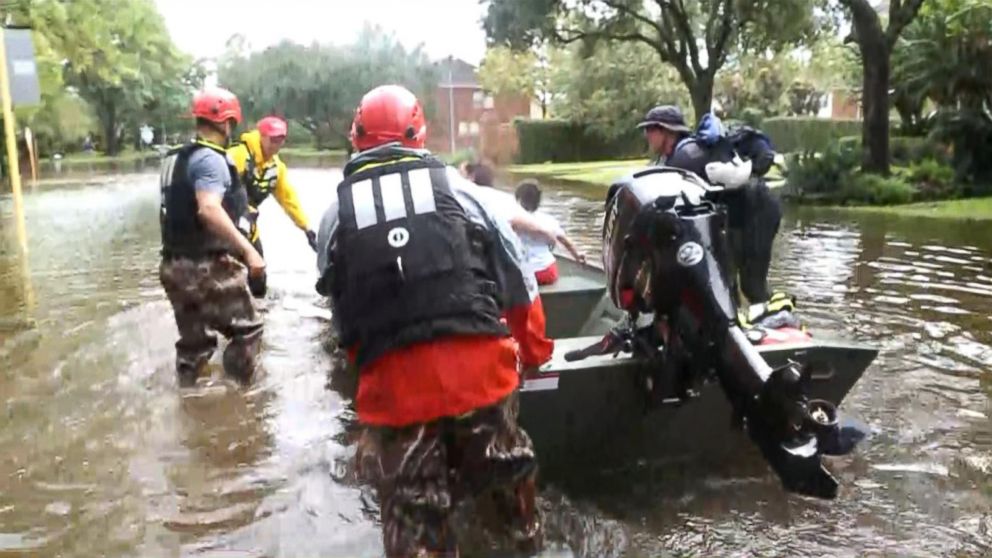 Jim "Mattress Mack" McIngvale, owner of Gallery Furniture, has opened several locations across Houston to help shelter the displaced.
"I decided we'd open the store and make it a shelter for all the people who were disaffected," McIngvale told ABC News. "We have these giant 24-foot box trucks that can get through 5 to 6 feet of water. We sent 'em out, picked up about 200 people. They were stranded on bridges, they were stranded in convenience stores, they were walking through the water with snakes and alligators, and we brought 'em out here."
McIngvale said he's not concerned at all about his merchandise and still plans to sell it after the storm.
"We'll have a Harvey floor model sale, or something. I'll come up with some shtick," he said with a laugh. "These people are nice. They're taking care of the furniture. Furniture's made to be sat on, slept on, laid on, whatever. It's just a product. It ain't gonna hurt it."
Since Sunday, Gallery Furniture estimates they've had 400 people staying at both stores. It's also become a crash pad for the national guard who have been deployed to the area.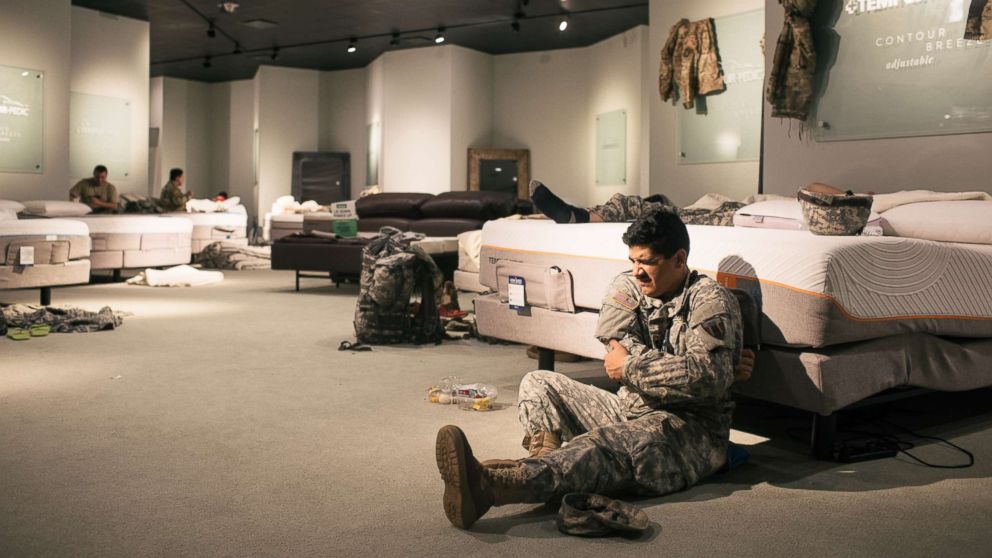 McIngvale said his thinking throughout this ordeal was, "to hell with profits, let's take care of the people."
"This is the right thing to do. That's the way I was brought up," he added.
His daughter wrote on Facebook that she's not surprised by her father's selfless act.
"Dad, it doesn't surprise me you opened the stores to our fellow Houstonians, you would give your last breath for another, but it still amazes me how selfless you are," Laura McIngvale Brown wrote in part.
Bakers at El Bolillo Bakery in Houston baked as much bread as they could to deliver to those in need.
The bakers could be seen hurriedly working to serve enough bread to the droves of customers stocking up before the storm hit.
This group of neighbors formed a human chain to help a man escape from his flooded car.
Mark Holmes, a Houston Fire Department paramedic, worked a nearly 50-hour shift assisting with Harvey relief efforts.
His wife, Linda Holmes, snapped this touching photo of the moment he came home, welcomed by his children's warm hugs.
Arlys Bing was rescued by this giant truck from the flooded Omni Hotel in Houston.
"He is my wife's grandfather," Wouter de Wet wrote to ABC News. "I was in town on business and went to visit him over the weekend. After the airports closed we were trapped and rode the storm out together until we were rescued from the flooded Omni Hotel. His house is completely flooded and he lost everything. We are all just glad he is okay. He has lived in Houston for 49 years."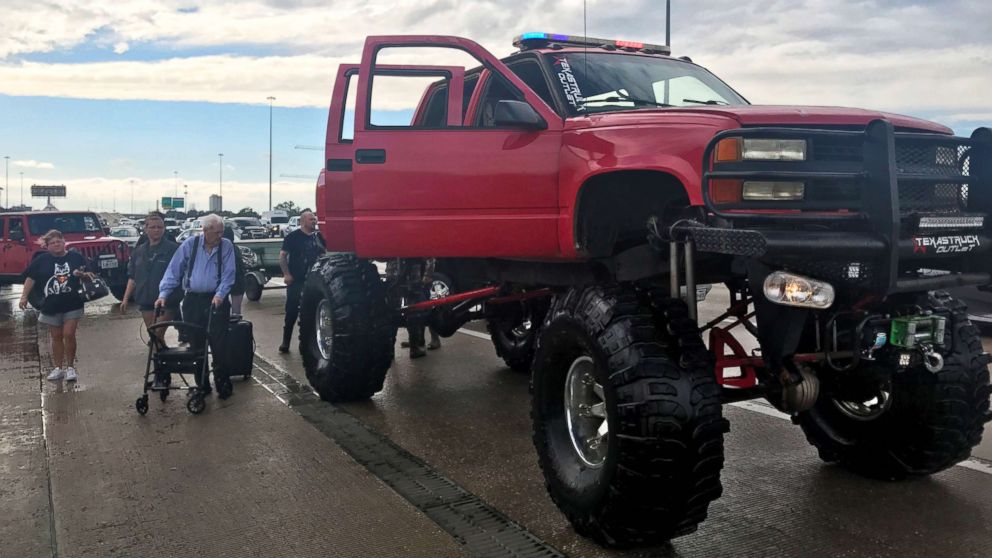 Dr. Stephen Kimmel canoed through flood water to perform surgery on 16-year-old Jacob Terrazas in Webster, Texas, on Saturday.
The hospital told ABC News in a press release that Terrazas was suffering from a painful condition that if not treated within a short window of time causes permanent damage.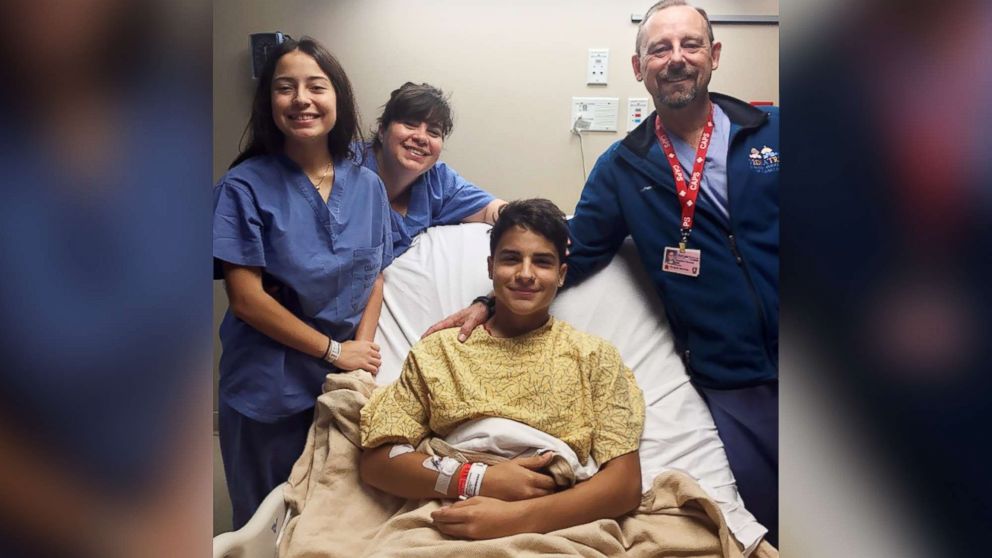 "We are so happy to be here," Jacob's mother told Clear Lake Regional Medical Center staff on their arrival. "Jacob was in such pain and was shaking and hardly able to talk when we got here, but everyone here is so helpful. This has been a long night, but this place is wonderful."
"Sometimes you have to do whatever it takes," Kimmel said of his efforts. "This young man's life would have been changed for the worse forever if we had not been able to perform surgery when we did. In the end, it all turned out very well."
A group of volunteers in Dallas stacked diapers that had been donated for disaster relief.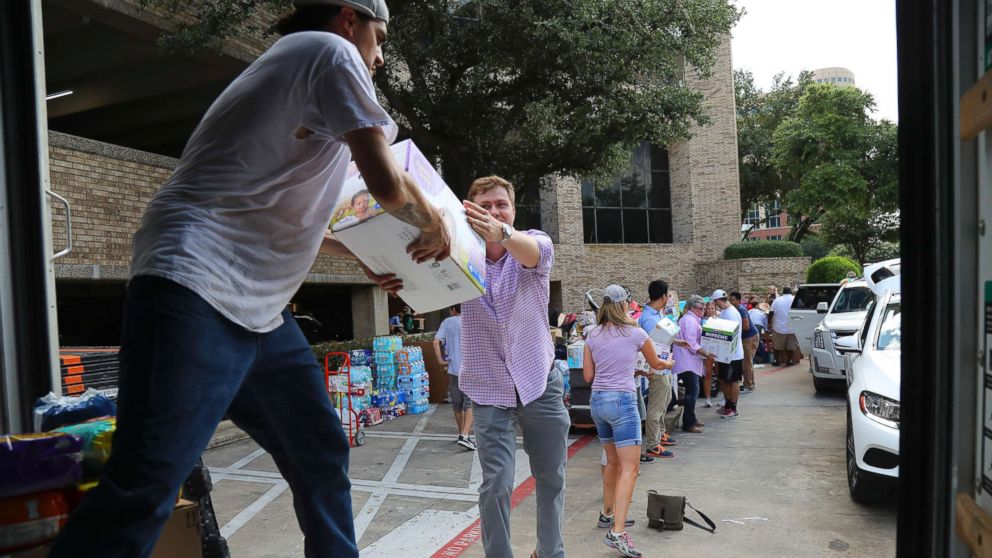 A Cypress Creek resident cooked chicken for soldiers and volunteers helping people evacuate his flooded neighborhood.