— -- A gunman opened fire in two locations in Kansas Thursday before going to his place of work and spraying bullets, leaving three people dead and 14 others in the hospital.
Here's a step-by-step look at what happened, according to authorities.
The Restraining Order
The suspect, identified by police as Cedric Larry Ford, 38, of Newton, Kansas, was at his place of work, Excel Industries, a plant that manufactures heavy-duty lawn care equipment, when he was served around 3:30 p.m. with a restraining order meant to keep him away from a former girlfriend, Harvey County Sheriff T. Walton said.
"It's normal when someone gets served a protection of abuse order" to be upset, Walton said this morning, explaining that Ford's behavior wasn't abnormal when he was served.
In the temporary order of protection from abuse, the woman, whose name is not being published by ABC News, wrote that she and Ford were living together but broke up. He was moving out.
She wrote that on Feb. 5, she and Ford "were verbally fighting" when "it became physical by him pushing me and then grabbing me."
"He placed me in a chokehold from behind," she wrote, saying that she couldn't breathe. "He then got me to ground while choking me—finally releasing me."
The woman describes Ford as an "alcoholic," "violent" and "depressed," according to the order of protection from abuse.
Walton told ABC News that investigators still have many interviews to conduct but, at this point, his apparent domestic troubles appear to have possibly been a trigger.
First Shooting
The first shooting was about 5 p.m. at an intersection in Newton, Kansas. A man said he was driving with his two children when he was shot in the shoulder, authorities said.
A second car was also targeted, with the bullet going through the windshield. But that driver wasn't hit, authorities said.
Second Shooting
Then a gunman started shooting head-on into oncoming traffic, authorities said. The shooter's car and another car went into a ditch, and the shooter shot a victim in the leg, authorities said. The gunman then took the victim's car, authorities said.
Third Shooting: Excel Industries
The shooter then drove to Excel Industries in Hesston, about 6 miles north of the first shooting, where he shot someone in the parking lot, authorities said.
He then entered the building and unleashed bullets. The shooter didn't target specific people at the plant and instead fired randomly, according to authorities.
Three people were killed at Excel. They were identified today as: Renee Benjamin, 30; Joshua Higbee, 31; and Brian Sadowsky, 44.
Overall, the three shootings covered a range of about 6 miles and lasted a span of about 24 minutes, Walton said today.
At least 14 people were hospitalized, including some victims in critical condition.
Police Shootout
A responding officer at Excel exchanged gunfire with Ford, killing him at 5:24 p.m., authorities said.
Walton said today that Ford, who authorities said had an assault rifle and a pistol, would have kept shooting if a police officer had not stopped him.
The Investigation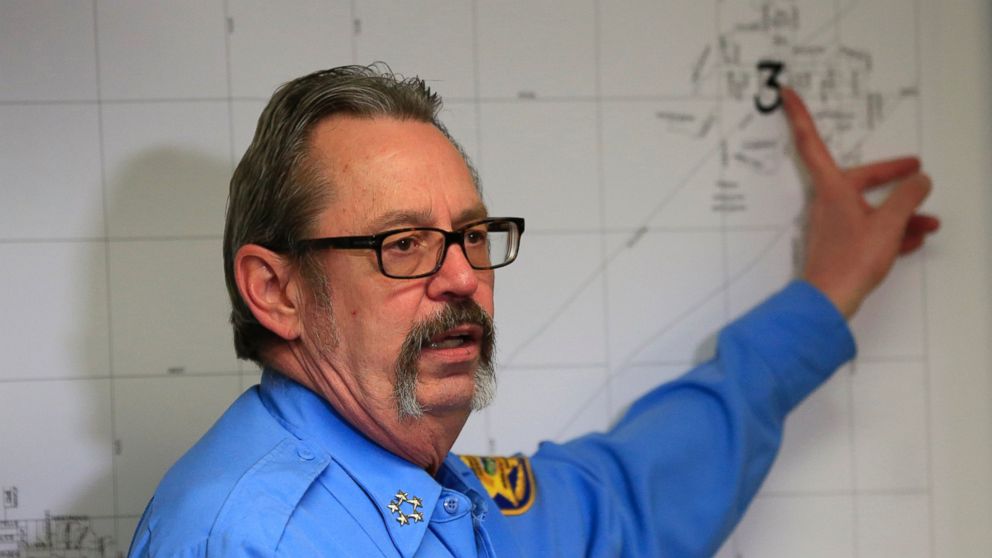 Ford was known to police and been in the local jail a few times, authorities said.
Authorities do not know how he obtained the weapons.
Investigators are also unclear on the motive, but Walton told ABC News that it is "most likely domestic violence."
Excel CEO Paul Mullet said today the company is fully cooperating with the investigation.
Get real-time updates as this story unfolds. To start, just "star" this story in ABC News' phone app. Download ABC News for iPhone here or ABC News for Android here.