Former President Jimmy Carter will receive hospice care following a series of short hospital stays, The Carter Center announced Saturday.
Carter, 98, is both the oldest living and longest-lived U.S. president.
"After a series of short hospital stays, former U.S. President Jimmy Carter today decided to spend his remaining time at home with his family and receive hospice care instead of additional medical intervention," the Carter Center said in a statement. "He has the full support of his family and his medical team. The Carter family asks for privacy during this time and is grateful for the concern shown by his many admirers."
Carter, who held office from 1977 to 1981 as the 39th president, has seen serious health challenges in recent years. In 2019, he suffered from various falls and underwent hip surgery. He has also survived metastatic melanoma.
As the son of a Georgia peanut farmer, he grew up not only to be president but also a Nobel Peace Prize winner and a Grammy Award winner. He was also awarded the Presidential Medal of Freedom.
Among his administration's most notable achievements were the Camp David Accords, which Carter brokered between Israeli Prime Minister Menachem Begin and Egyptian President Anwar Sadat in 1978. Carter's time in office also saw the start of the Iran hostage crisis and, on the domestic front, the first efforts toward developing a policy for energy independence.
Post-presidency, Carter and his wife, former first lady Rosalynn Carter, founded The Carter Center, a human rights organization which helped spearhead a successful campaign to eradicate Guinea worm disease. They have also been prominent supporters of Habitat for Humanity, the nonprofit devoted to affordable housing.
They have four children together -- three sons and a daughter.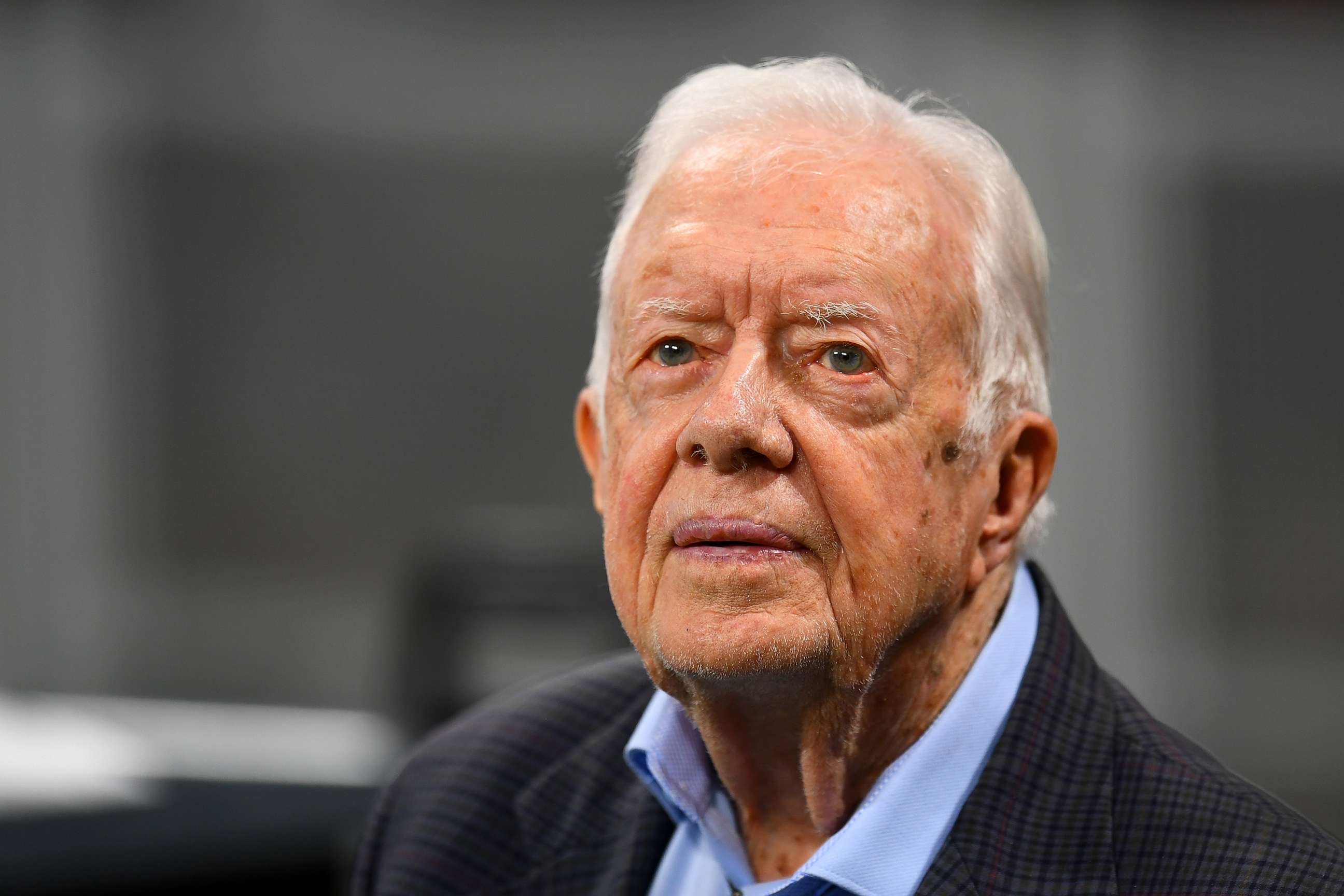 One of their grandchildren, Jason Carter, tweeted in the wake of the announcement that he saw his grandparents on Friday and they are "at peace and -- as always -- their home is full of love."
President Joe Biden reacted to the news with his own tweet, on Sunday, addressing Jimmy and Rosalynn Carter directly to say he and first lady Jill Biden "are with you in prayer and send you our love."
"We admire you for the strength and humility you have shown in difficult times. May you continue your journey with grace and dignity, and God grant you peace," the president wrote.
The Carter Center on Sunday encouraged any well-wishers to send their thoughts about Jimmy Carter or his family to an online portal. "We really appreciate all the kind words we've received from President Carter's admirers," the center wrote on Twitter.
In Atlanta, where The Carter Center is based, some reacted to Jimmy Carter's decision by remarking on all the work he did after the White House -- a common refrain.
"When I think of Jimmy Carter, I think of not so much his political career, certainly, but his life after being in the limelight," one out-of-town visitor told ABC affiliate WSB.
At the weekly Sunday service at the Carters' Maranatha Baptist Church in their hometown of Plains, Georgia, parishioners reflected on the former president's legacy.
Jimmy Carter's niece Kim Fuller led the congregation and shared a quote from her uncle: "My faith demands that I do whatever I can, wherever I can, whenever I can for as long as I can, with whatever I have, to try to make a difference."
ABC News' Adam Carlson contributed to this report.