— -- Matthew Scheidt, a convicted felon who became infamous as a teen for impersonating a physician assistant at a Florida hospital and a police officer in Miami, now tells ABC News he had started weaving his own fantasy world of lies in grammar school.
As a child, Scheidt said he lived in a trailer in central Florida with his mother, who was arrested in 2002 for possession of crystal meth, but he starts out lying to schoolmates about where he really lived.
"Every time I would walk to the bus, you know, I would make up these little fibs to kids that I was in school with that, 'oh no, I don't live there. I live in a nice house across the street,'" Scheidt, now 21, told ABC News' "20/20"
While the other kids played sports, Scheidt said he tried to read about medicine and watched the TV dramas, "E.R." and "Grey's Anatomy." When he was just 11 years old, Scheidt said he lied about his age to volunteer at a Florida hospital, where the minimum age for volunteers was 14. He studied medical terminology, which he said he would sometimes use in conversation.
"If we were talking about something in the medical field, I would probably put out a word or two to make it sound like I knew what I was talking about, even though I had no idea," said Scheidt.
His stint there was cut short when hospital officials caught him with a stethoscope in his pocket, allegedly masquerading as a nurse. But that was just the beginning.
Scheidt earned national attention when he was 16 years old after he was caught in August 2011 pretending to be a physician assistant at another Florida hospital, Osceola Regional Medical Center in Kissimmee. He wore scrubs, a stethoscope, and a physician assistant ID badge. He examined patients, used medical terminology and even performed CPR on a patient. When his case went to trial, it was compared to the Hollywood movie, "Catch Me If You Can."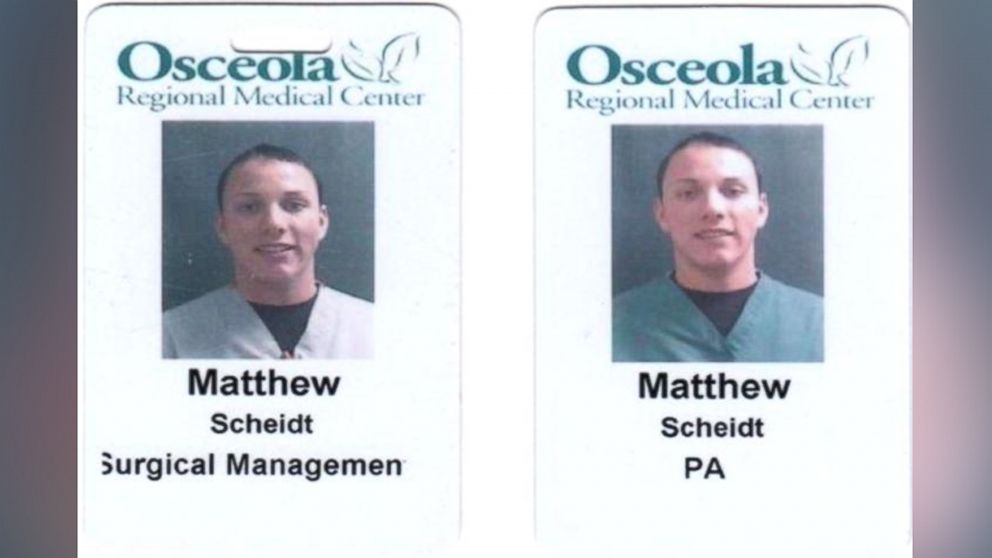 By 16, Scheidt said he was living on his own, out of school and taking high school courses online. His interest led to a summer job in a local doctor's office as a medical file clerk, which had him running errands to Osceola Regional Medical Center. One day, Scheidt lied about being a physician assistant student to obtain an ID badge that gave him access to the emergency room for weeks.
"I lied and said that I was a student, I was a PA student, and that I wanted to shadow in the ER," he said. "I had no idea that, by just going there, [saying] 'oh, I'm a student,' that can't be illegal. If worse came to worse, and the cops got involved or something, I could fall back on, saying that I was just there shadowing [and tell] them I was a student."
Scheidt said he fell in love with the environment, but he didn't really know what he was doing, and one day, the 16-year-old was called on during an emergency.
"[A patient] ended up overdosing on medication, and one of the nurses ended up coming out of the hallway and screaming, you know, that she needs help, I guess, that the patient was coding," Scheidt recalled. "The physician [pointed] at me and [told] me that … I need to start CPR. That's when I started doing CPR on her."
Scheidt, who said he was CPR certified, said he did CPR for around 20 minutes on the patient, who died the next day, but there's no evidence it was his fault.In response to Scheidt's case, Osceola Regional Medical Center said in a statement to "20/20," "Today at our hospital our badging process is significantly more secure."
When Scheidt was discovered as a fraud and was confronted by police, he claimed he was given the wrong credentials at the hospital. At the end of a long interrogation, Scheidt was charged with practicing medicine without a license and impersonating a physician assistant. He posted bail, but four months later while he was awaiting trial, he was picked up by Miami police for impersonating an officer.
Scheidt's attorney Mark Eiglarsh told "20/20" that Scheidt was driving a white Crown Victoria, when "he looked over and told someone to put their seatbelt on, and that person said, 'Why, are you a police officer?' And they claimed that he said, 'Yes,' and that he acted in a way consistent with someone who was a law enforcement officer."
Scheidt said at 13, he had been a member of the Osceola County Sheriff's Explorer Association, which trains and teaches kids the basics of police work and allowed him to ride along with deputies. When he was pulled over in 2012 in Miami, police found a sheriff's office ID that was issued to him through the program, as well as a Taser, a sheriff's office-issued radio and microphone, and a handgun.
"There was a handgun under the seat which [belonged to] the person that I went down there with," Scheidt said. "They immediately took me out of the car and put me in handcuffs."
Convicted on two counts of impersonation and on two of three counts of practicing without a license, Scheidt served a year in jail, most of which was spent in solitary confinement.
"Because this was a high-profile case, I think the corrections department thought that it would be best to keep him separate from the population," said Scheidt's attorney Mark Eiglarsh. "Before Matthew could legally drink a beer, he had to serve a year in jail."
Since being released, Scheidt, who is now on probation, said he regrets the lies and the deception.
"If I could go back and change the day that I went back and asked for that ID, of course I would change that," Scheidt, told "20/20." "I can't get a house on my own. I can't go to school, like, I can't go to college or university. I'm a convicted felon for the rest of my life."
He said he is trying to make amends with his family, including his parents, who are now back together. He also has a job working in sales.
"I'm 21 years old now. I'm an adult. I know where my mind's at," Scheidt said. "Nothing like that will ever happen again, I can promise you that."