— -- Former North Charleston, South Carolina, police officer Michael Slager pleaded guilty today to a federal civil rights offense in the shooting death of unarmed black man Walter Scott, bringing a conclusion to the case two years after the police shooting was caught on video by a bystander.
Slager pleading guilty to violating Scott's civil rights in federal court this afternoon will end the federal case against him and also resolve the state charges that were still pending after a mistrial was declared in the state murder trial last year.
Slager's mother and Scott's mother both wept in court as the 35-year old former cop was led away in handcuffs.
Slager, dressed in a gray suit, said very little, answering "yes" to each of the judge's questions about whether he was aware of the various rights he was surrendering.
Slager's attorney, Andrew Savage, said in a statement before court, "We hope that Michael's acceptance of responsibility will help the Scott family as they continue to grieve their loss."
"The healing starts today," Scott's brother said after court.
Slager, who is white, was accused of killing Scott, an unarmed black man, at a traffic stop on April 4, 2015, while Slager was an officer with North Charleston's police department. Video that surfaced shortly after the encounter appears to show the moment Slager fatally shot Scott as he ran away. The video garnered national attention, propelling Slager into the spotlight. He was fired from the force after the shooting.
Slager was charged in South Carolina with murder and pleaded not guilty. The case ended in a mistrial in December 2016 and the retrial was expected to take place this year. The federal trial had been expected to take place later this month.
The Justice Department said in a statement today that, according to documents filed in connection with the guilty plea, Slager "willfully used deadly force on Walter Scott even though it was objectively unreasonable under the circumstances."
"Slager had stopped Scott's vehicle after observing that a brake light was not working. During the stop, Scott fled on foot and Slager pursued him," the Justice Department said. "During the foot chase, Slager deployed his Taser and Scott fell to the ground. Scott managed to get off of the ground and again run away. Scott was unarmed and running away when Scott fired eight shots at him."
Scott was struck five times, with all of the bullets entering from behind, the Justice Department said.
Anthony Scott, Walter Scott's brother, said at a news conference this afternoon, "We asked for justice, we received justice. ... We got it done.
"This is not just a victory for my family, this is a victory for Charleston, North Charleston, South Carolina, the United States and the world," Anthony Scott added.
He said today shows that "unjust cops ... will not be tolerated anymore."
"Today he [Slager] told the truth. He said he did it," Anthony Scott said. "The healing starts today."
Of his brother, Anthony Scott said emotionally, "I hope he's looking down and saying 'good job.'"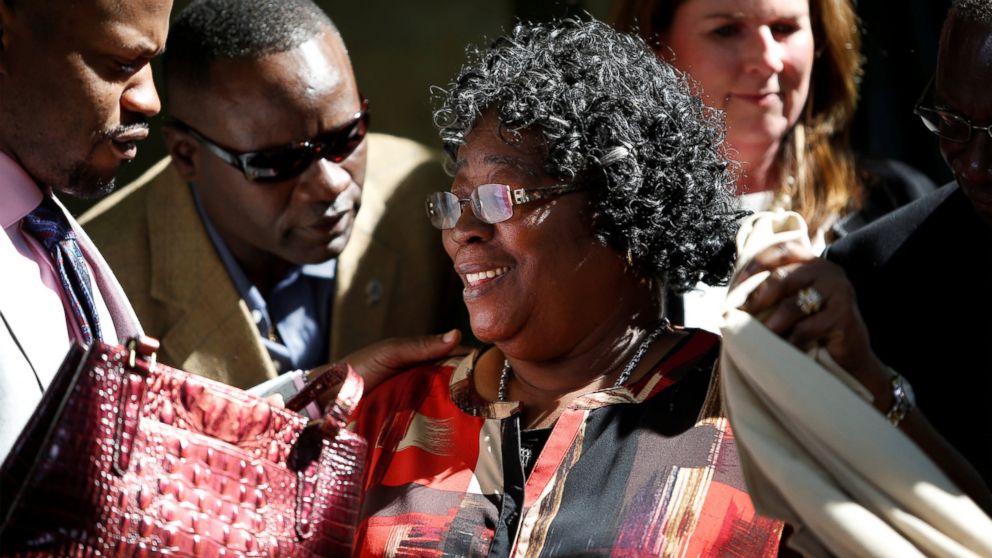 Attorney General Jeff Sessions said in the Justice Department's statement, "The Department of Justice will hold accountable any law enforcement officer who violates the civil rights of our citizens by using excessive force."
"Such failures of duty not only harm the individual victims of these crimes; they harm our country, by eroding trust in law enforcement and undermining the good work of the vast majority of honorable and honest police officers," Sessions said. "As our Department works to support the courageous and professional law enforcement personnel who risk their lives every day to protect us, we will also ensure that police officers who abuse their sacred trust are made to answer for their misconduct."
Scarlett Wilson, solicitor for Charleston County, said in a statement, "While certainly the State charges addressed the killing of Mr. Scott, they did not squarely address the violation of Mr. Scott's civil rights by a police officer acting under color of law. It is essential that law enforcement and our community see the federal government address such an important aspect of this case.
"Today, in working with the Department, we found justice in a resolution that vindicates the State's interests by holding former police officer Michael Slager accountable for shooting Mr. Scott [in the back] when Slager knew it was wrong and illegal; as well as justice in a resolution that recognizes the egregious violation of Mr. Scott's civil rights," Wilson continued. "Now that Slager has pleaded guilty to a willful violation, admitted the facts we set out to prove and waived the right to appeal his conviction, a successive prosecution by the State is not necessary.
Wilson added, "Soon, a federal judge will decide what name and label to give the killing of Walter Scott."
Slager has not yet been sentenced and the sentence is at the discretion of the judge, Wilson said. Slager faces a maximum sentence of life in prison for the federal civil rights violation as well as a potential $250,000 fine, the Department of Justice said.