Three students were killed in a shooting at Oxford High School in Oxford Township, Michigan, on Tuesday, authorities said.
The victims were identified as Tate Myre, 16, Hana St. Juliana, 14, and Madisyn Baldwin, 17, according to the Oakland County Sheriff's Office.
Oakland County Sheriff Mike Bouchard told reporters that Myre, a member of the varsity football team, was rushed to a police officer's car and taken to the hospital, but the student died en route.
Eight others were shot and injured, including a teacher, according to Bouchard. They were transported to three different local hospitals. Three were in critical condition as of Tuesday night, the sheriff said, including a 15-year-old boy who was shot in the head, a 14-year-old girl shot in the chest who is currently on a ventilator, and a 17-year-old girl also shot in the chest.
A 14-year-old boy was also in serious condition with jaw and head wounds. Three students were in stable condition, including two 17-year-old girls and a 15-year-old boy. The female teacher, 47, was treated and released from the hospital with a graze wound to the shoulder, according to Bouchard.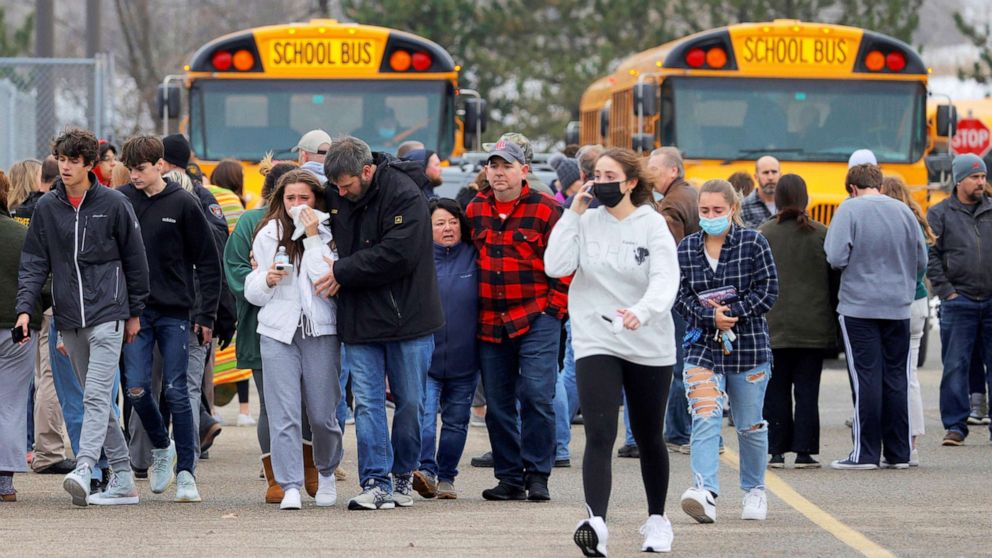 All parents of the victims have been notified, the sheriff said.
The suspected shooter, a 15-year-old male student, a sophomore, was taken into custody within five minutes. A semiautomatic handgun has been confiscated, authorities said.
Two deputies approached the suspect in a hallway and he surrendered, according to Bouchard. The 9mm Sig Sauer pistol still contained seven rounds when it was taken off the student, the sheriff said. Authorities believe the student fired 12 shots in the incident, the sheriff said, though the crime scene will continue to be processed.
Bouchard said the gun used in the shooting was purchased by the suspect's father on Nov. 26, along with three 15-round clips. He also said the suspect had recently posted photos on social media of him shooting at targets with what appears to be the same gun.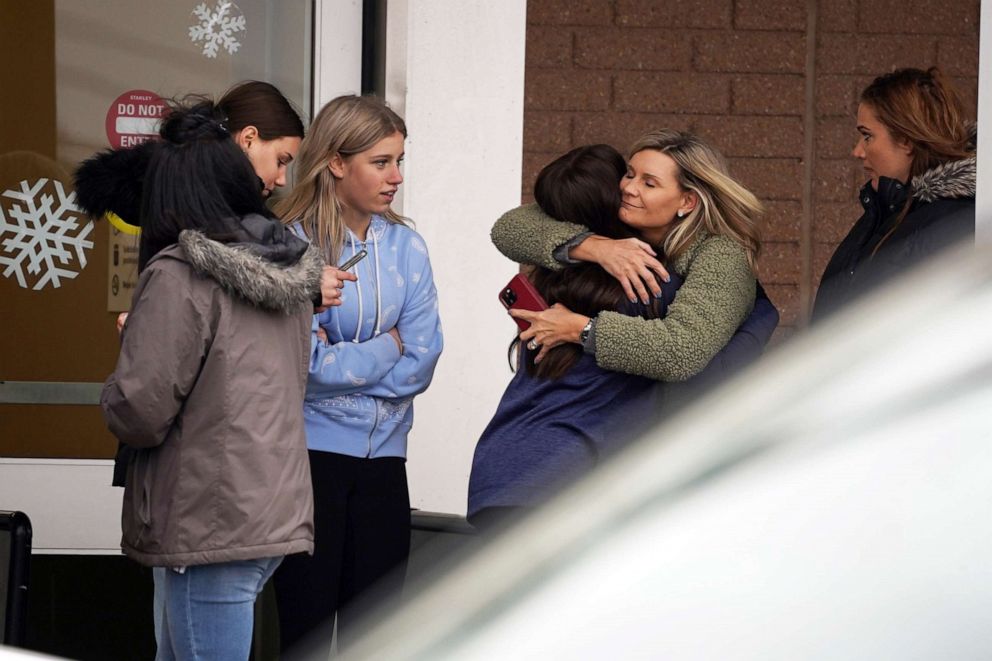 The student lives in the Village of Oxford and attended school Tuesday, according to Bouchard.
Oakland County Undersheriff Mike McCabe told reporters that investigators believe the suspect acted alone. The teen has not mentioned a motive.
The suspect is being held at the Oakland County Children's Village and is lodged as a juvenile, Bouchard said. The county prosecutor could choose to charge him as an adult.
His parents have not granted him permission to talk to authorities and have hired a lawyer, McCabe said.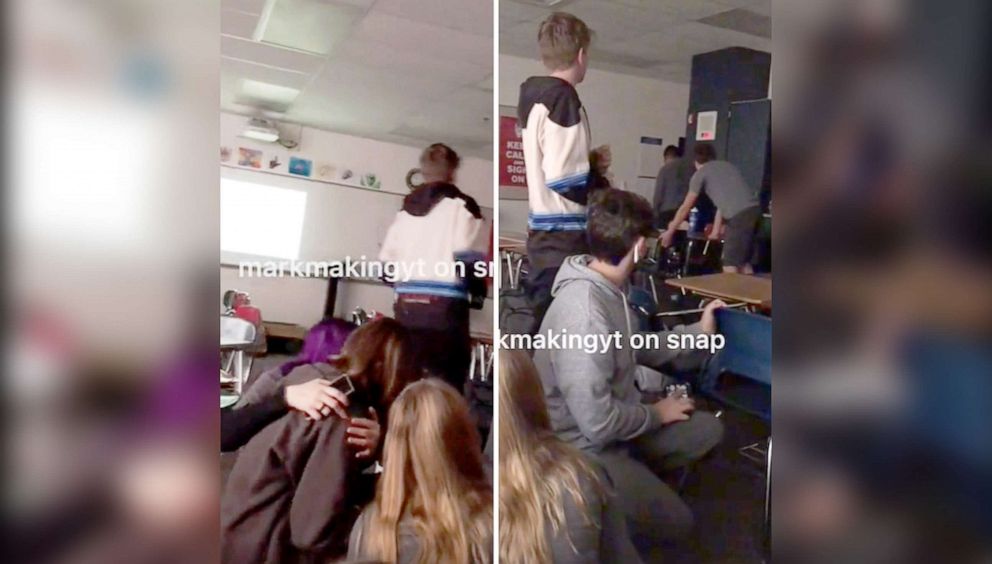 In an email obtained by ABC News that was sent to parents on Nov. 11, Oxford High School addressed concerns over "numerous rumors" of a threat to the school, which they said were investigated and ultimately deemed no threat to students or the building.
"Student interpretations of social media posts and false information have exacerbated the overall concern," the email stated.
When asked about the email during a press conference Tuesday night, Bouchard said the sheriff's office investigated the threat and determined "it was a different school and had nothing to do with Oxford."
Asked whether the sheriff's office received any warnings about a possible shooting ahead of Tuesday's incident, Bouchard responded: "I can tell you that nothing came to the sheriff's office, and nothing came to our school liaison in the school."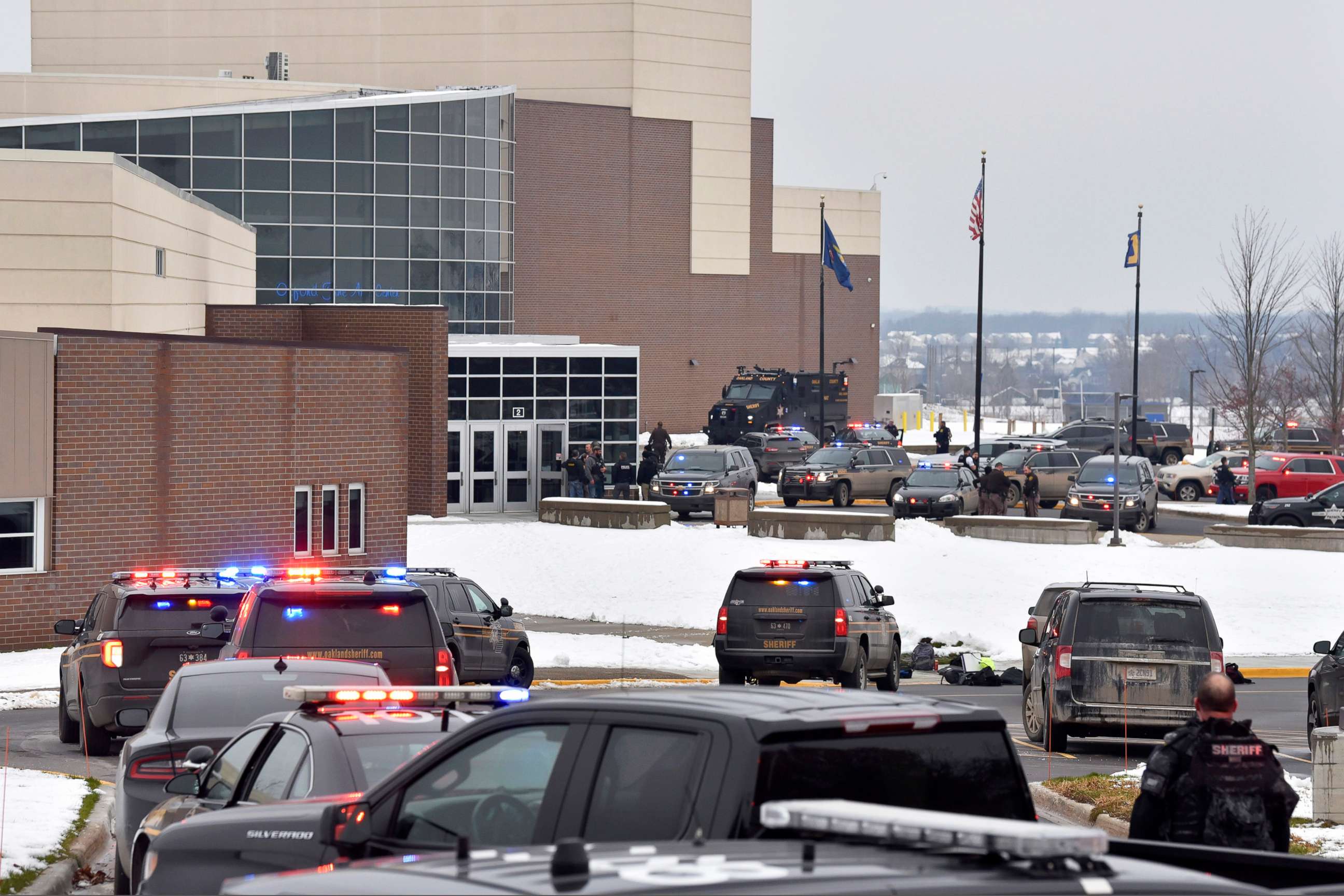 Over 100 calls poured into 911 as the shooting unfolded. Bouchard said one of the victims of the shooting was a relative of a person answering calls at the 911 call center.
The shooting occurred primarily in one area of the school and there is a "fairly large crime scene," McCabe said.
Social media videos showed students huddled and barricaded in a classroom as they sheltered in place during the shooting.
Oxford Township is a community of about 22,000 people located about 30 miles north of Detroit.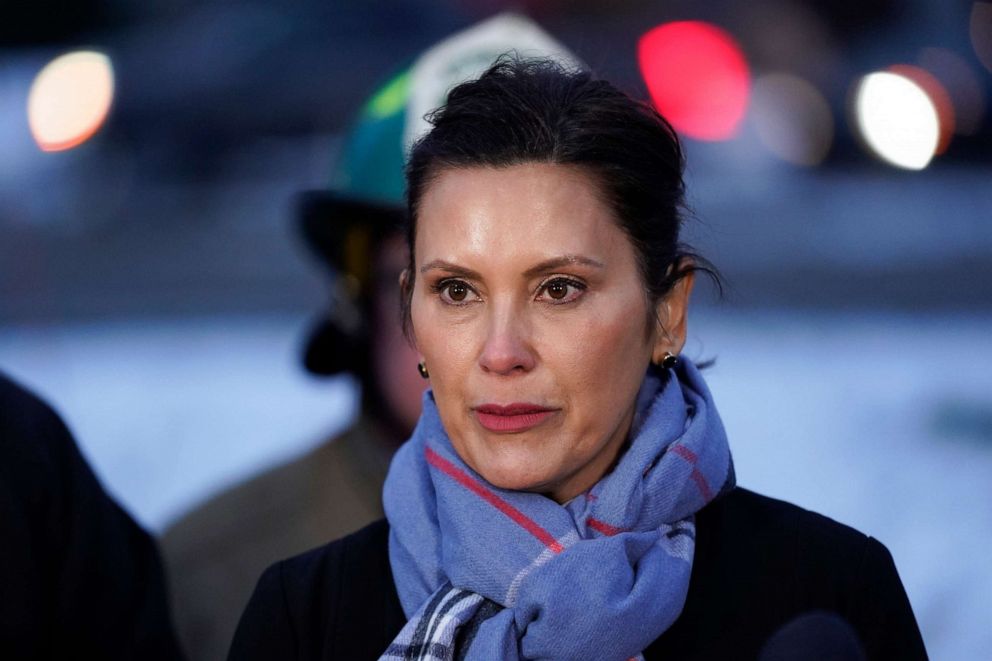 Michigan Gov. Gretchen Whitmer attended a Tuesday evening briefing on the shooting, saying she wanted to be there "because I think this is an important moment for us to support one another, to support this community. And I want to thank our first responders."
She called the incident a "uniquely American problem that we need to address," and got visibly emotional discussing the tragedy.
"I think this is every parent's worst nightmare," Whitmer said, crying.
Before giving a speech in Minnesota on Tuesday afternoon, President Joe Biden told reporters that he was made aware of the shooting in Michigan.
"My heart goes out to the families during the unimaginable grief of losing a loved one," Biden said. "That whole community has to be just in a state of shock right now."
ABC News' Matt Foster, Darren Reynolds, Alex Stone and Morgan Winsor contributed to this report.