Environmental officials in Italy said they have solved the mystery of what turned the waterways in the historic Venice Canal a bright shade of green.
Venice residents reported on Sunday that the waters in the canal stretching to the Rialto Bridgehad had transformed to a fluorescent green color, prompting a police investigation.
Environmental authorities conducted chemical and biological tests on the water and discovered the bright green color was the result of the presence of fluorescein, a non-toxic substance used to test wastewater networks, according to a press release by the Regional Agency for Environmental Prevention and Protection of Veneto.
Images circulating on social media showed the famous canal, lined with restaurants and onlooking tourists, in a shade of emerald. Water taxis, gondolas and water buses appeared to continue as business as usual, despite the unusual tint of the canal.
The water was so green it appeared to be a similar hue to the Chicago River during the annual tradition of dying the waterway green to celebrate St. Patrick's Day.
The origin of the substance was not revealed. Further tests are expected this week, officials said.
Investigators initially believed the green canal could be another stunt by environmental activists.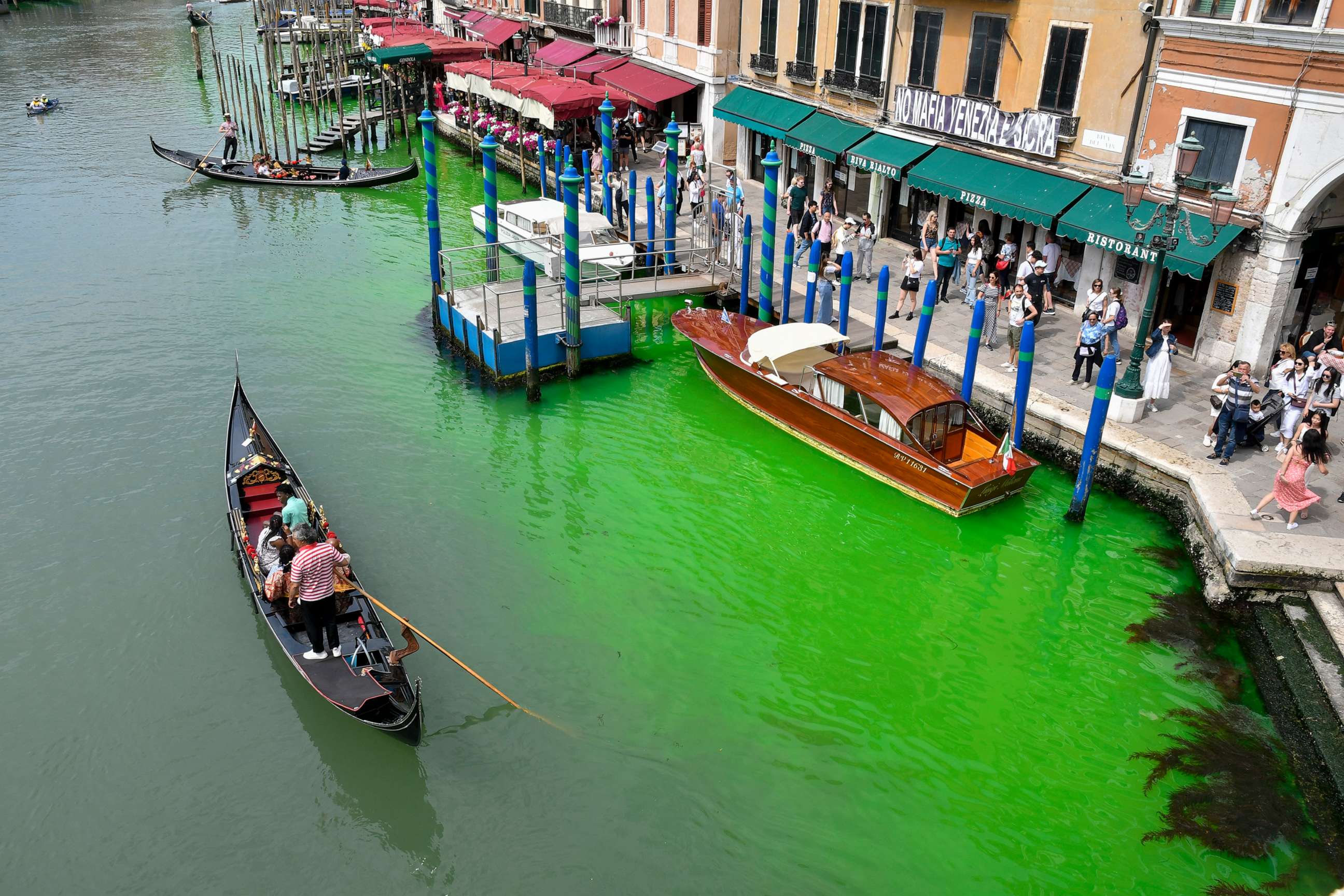 Activists from Italian environmental group Ultima Generazione, which translates to "Last Generation," poured black liquid into the Trevi Fountain in Rome on May 21, to protest the use of fossil fuels. Two days later, a pair of protesters from Last Generation smeared themselves with mud outside the Senate building in Rome to remind the public of the dangers of flooding in the country linked to climate change.
The demonstration is one of the latest acts of eco-vandalism that activists are engaging in to garner attention to the causes they support by targeting landmarks and priceless works of art all over the world.
Van Gogh's "Sunflowers" at the National Gallery in London, a Monet at the Museum Barberini in Potsdam, Germany, and the famous "Girl with a Pearl Earring" painting at the Mauritshuis museum in The Netherlands have all been targets of eco-vandalism in the past year. Modes of demonstration have included throwing foods like tomato soup and mashed potatoes and gluing hands to the frames of paintings.
The trend is from the desperation of what the planet will look like in the future, experts in climate and environmental psychology told ABC News.
ABC News' Will Gretsky contributed to this report.