When Lt. Nathan Brashear saw the call for National Guard service members to help as hospitals were reaching a crisis point during Kentucky's delta surge, he didn't hesitate to volunteer.
For about two weeks, Brashear, a member of the Kentucky Army National Guard, has been leading a team of 30 National Guard members at The Medical Center at Bowling Green, doing "everything little thing" they can to help give the hospital staff a much-needed break.
"That's one thing that makes this mission so important to us as soldiers," Brashear, who was a deputy jailor before he went on active-duty orders, told ABC News. "We live and work in these communities. So for us to be able to support the communities is something that really impacts us."
In recent weeks, several states have deployed hundreds of National Guard service members to help overwhelmed and understaffed hospitals, as COVID-19 hospitalization rates have reached points not seen during the pandemic.
The service members are not doing clinical work, but instead offering administrative and logistical support so hospital staff can focus on patient care. That could be anything from taking patients to appointments to cleaning beds to serving and clearing food.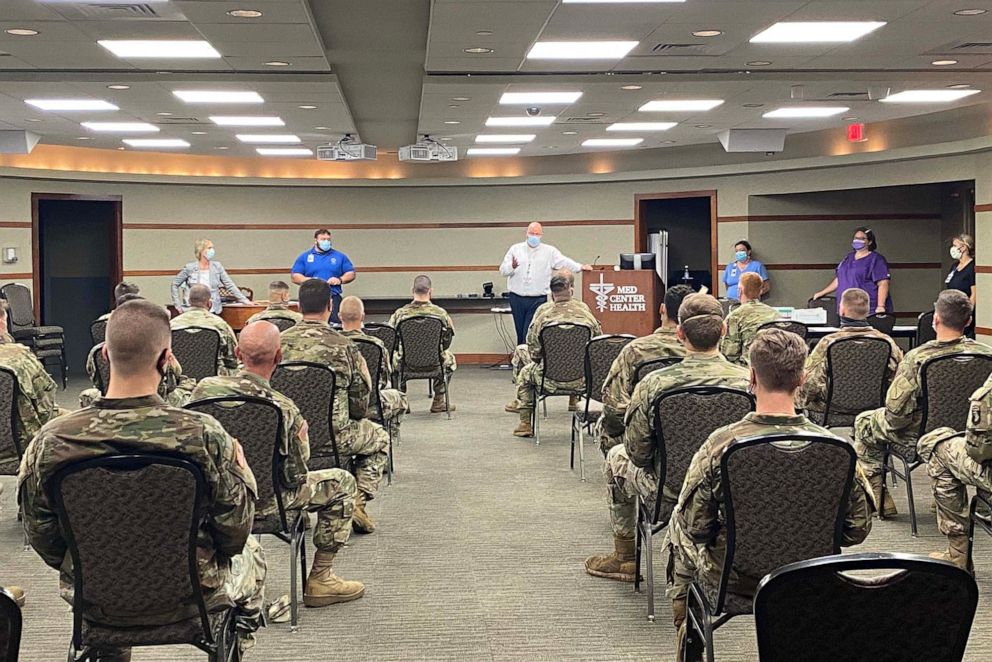 "This is really the latest in demonstrated need that we're seeing, obviously across the state and nation, that a lot of these hospitals are feeling the strain -- both increased patients and a decrease in the available personnel to really help take care of everybody," Lt. Col. Stephen Martin, director of public affairs for the Kentucky National Guard, told ABC News. "Our main mission there is really just to offload the logistical and administrative support that those hospitals have so that the full-timers there can better care for the needs of the patients that are coming in."
The Kentucky National Guard was winding down its pandemic response, which has included helping set up drive-through COVID-19 testing sites and assisting food banks, when, about three weeks ago, it was called for the first time during the pandemic to assist hospitals overburdened by COVID-19 patients -- most of them unvaccinated.
The size of National Guard teams and length of their deployment varies by hospital size and demand, and will stay as long as they can in whatever capacity is needed, Martin said.
"We as Guardsmen fancy ourselves as Swiss Army knives. We've got multiple skillsets, not only in what we're trained on but being able to accomplish the mission before us," he said. "We can send a small team into the hospital and say, 'Here's your left and right limits, these are the things that we want you to focus on and provide support to, and more than anything, just help these folks out.'"
"They're in a bad way and we're really just helping to alleviate that workload for a little it, let them catch their breath and catch up and really focus on the needs of the patients in the hospital," he added.