Dozens of first-year students at the Naval Academy climbed on each other's shoulders to get to the top of a 21-foot monument on Monday.
The event was part of a tradition in Annapolis, Md., where the first-year students -- known as plebes -- climb to the top of the Herndon Monument on the Naval Academy campus. The climb takes place every year to culminate the end of "plebe year" as the students aim to demonstrate the lessons of teamwork and perseverance that they learned over their first year.
The Herndon Monument was named for Commander William Lewis Herndon who was recognized by the Navy for his courage and died in 1857. The commander's monument stands 21-feet-tall but older midshipmen also covered the monument with approximately 50 pounds of vegetable shortening and butter and sprayed the plebes with water to make the climb even more difficult.
The students must work together to form human pyramids and create ropes made of T-shirts in order to remove the "dixie cup" hat at the monument's peak and substitute it with an upperclassmen's hat. As a reward, they will earn the title of "fourth class midshipmen."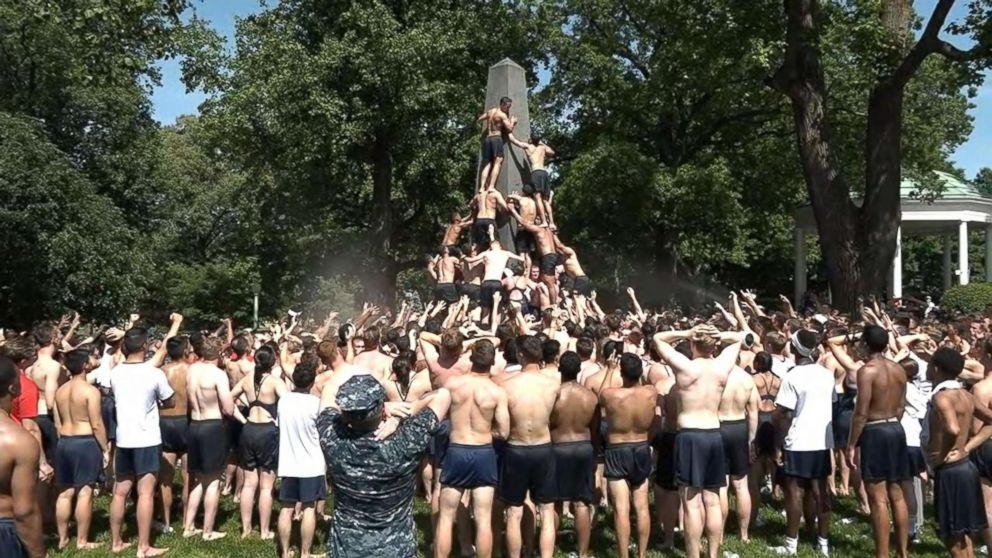 The fastest recorded time for the climb was 1 minute and 30 seconds, completed by the class of 1972, according to the Naval Academy website.
The Herndon Monument, however, was not greased with shortening that year. The class of 1998, in contrast, attempted the climb for more than four hours to retrieve the "dixie cup" hat that was glued and taped to the monument.