At least one service member has been rescued, but five remain missing after a U.S. Navy helicopter crashed Tuesday afternoon off the coast of San Diego.
"An MH-60S helicopter embarked aboard USS Abraham Lincoln (CVN 72) crashed into the sea while conducting routine flight operations approximately 60 nautical miles off the coast of San Diego at 4:30 p.m. PST, Aug. 31," the Navy's 3rd Fleet said in a statement.
The Navy said the aircraft, from Helicopter Sea Combat Squadron 8, was operating on deck before crashing into the sea.
A U.S. Coast Guard spokesman said that preliminary information indicates one person has been rescued and five people are unaccounted for. The Navy also confirmed that one crew member was rescued and search efforts continue for the other crew members.
The sailor who was rescued from the aircraft was transported ashore and is in stable condition, officials said Wednesday.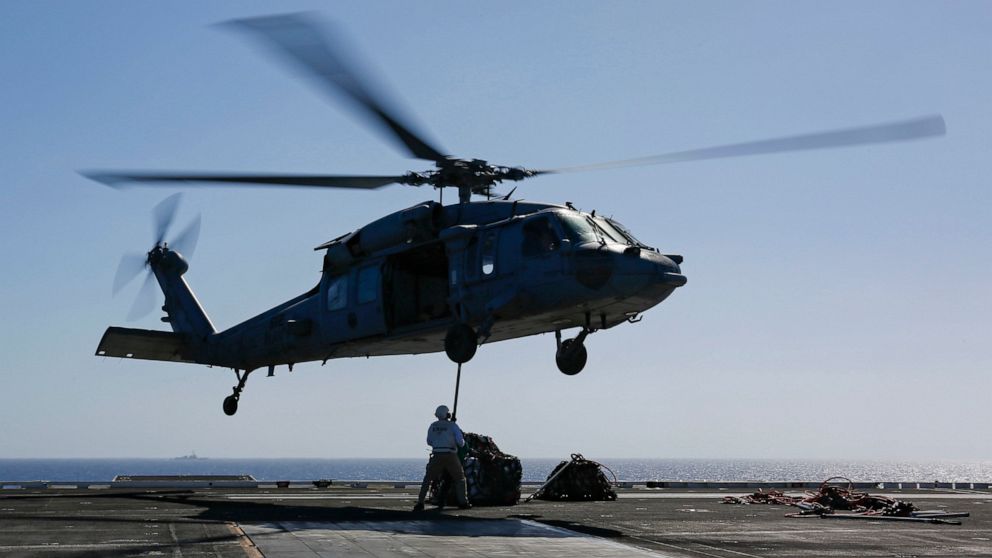 Five additional sailors aboard the Abraham Lincoln suffered injuries in the incident and are in stable condition, the Navy said. Two of the five Abraham Lincoln sailors were transported ashore for treatment, while the other three sailors had minimal injuries and remain aboard the ship.
The Coast Guard and Navy were conducting search and rescue operations by sea and air. An investigation into what caused the accident is ongoing.
The accident comes just 12 days after Capt. Amy Bauernschmidt took over command of the Abraham Lincoln.
The Abraham Lincoln is homeported in San Diego, the Navy said in a statement Tuesday night.
ABC News' Cindy Smith and Rosa Sanchez contributed to this report.