Lauren Miller is speaking out after she became one of five women who filed a lawsuit against Texas and its attorney general, alleging that the state's abortion ban put their lives in danger.
Miller, 35, who became pregnant with twins last year, said she had to travel out of state to get care to save her life and the life of one of the unborn twins after she learned the other was not viable.
"With trisomy 18, if he made it to birth, all it says is that he's got a pulse," Miller told ABC News' Rachel Scott, referring to a condition in which a baby has three copies of chromosome 18 instead of the normal two. "It's no quality of life. It would be immediate surgeries. Life expectancy somewhere three to 15 days. Maybe he could make it a year, maybe a few years."
For more of Lauren Miller and Dr. Austin Dennard's story, watch "Nightline" tonight at 12:35 a.m. ET.
Around the time she got pregnant, Miller said she was following news of Roe v. Wade being overturned because she was worried about what effect it could have on her. Miller and her husband had been trying for their second child.
"There's just that little bit of hesitancy; will this be OK? Will we be safe? Because there's ramifications for my health now, too," Miller said. "And you just don't know what the law is. How close to death do I have to be before I can fully access health care?"
Texas has several abortion laws in place, prohibiting all abortions after six weeks of pregnancy, except in medical emergencies, which the laws do not define. One of the bans -- called SB 8 -- prohibits abortions after cardiac activity is detected, which kept several plaintiffs from accessing care despite their pregnancies being nonviable, according to the suit.
More women have since joined the suit -- including her 38-year-old OB-GYN, Dr. Austin Dennard -- bringing the total number of plaintiffs to 15.
Miller, already a mother of one, was excited when she found out she was pregnant in July 2022. But her pregnancy was difficult from the beginning. Early on, she was diagnosed with hyperemesis gravidarum, a severe form of persistent nausea that can last throughout pregnancy, even heading to the emergency room when continuous vomiting left her dehydrated.
A few weeks after finding out she was pregnant, Miller and her husband learned that one of the babies, who was growing slower than the other, received the diagnosis of trisomy 18. The anomaly meant she had a high likelihood of miscarriage or stillbirth and the baby had a low survival rate beyond its first year of life.
"I was just reeling, because at that point I had so many plans," Miller said.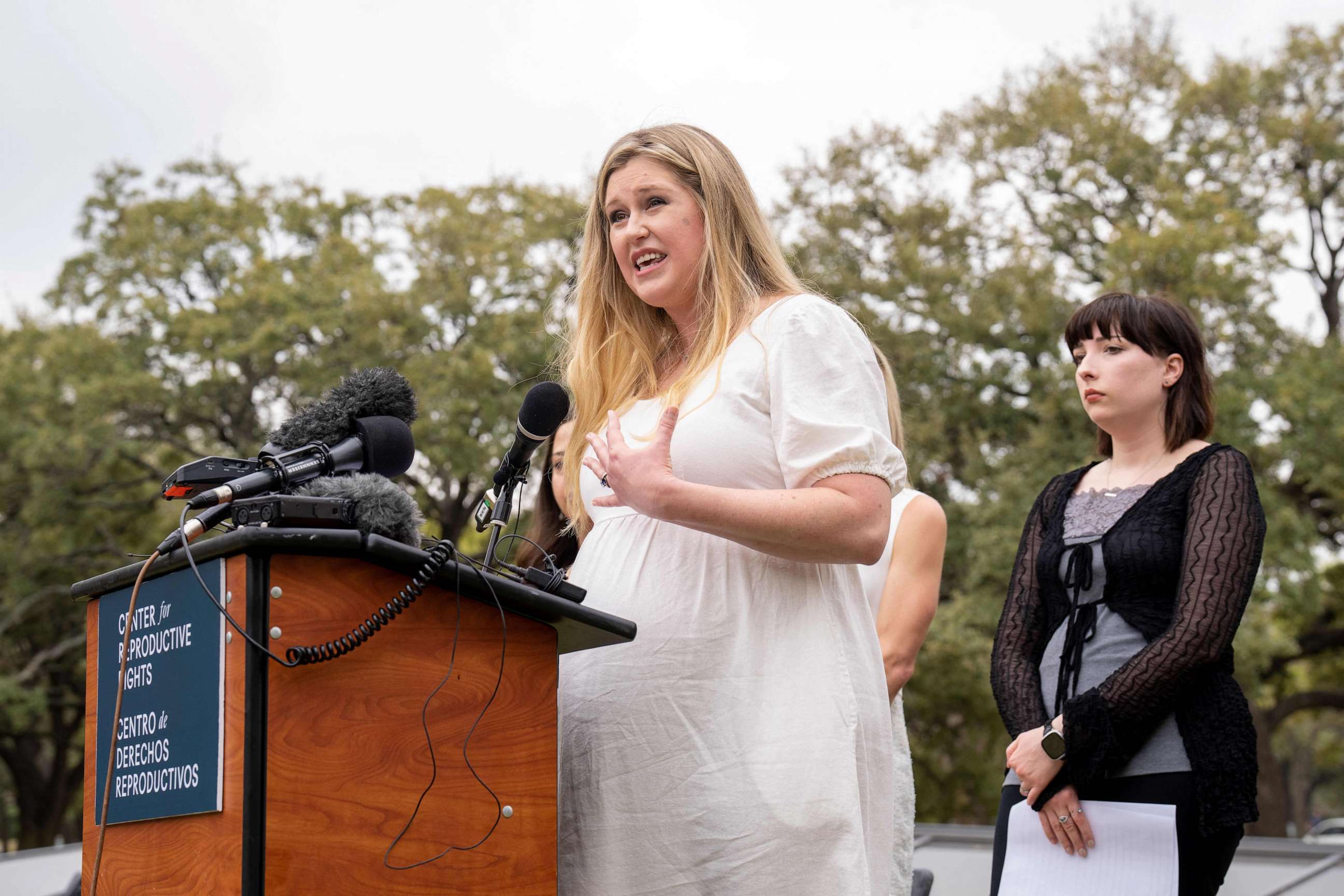 A maternal fetal medicine specialist confirmed that the baby had several abnormalities, including cystic hygromas, sac-like structures where much of the brain should have been developing; a single artery umbilical cord; incomplete abdominal wall; abnormal heart; and abnormal nuchal translucency, according to a draft of the suit.
"Baby B was not going to survive. And every day he continued to develop put his twin and myself at higher risk," Miller said.
"It was tough, [my doctor and I] couldn't have an open conversation and she doesn't even provide abortion services," Miller added. "Her job is just to give people the worst news and tell them their options and there's no option she can give anymore."
Miller's options were to continue the pregnancy and see if she would become sick enough for abortion to become an option or to take matters into her own hands and go out of state for abortion care, she said.
"For us, there was really no decision to be made. It was clear that our son was not going to survive," Miller said.
The specialist told Miller and her husband that before the abortion ban went into effect, he would have been able to offer her a single fetal reduction, an abortion of the sick twin, to give Miller and the other one the best chance of avoiding a health crisis. But because of the ban, all he could do was tell them to go out of state, according to the lawsuit.
She gave birth to a healthy boy in March.
"If I hadn't been able to access abortion care. My son may not have made it," Miller said.
Miller said she hoped she wouldn't end up so sick she would leave her son without a mother.
"I don't want my husband to end up a single dad because the state wouldn't let me get an abortion," Miller said.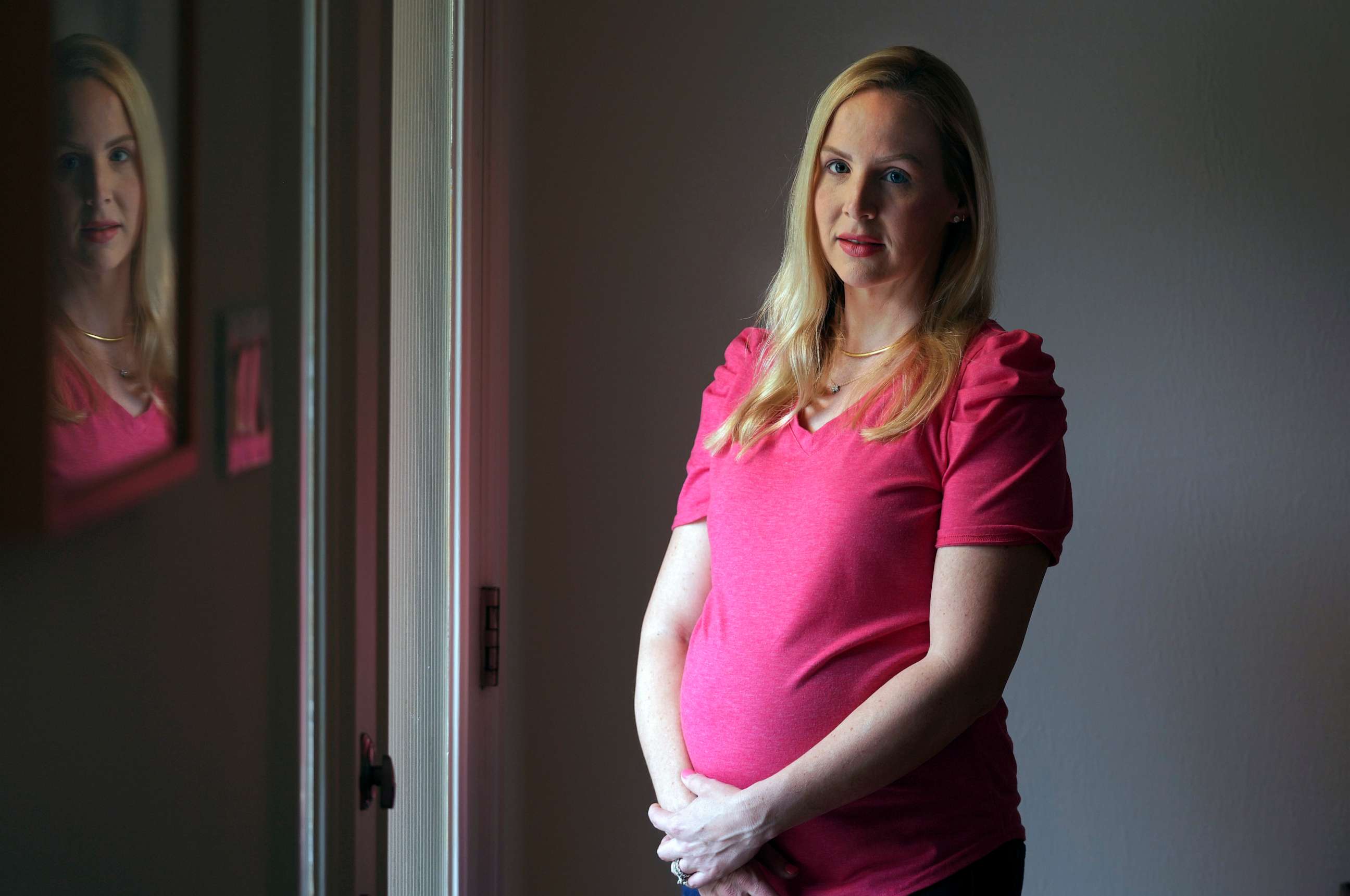 As a physician, Dennard said the bans have impacted what she feels she is able to discuss with patients.
"The relationship that a physician and a patient has, it's so unique. It's based on knowledge and trust and confidentiality. And now it's as if there's someone in my room with a patient building this wall up, and I can't communicate with them and they feel scared to communicate with me," Dennard told ABC News.
"I've had to change the way that I speak to my patients about abortion," she continued. "It's even hard to say the word because you feel like you're gonna get in trouble just by saying the word abortion."
Physicians in Texas who violate the bans could face fines of at least $100,000, lose their medical license or face up to 20 years in prison.
Texas Attorney General Ken Paxton, who is named in the suit, did not respond to ABC News' request for comment about the lawsuit. When the suit was first announced in March, Paxton's office did not comment specifically on it.
"Attorney General Ken Paxton is committed to doing everything in his power to protect mothers, families and unborn children, and he will continue to defend and enforce the laws duly enacted by the Texas legislature," his office said in March.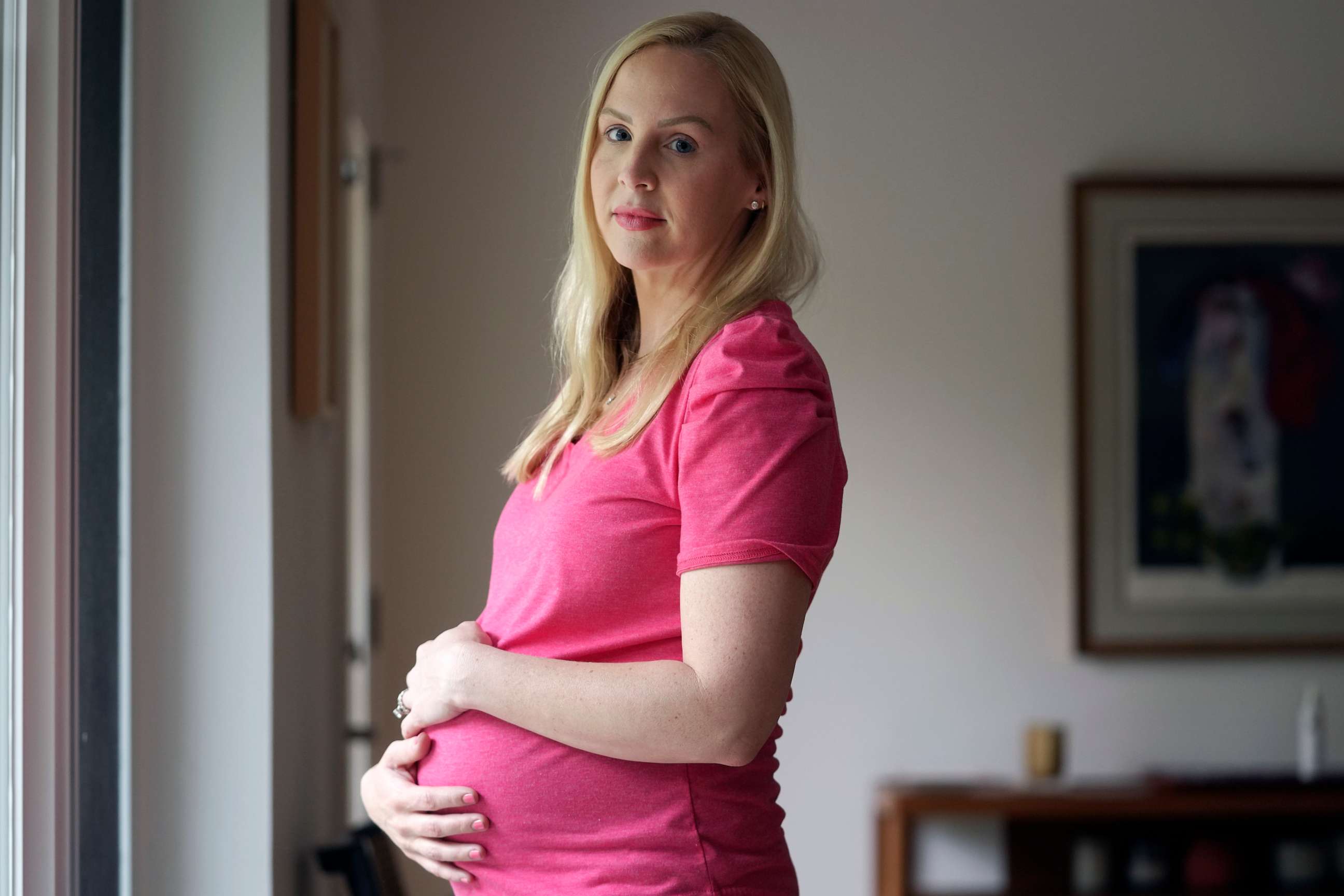 Dennard joined the lawsuit against Texas Monday, suing on behalf of herself and her patients.
"When these laws came into effect, it was not just violating the autonomy that I felt like I had with my own training, it was putting my own livelihood on the line in addition to, of course, my patients," Dennard said.
Dennard had been in the same situation as Miller -- as a patient who needed abortion care.
Dennard was excited when she found out she was pregnant with her third child in July 2022. But at her 11-week ultrasound, she discovered that her fetus had anencephaly, a fatal condition that causes the baby to develop with no skull and very little brain matter.
"I could tell there was something not right with the brain and it was just a moment of realizing that this was not going to end up being a sibling for my children. And then I thought to myself, 'I can't believe I'm gonna go out of state for an abortion.' It felt surreal," Dennard said.
Dennard said she traveled to the East Coast for abortion care.
"I knew immediately that I didn't want to continue the pregnancy," Dennard said. "For me, I didn't want to put my health -- physical, mental, emotional health -- at risk, continuing my pregnancy. But for somebody else, carrying a pregnancy with anencephaly -- feeling their baby move, delivering their baby, holding their baby while it passes away -- potentially might be what's right for them. I just knew it wasn't right for me," Dennard said.
"I couldn't believe that the state of Texas had decided for me what I could and could not do with my pregnancy," Dennard said.
Dennard is now pregnant again and fears for her safety as a pregnant woman in Texas, according to the suit. Dennard and her husband, also a physician, are also unsure if they will continue to live in Texas.
"After my abortion, my husband and I went and sat and had lunch and we talked about what else had to happen in our state for us to pack up and leave," Dennard said. "It just feels like we can't do our job the way that we should be able to do it and help people the way that we should be able to help them."