Pedals, the Bear That Walks Upright, Spotted Again in New Jersey
The bear and his humanlike walk were recorded by a resident in Oak Ridge.
— -- The elusive New Jersey bear that became an internet sensation after video emerged of him walking upright has made an encore appearance on social media.
Oak Ridge resident Joey Esposito was taking a water break from mowing his neighbor's front yard Monday afternoon when he saw the bear through his kitchen window.
"Who is on her property?" he said he asked himself. He then realized "that's the bear."
Esposito then ran to grab his phone and started to record. At that point, Pedals had moseyed to the neighbor's backyard and then "nonchalantly" walked toward him, he said.
A Facebook group called Pedals the Injured Bipedal Bear keeps its more 11,000 subscribers updated on Pedals' condition. The five-minute video Esposito posted to the page has garnered more than 116,000 views.
The video shows the bear, which is missing his right front paw and has a left front paw that just dangles, walking briskly on his hind legs with ease as he explores the neighborhood. At one point he stands on all fours, like a normal bear, as he grazes on some grass.
Esposito said that despite Pedals' injuries, the bear seemed "pretty healthy," calling the encounter "really funny" but "scary at first."
"He didn't seem like he was going to harm anyone," Esposito said. "I didn't want to get too close, but he actually looked pretty good."
Esposito's 11-year-old daughter, who was at school at the time, didn't believe what he recorded. Instead, she thought it was someone in a bear costume.
Pedals became a social media sensation in 2014, after the first video of him and his humanlike walk appeared on Facebook. Although a GoFundMe page set a $15,000 goal for the bear to be transferred to the Orphaned Wildlife Center in Otisville, New York, and raised more than $22,000, the New Jersey Department of Fish and Wildlife did not approve the relocation because it felt the bear didn't need assistance and could make it on his own, the center told ABC News.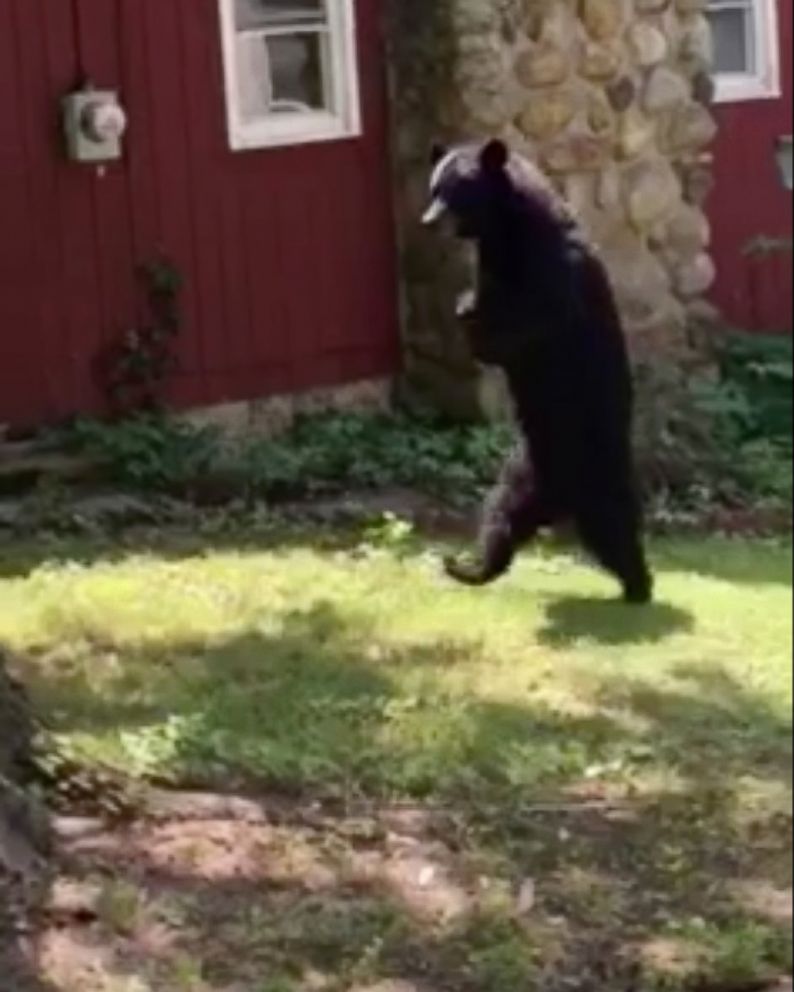 A message posted to the Facebook page for Pedals said a report will be filed with the department if his condition deteriorates.
ABC News could not immediately reach the department for comment.
The black bear was last seen in December, and there was concern that he wouldn't make it through the winter, NJ.com reported.
Esposito said he didn't expect the video of the local animal celebrity to warrant so much attention.
"It was nice to get to see him up close," he said. "I've heard so much about him, so it was good to see him."
ABC News' Avianne Tan contributed to this report.