— -- Many people have gone in search of a treasure allegedly hidden by New Mexico author and antiques dealer Forrest Fenn, but for some, the chase after an elusive prize has come at a dangerous price.
Fenn, 87, claims he hid a treasure – estimated by some to be worth $2 million -- somewhere in the Rocky Mountains in 2010. The only way to find it, he says, is by reading a cryptic poem containing nine clues from his self-published 2011 memoir, "The Thrill of the Chase." Part of the poem reads, "Begin it where warm waters halt / and take it in the canyon down / not far, but too far to walk / put in below the home of Brown."
A former military pilot turned wealthy antiques dealer, Fenn told ABC News the main reason for creating this massive treasure hunt was to give people hope.
"In 1988, I was diagnosed with what everybody thought was terminal cancer," Fenn said. "But besides that, we were going into a recession, and lots of people losing their job, despair was written all over the headlines, and I just wanted to give some people hope."
Fenn claims he hid a bronze chest filled with gold coins and rare artifacts.
"There's 265 American gold eagles and double eagles. There's ancient Middle Eastern gold coins. There's hundreds and hundreds of gold nuggets, two of them as big as [a] hens egg," he said.
Because of the fluctuating price of gold, Fenn said he isn't sure of the exact value, "I don't even want to think in those terms. Writers about this treasure hunt have appraised it between $1 million and $5 million."
Fenn told ABC News he estimates that nearly 350,000 people have gone out searching. The treasure could be hidden anywhere in tens of thousands of square miles of territory out West, from New Mexico to Montana. Aside from the poem, Fenn has given few clues as to the treasure's whereabouts, but he says the treasure isn't anywhere dangerous.
Some skeptics think it's all a hoax, but Fenn is quick to defend its authenticity.
"The treasure is real," he said. "The treasure is hidden where I put it."
Fenn said thousands of online forums, videos and documentaries have fueled speculation, with people obsessively pouring over Fenn's prose-prompted clues to the point where he said he has received the occasional death threat.
"This one guy called me... he said, 'Tell me where the treasure is right now. I'm going to kill you.'"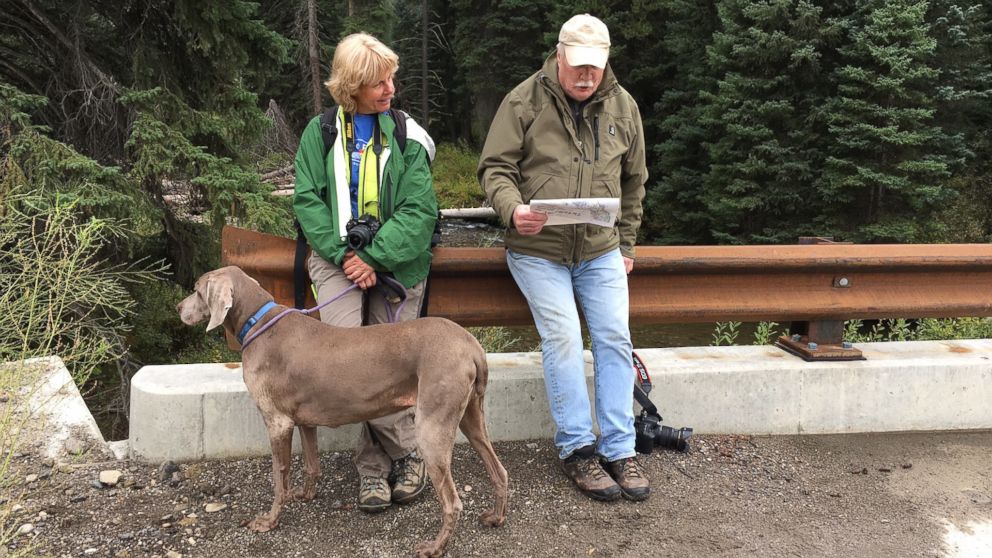 So far, no one has been able to find it, including Washington state resident Dal Nietzel, who has made more than 65 search trip since he started looking in 2011.
Neitzel runs, Thrill of the Chase, a popular blog documenting his own quests and the quests of others. It also serves as a fan page for other Fenn afficiandos.
"We get to over a million new visitors every year on the blog, and they're from all over the world," Neitzel said.
Cynthia Meacham, also among those looking for Fenn's treasure, said she first found out about the treasure in 2013 and has made more than 100 trips near her New Mexico home.
Both Meacham and Nietzel believe the start of the poem's clues refers to Yellowstone National Park known for its hot springs, mud spots and geysers.
"We're going to start where warm waters halt. And for us, that's Madison junction and it's inside [Yellowstone National] park. And the reason that it's Madison junction, is because two of the warmest rivers in the park absolutely halt and stop," Nietzel said.
Meacham also pegged the launching point of Fenn's poem back to his early years spending summers at Yellowstone. "I really believe it's at a place that has sentimental value," she said.
On their first search together, the pair travelled to West Yellowstone, Montana to an area near Grayling Creek for something the poem calls a "blaze," which they believe has something to do with a stone, cliff or mound of rocks.
"Your quest to cease, tarry scant with marvel gaze just take the chest and go in peace," Meacham read from the poem. "It means get your butt over there and start, look quickly down at that rock blaze and find the hiding spot."
The quest for Fenn's hidden treasure comes with multiple dangers, including bears and rough terrain. Several people have gone missing or died trying to find it.
In June, New Mexico authorities recovered the body of Colorado pastor Paris Wallace, who went missing after telling his family he was going off to search for the treasure alone. Mitzi Wallace said she and her husband had gone on searches together before, but she was not on the trip that turned fatal.
In 2016, authorities found the remains of Randy Bilyeu, whose family said he too went missing while searching for Fenn's treasure. Bilyeu's body was found north of the Cochiti Lake along the Rio Grande River.
"I knew when it happened that my brother was not the first one and that he would not be the last," his sister Kathy Leibold said.
Eric Ashby, 31, was the most recent known person to go missing as a result of the great treasure hunt. He was swept away in a rafting accident on the Arkansas River this summer, his friends said, and is presumed dead.
New Mexico State Police chief Pete Cassetas told ABC News they have asked Fenn to call off the treasure hunt.
"You had talked about giving more clues, providing more clues to help people better find your treasure and I again I call for you to pull it," Cassetas asked Fenn over the phone in June. But while Fenn refused to give any clues to help people find the treasure, he told Cassetas, "I'm going to give a clue to keep them out of trouble."
Yellowstone Park rangers said they have responded at least a dozen of treasure-related calls since 2013 and would prefer those still searching stay away.
"They're generally unskilled, unprepared. Put themselves in hazardous places, in hazardous situations and often don't, don't really appreciate what Yellowstone has to offer," Chief Park Ranger Pete Webster said.
Fenn said he sympathizes with the victims' families but doesn't feel responsible for those who have lost their lives.
"I didn't anticipate that people would die searching for my treasure," Fenn said. "But in the back of my mind, it had to be logical that that could happen because there's so many things that can happen to a person when he's out in the wilderness. I mean, the grizzly bears alone are something to think about."
While Fenn remains tight-lipped about the location, he did admit that someone was just 200-feet away from the location at one time. "I know exactly where they were because they told me."
To "Nightline," he also hesitantly revealed another hint: "People tend to over-complicate. Try to simplify if you can. That's good advice."
"I've said more than I should have said," he said of his hint.