4 people walk away unscathed after three-vehicle crash in Arizona
The crash took place Sunday in Arizona.
Four people miraculously survived a three-vehicle car crash near an Arizona middle school that ended with two cars precariously stacked on top of each other.
On Sunday evening, firefighters responded to reports of a three-vehicle accident on Williamson Valley Road near the entrance to Granite Mountain Middle School, according to a press release issued by the Prescott Fire Department.
Emergency personnel were shocked by what they saw once they arrived at the scene.
Photos posted to the Yavapai County Sheriff's Office Facebook page show a white pickup truck perched atop a red sedan. Both vehicles were significantly damaged.
The woman in the white pickup truck told firefighters she was traveling northbound on Williamson Valley Road when a black truck struck her, causing her to lose control of the vehicle. She then swerved into oncoming traffic and collided with the black truck. The impact caused her to flip through the air and land on top of a red sedan.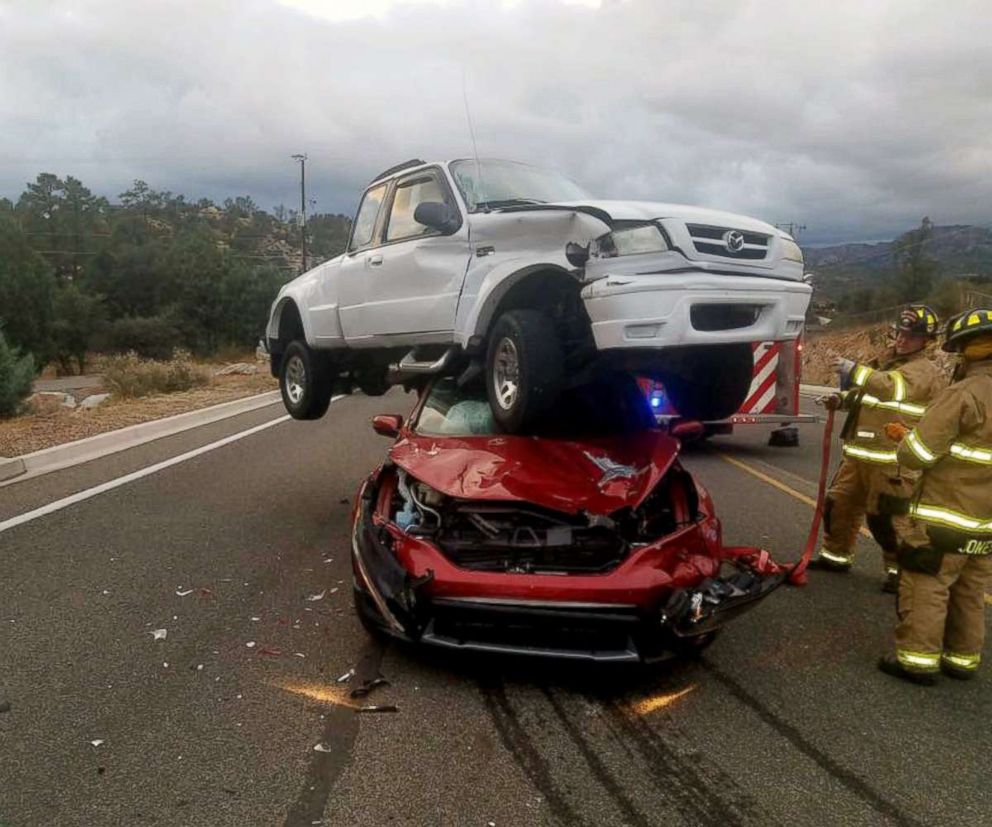 There were two people in the sedan. No injuries were sustained in the accident, the fire department said.
Authorities are crediting this miracle to the diligent use of seat belts by every driver and passenger involved.
"The use of seat belts has helped avert a tragedy and firefighters would once again like to remind everyone that the use of this simple device saves lives daily," the Sheriff's Office said.