— -- Students from the University of Michigan, including members from six fraternities and sororities, are accused of causing thousands of dollars' worth of damages during a weekend stay at two northern Michigan ski resorts.
The students, which included members of the Sigma Alpha Mu, Pi Kappa Alpha and Chi Psi fraternities, as well as members of the Sigma Delta Tau, Alpha Phi and Delta Gamma sororities, are being accused by resort operators of trashing hotel rooms and hallways, including ripping off cabinet doors, destroying ceilings and rugs, and busting up tables, during a Jan. 17-18 weekend stay at the Treetops Resort and Spa in Gaylord, and the Boyne Highlands Resort in Harbor Springs.
University of Michigan spokesman Rick Fitzgerald confirmed to ABC News the fraternities and sororities who are accused of being involved, saying in a statement, "We are very disappointed in the behavior of some of our students during a weekend visit to two northern Michigan ski resorts. I want to assure you that the organizations and the individuals involved will be held accountable for their actions."
"While we are still gathering information, we understand that the damage at Treetops Resort and Boyne Highlands is expected to total in the thousands of dollars," the statement continued.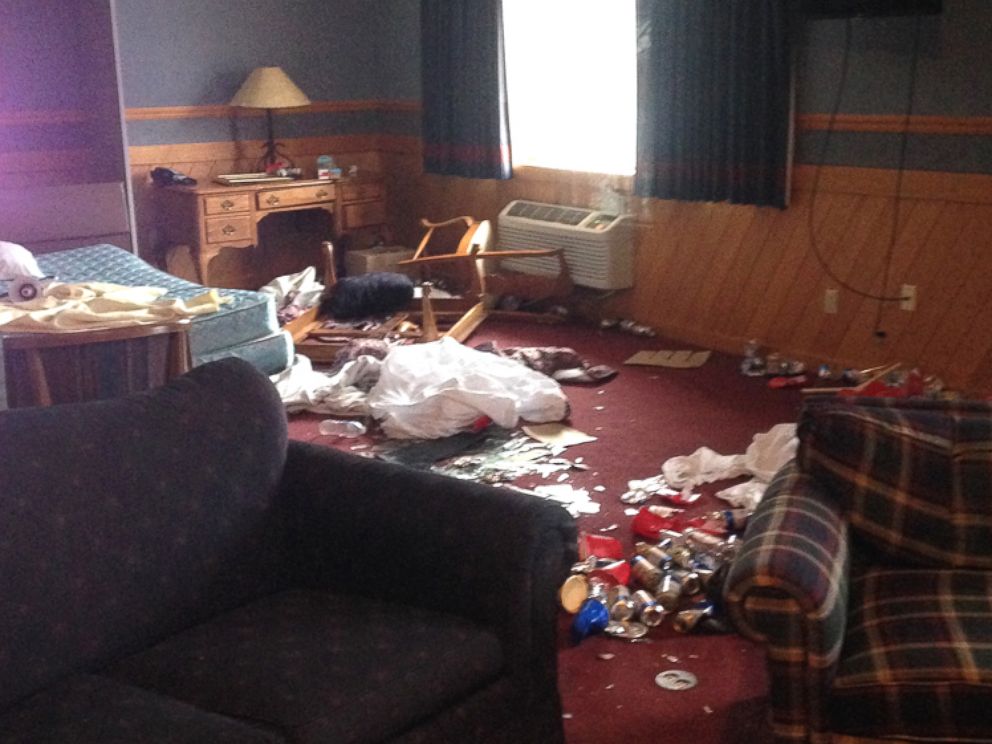 The Treetops Resort gave ABC News exclusive photos of the trashed hotel rooms and hallways, which the resort claims totaled in $75,000 worth of damages.
Treetops general manager Barry Owens described the vandalism as "a malicious destruction of property," adding that upon inspection, "The rooms were incredibly dirty, broken windows, broken furniture, ceiling tiles torn out of hallways, wall sconces broken off, doors kicked in.
"I mean it just kind of never ended," he said.
Although the Treetops Resort touts itself as a family destination, Owens said college students and fraternity groups do visit, but there had never been any prior issues.
"I've been in this business for almost 30 years and I've never seen something even close to this," Owens said. "We do cater to them [college students] but this one got completely out of hand."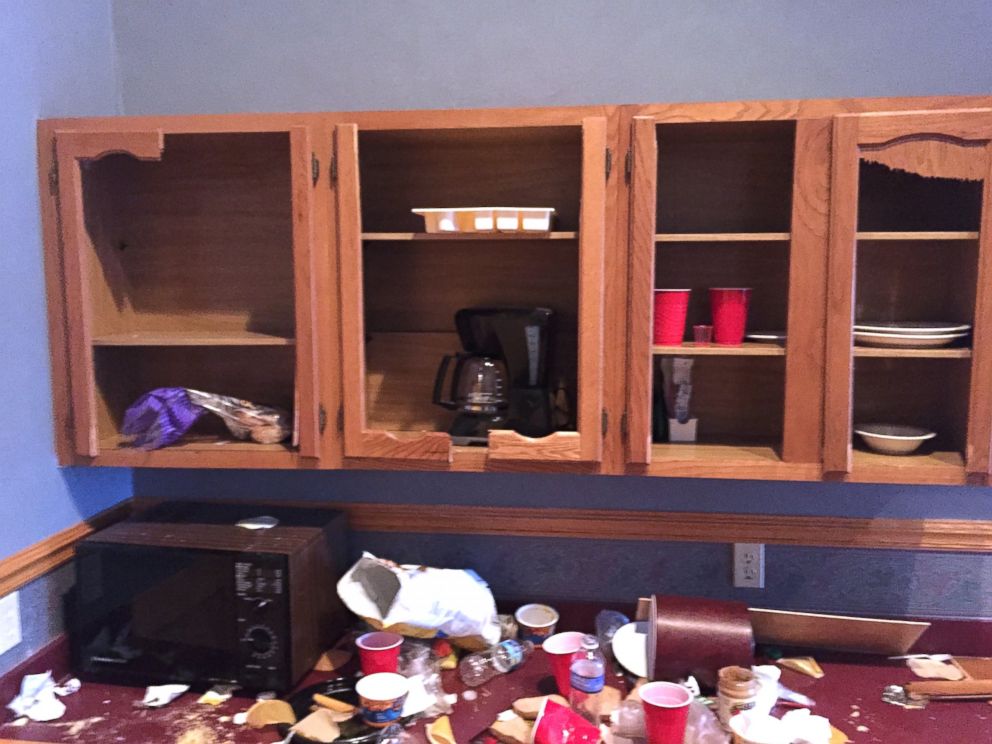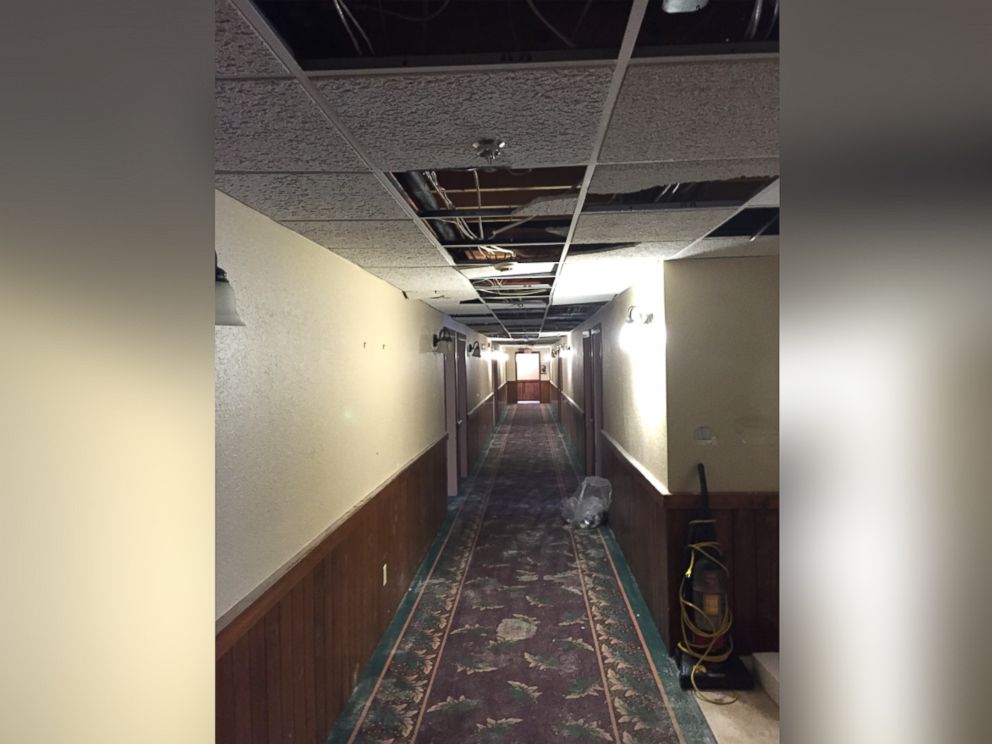 Boyne Highlands President and General Manager Mike Chumbler told ABC News about 100 to 120 students were staying in their cottage and townhouse units, which sustained damage ranging from stains to holes in dry wall. While the damage wasn't as severe as Treetops, Chumbler said, he estimated it could be up to $20,000 in repairs.
According to U-M spokesman Rick Fitzgerald, members of the Chi Psi and Pi Kappa Alpha fraternities, and the Delta Gamma and Alpha Phi sororities were staying at Boyne Highlands, while members of the Sigma Alpha Mu fraternity and Sigma Delta Tau sorority were staying at Treetops.
The Sigma Alpha Mu fraternity, which is now facing suspension from its national chapter over this incident, issued a statement to ABC News, saying, "We are embarrassed and ashamed of the behavior of a few of our chapter members at Treetops Resort over the weekend of January 17-18. This behavior is inconsistent with the values, policies, and practices of this organization. Our chapter accepts full responsibility for this incident and we will be working with the management of the resort to pay for all damages and cleaning costs. We will work within our own organization and with university officials to hold those who are responsible accountable for their actions."
Despite the fraternity's apology, Owens voiced his concerns. "They said they were going to make good on this, however they also said they would behave themselves… we have concerns about the integrity of their word."
The Treetops resort hasn't yet billed the fraternity for the damages, or made a decision about whether to seek criminal charges. According to Fitzgerald, there is a pending Michigan State Police investigation that could lead to criminal charges.