Woman 'partially sucked out a window' dies after engine failure on Southwest flight
The flight was en route from New York to Dallas when diverted to Philadelphia.
A woman died after a Southwest Airlines jet suffered engine failure and made an emergency landing on Tuesday, marking the first accidental fatality on a domestic flight in nine years, according to the National Transportation Safety Board.
Flight 1380 was en route from New York City's LaGuardia International Airport to Dallas Love Field when the plane was forced to land at Philadelphia International Airport Tuesday morning.
Jennifer Riordan of New Mexico died after she was partially sucked out a window near the engine, according to witnesses. Officials did not immediately confirm that account.
"Jennifer Riordan has passed away as a result of previously reported events on Southwest Airlines flight No. 1380," her family said in a statement. "Jennifer's vibrancy, passion and love infused our community and reached across our country. Her impact on everything and everyone she touched can never be fully measured.
"But foremost, she is the bedrock of our family. She and Mike wrote a love story unlike any other. Her beauty and love is evident through her children. We are so appreciative of the outpouring of support from family, friends and our community."
Riordan previously worked in marketing at the University of New Mexico's Health Sciences Center.
"Jennifer was an amazing community leader, team member, wife and mother," Dr. Paul Roth, chancellor for Health Sciences Center, said in a statement. "Her passion for our community, our students and our future was unwavering. We are committed to carrying on her work to ensure quality education and career opportunities to New Mexico's youth. Our thoughts and prayers remain with her family during this difficult time. She will be forever missed by her Lobo family."
Passenger Matt Tranchin said the flight took a turn when he saw a "huge explosion and glass shattering three rows ahead of me."
"Flight attendants rushed up," he said. "There was momentary chaos. Everyone kind of descended on where this hole was. As passengers, we weren't sure if they were trying to cover up the hole, but the plane smelled like smoke. There was ash coming through the ventilation system."
"We started dropping," Tranchin told ABC station WPVI in Philadelphia. "Some of the crew couldn't hold back their horror. And some were crying as they looked out through the open window onto the engine."
Passengers posted photos from inside showing descended oxygen masks, a blown-out window and the remains of an engine.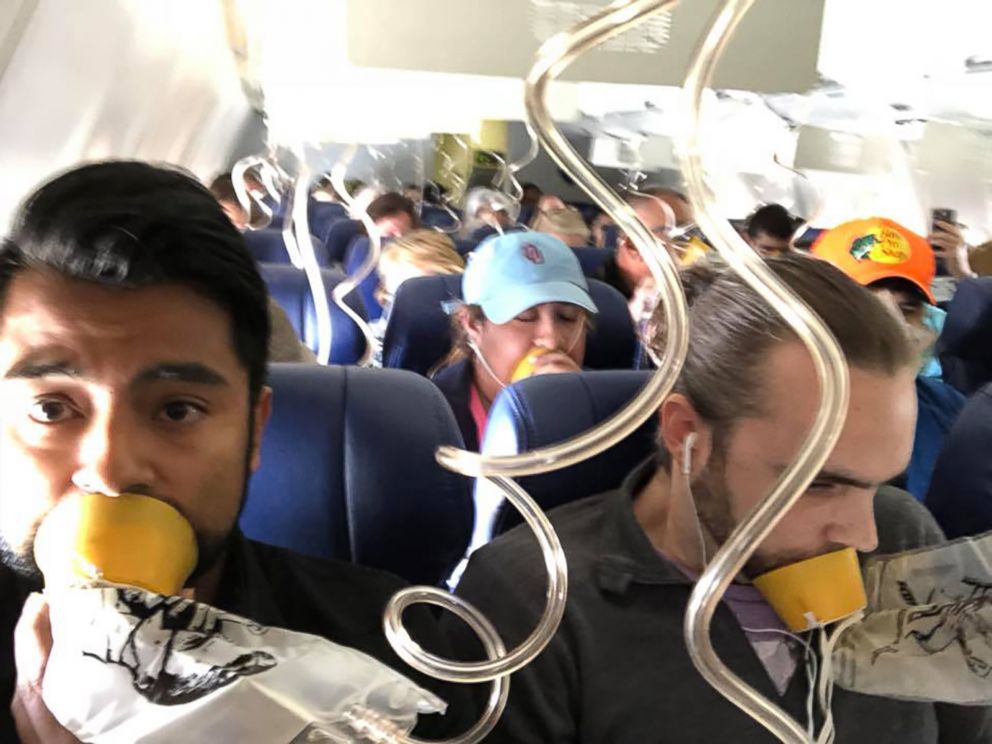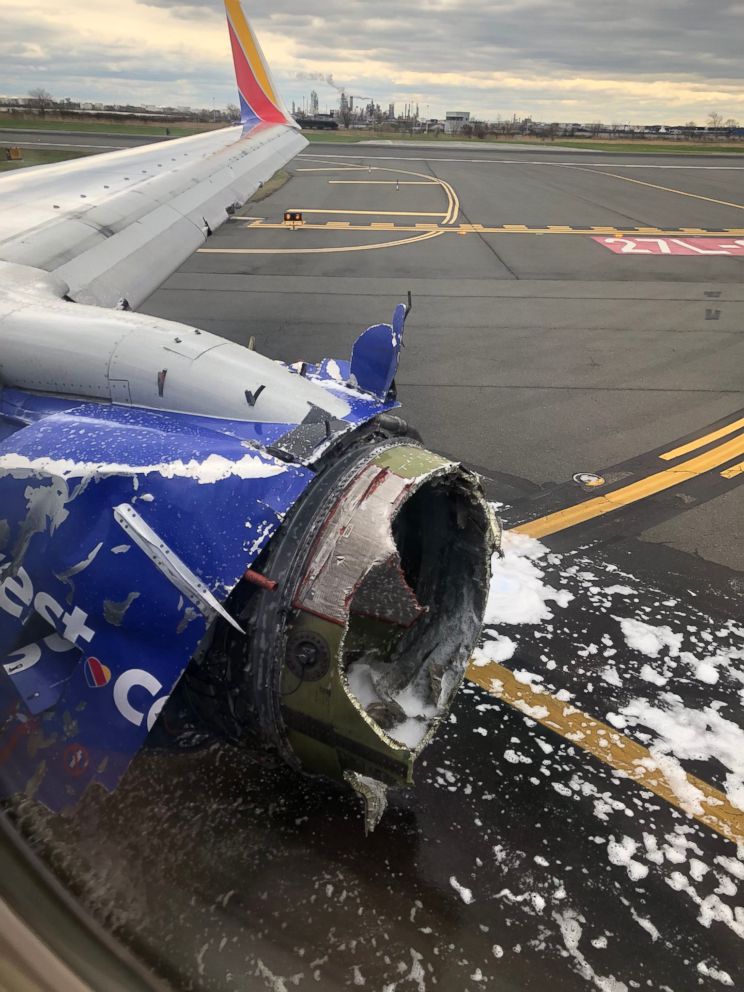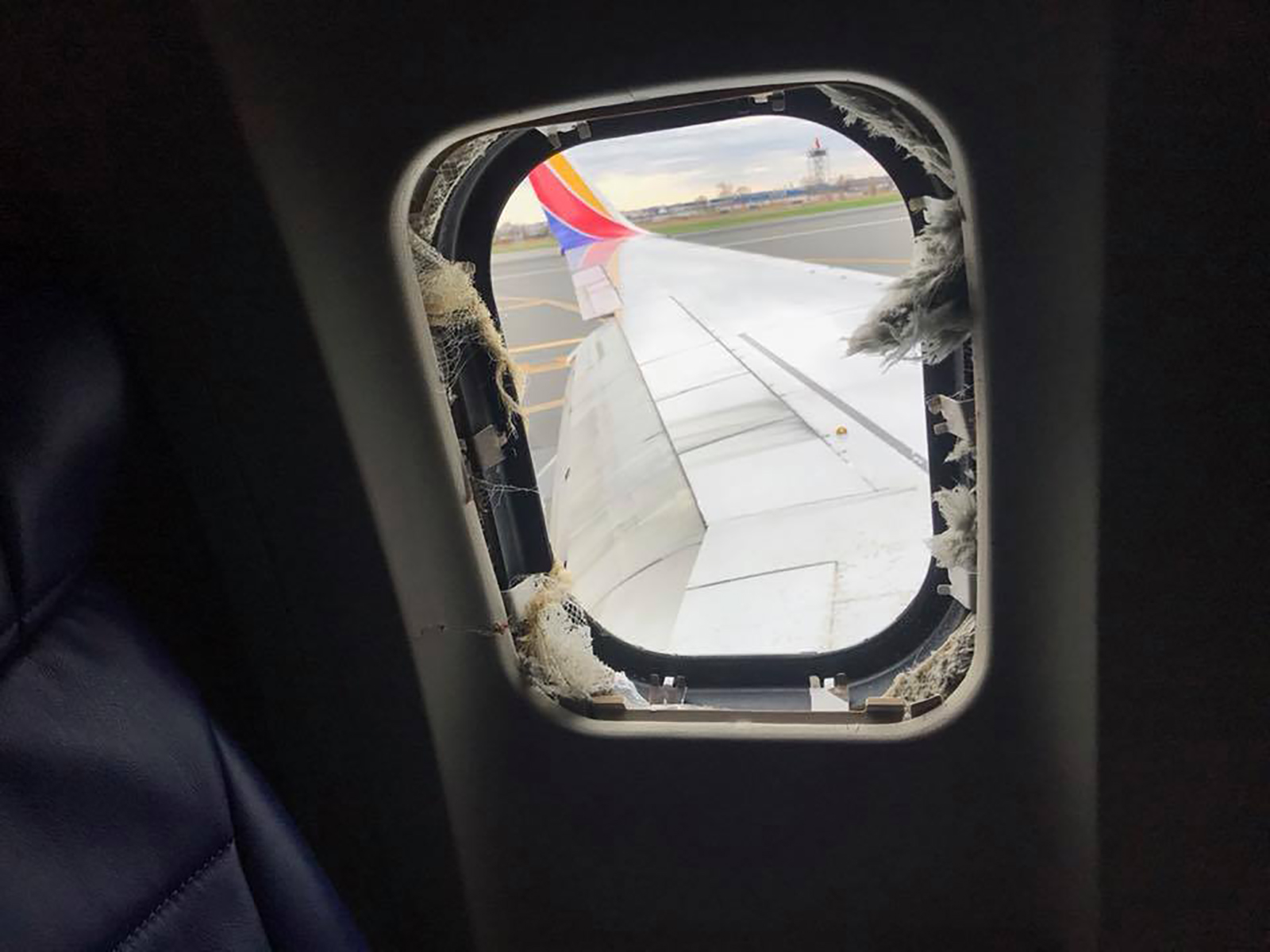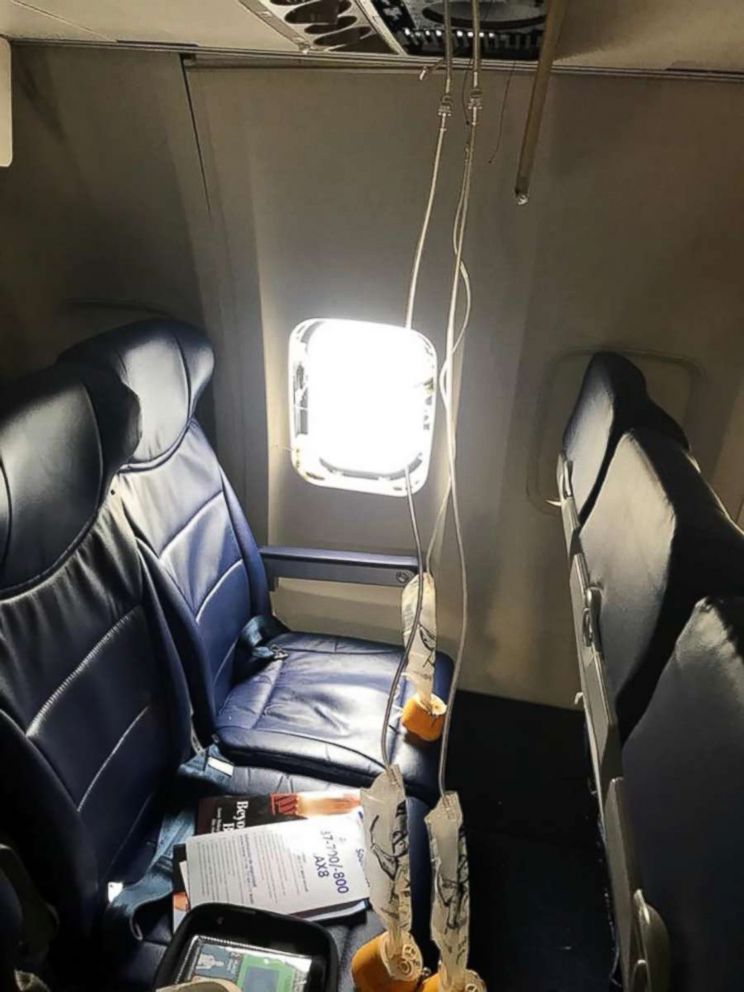 Jim Demetros, a passenger who said he was about three rows ahead of where the engine failed, told ABC News everybody was looking at "the woman who was sitting next to the window that had blown out."
"It was a pretty harrowing experience," he said, adding that the "crew did fantastic job ... keeping everyone calm."
Another passenger, Cassie Adams, said she was sitting "right over the engine" and could see the damage immediately after it failed.
A few minutes after the oxygen masks came down, the window two rows behind where Adams was sitting blew out, "and the woman was sucked out," she told ABC News.
"Two brave men immediately responded and helped grab her and tried to pull her back in," Adams said.
The men were able to pull her back in and performed CPR on her, Adams said. One of them then stood in front of the broken window so no one else would get hurt, she said, adding that she thought "the plane was going down."
"It was terrifying," Adams said. "Those men are heroes."
Another passenger, a woman from Albuquerque, New Mexico, also confirmed that a female passenger was "partially sucked out of the window."
"I talked to the guy who pulled her back in, and he said that ... her head, when she flew out the window, hit the window and she died on impact," the woman told ABC affiliate KOAT. "And then there was a nurse who helped to pull her back in, but before we knew what was really going on you could feel the plane instantly dropping."
Seven people suffered minor injuries and weren't taken to hospitals, officials said. The NTSB said 144 passengers and five crew members were on board.
Southwest Airlines Chief Executive Officer Gary Kelly expressed gratitude that no one else was seriously injured, but described the passenger's death as a "tragic loss."
"This is a sad day, and our hearts go out to the family and loved ones of the deceased customer," Kelly said during a press conference Tuesday afternoon.
Kelly said he was not aware of any issues with the Boeing 737, which was last inspected on Sunday. No issues with the plane or engine were reported at that time, he said, calling the Boeing 737 the "workhorse of the airline industry."
The engine that failed had gone through 40,000 cycles, Kelly said, adding that it had been 10,000 cycles since it was last overhauled. Engines are typically overhauled after 30,000 cycles, Kelly said.
Today's accident appears to be the first of its kind for the company, Kelly said. "To my knowledge, it's the first time we have lost a window."
Kelly commended the crew and described the flight's captain as "very experienced," adding that he started at the company in 1994 and has been a captain "for well over a decade."
"They did their jobs superbly today," Kelly added.
NTSB Chairman Robert Sumwalt described the emergency as engine failure. The crew reported damage to the main body of the plane, an engine and a window, the Federal Aviation Administration said.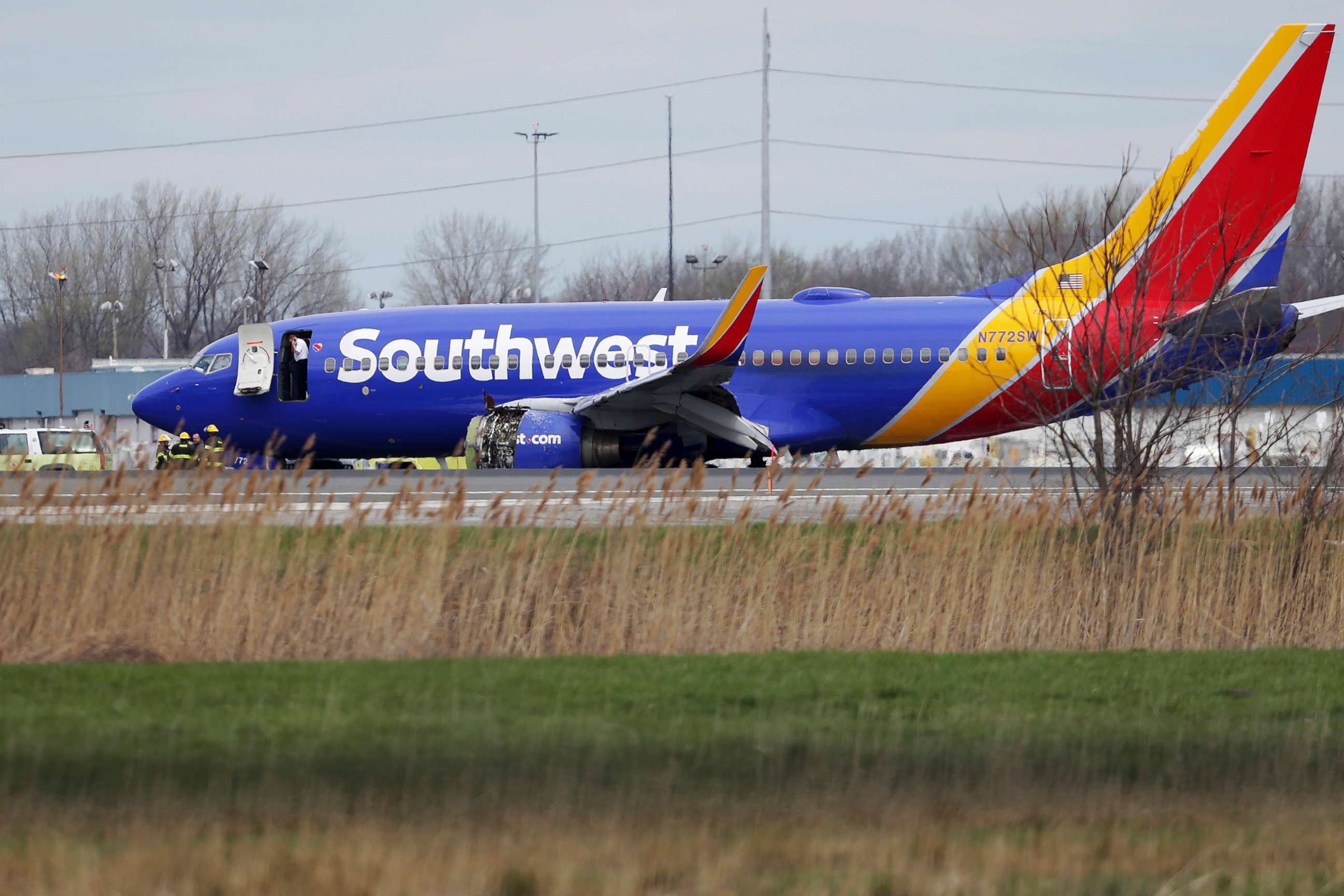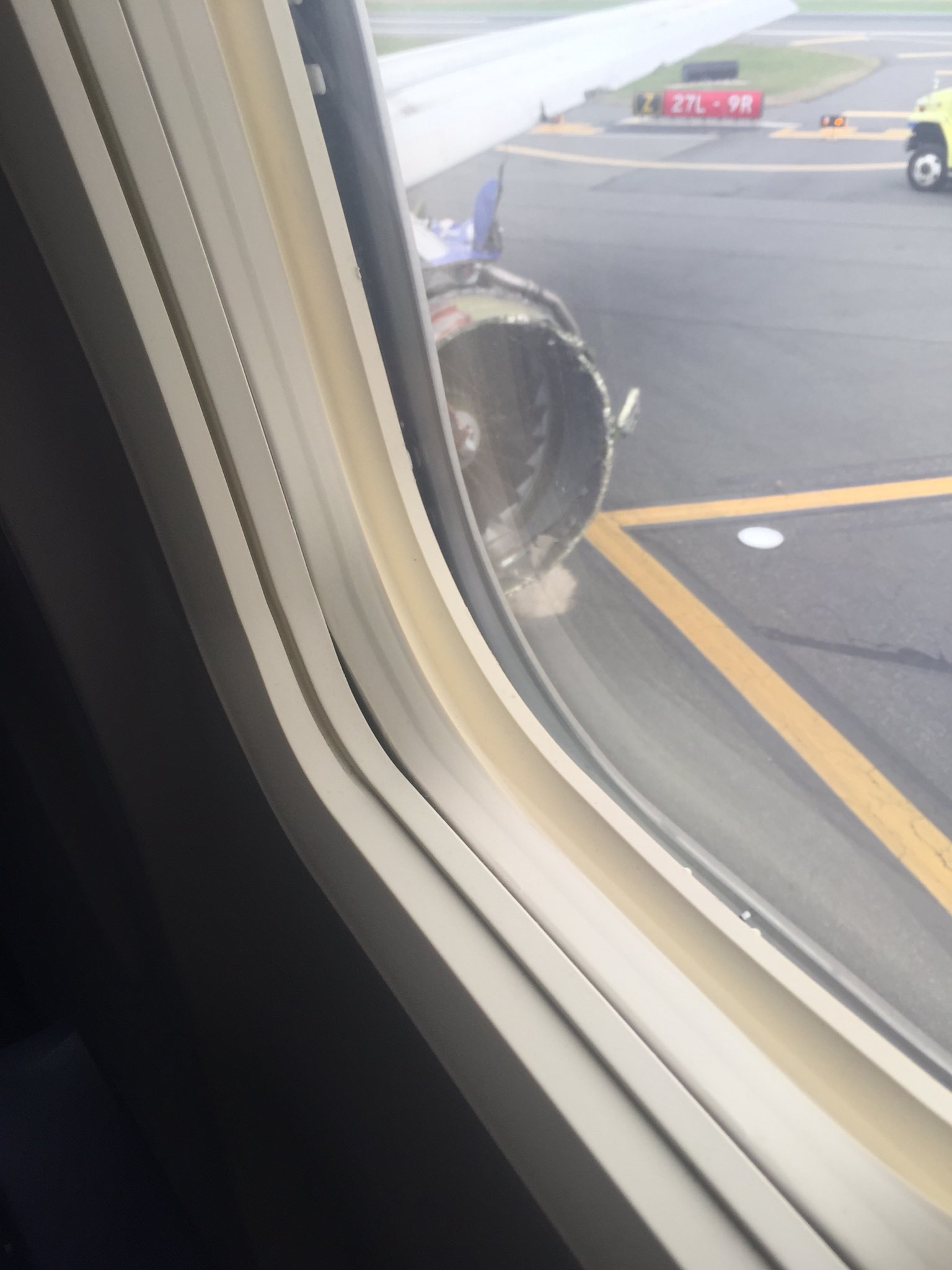 Kelly said in a statement that the victim's family are the company's "immediate and primary concern and we will do all that we can to support them during this difficult time and the difficult days ahead."
"I'm immensely grateful there are no other reports of injuries but truly this is a tragic loss," Kelly said. "Please join us in offering thoughts and prayers and support to all of those affected by today's tragedy."
In a statement, Boeing expressed its "deepest condolences" to the victim's family.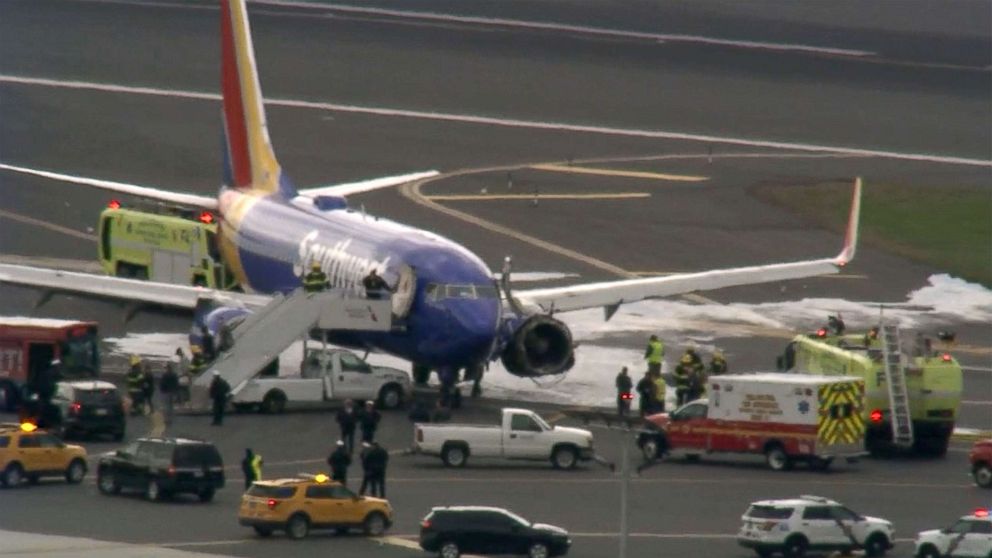 The runway was closed for more than two hours before reopening.
The NTSB and the FAA still are investigating, and Boeing said it is providing technical help to the investigation, with which Southwest is cooperating.
The NTSB has asked witnesses with videos or images to contact the agency directly via email.
The last accidental domestic airline fatality was in 2009, when Colgan 3407 crashed near Buffalo, New York, killing all 49 on board and a person on the ground.
ABC News' Becky Perlow, Amanda Maile, Daniel Steinberger, Jim Sicile, Jeff Cook, Brian Hartman, Josh Hoyos and Karma Allen contributed to this report.