— -- A white former police officer in South Carolina faces a bail hearing today in the April shooting of unarmed black motorist Walter Scott in North Charleston.
The shooting drew national attention, in part because cellphone video showed Michael Slager firing his gun as Scott ran away, the man's back to the officer. Prosecutors allege that Scott was no danger to himself or the officer at the time of the shooting.
But Andy Savage, an attorney for Slager, says an enhanced version of the video shows a fight between the men, illustrating the missing timeline between the moments when the 50-year-old Scott was pulled over during a traffic stop and when he was fatally shot.
Savage says he will show the enhanced video at today's bail hearing.
"The FBI analysis of the video is a violent physical assault in which clearly on that video, Mr. Scott obtained the upper hand," Savage said. "We believe the video portrays Mr. Scott with a taser aimed at officer Slager."
Savage said the video shows Scott tossing the taser to the ground as Slager fires his first shot.
The enhanced video, obtained by ABC News, lasts four seconds and makes it difficult to tell exactly what happened leading up to the shooting.
The FBI has confirmed it enhanced the video, but has not discussed its analysis.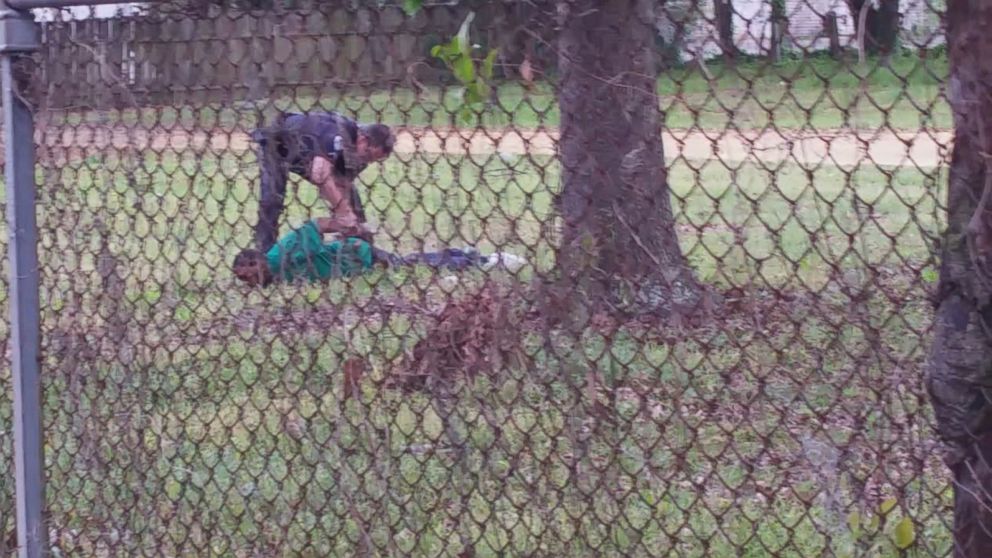 Slager, 33, is charged with murder. He was fired from the North Charleston Police Department shortly after the April 4 shooting.
Savage said the former police officer should be released on bond in alignment with similar cases in South Carolina. A motion filed Tuesday by attorneys for Slager included court documents showing other defendants in Charleston County who have been charged with murder but released on bond.
Savage also pointed to toxicology results for Scott, who tested positive for alcohol and cocaine, saying it explained why he acted so irrationally during a traffic stop.
Scott's family said it was easy to demonize a shooting victim who's unable to defend himself.
"What would make you have so much hate in your heart toward another human being to do something that gross to my brother?" said Scott's brother, Anthony. "I don't believe that this man should be out on bond, based on what we have seen and what we have heard. I don't think it would be a good thing, not only for the family, but also for the community."
Slager faces 30 years to life without parole if convicted. Prosecutor Scarlett Wilson has declined comment on the case outside of the courtroom.
The Associated Press contributed to this story.