— -- More than 125 years later, the Great Blizzard of 1888's legacy still resonates.
The storm is drawing new attention as the East Coast prepares today for a devastating winter onslaught, with 12 to 18 inches of snow possible in New York City in the coming days.
The city has been hit hard before -– including March 11 to 14, 1888. The blizzard remains one of the worst storms in U.S. history -- dumping 50 inches of snow in some areas, according to the National Weather Service, with drifts up to 50 feet high reported and residents from Maryland to Maine impacted.
Hundreds of people died. Public transportation was frozen, telegraph and telephone wires were down, and electricity was lost, a city in darkness.
"It has been thus far the greatest storm that this section of the country has ever known," wrote The New York World on March 13, 1888. "From midnight of Sunday to midnight of Monday this blizzard completely paralyzed the life-blood of this city and turned its avocations into a by-word and a force. Business stood still and millions of money were the damages."
Elevated trains were stuck between stations and ladders were used to get passengers down to the street below. Newly-arrived immigrants were paid to shovel, and horse carts were used to clear the snow from the streets.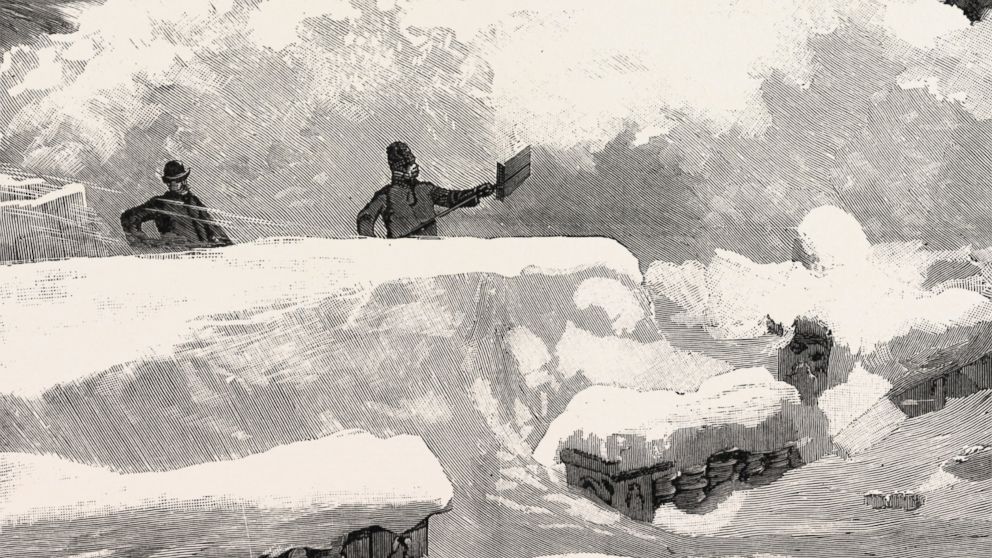 The 1888 storm maintains the third-highest snow accumulation recorded in New York City at 21 inches. The Great Blizzard started as rain, turning to sleet and snow as the temperature dropped into the single digits, the snow continuing to fall. What set the storm apart was the wind, with some gusts reaching 75 miles per hour.
"The vast machinery of the great city was stopped short by the storm, and the consequent financial loss was enormous," wrote the Hornellsville Weekly Tribune.
Everett Hayden, a scientist, wrote about the blizzard in the first issue of National Geographic magazine in 1889.
"The great storm ... has furnished a most striking and instructive example of a somewhat unusual class of storms, and this on such a grand scale, and in a part of the world where the data for its study are so complete, that it must long remain a memorable instance," he wrote.
A group of survivors -– the Blizzard Men of '88 –- helped to maintain the storm's visibility, continuing to meet into the mid-1900s, waxing poetic about Mother Nature's fury. One of the group members, Theodore Van Wyck, wrote a poem to commemorate the historic storm.
"Our blizzard sure must take the prize/ In spite of all the yarns and lies/ Our snow was nearly two feet deep/ Piled up and down in one big heap," he wrote in the mid-1930s.