— -- A manhunt continued Saturday for an unidentified suspect in a shooting at a Seattle-area mall Friday night that killed five people.
The suspected gunman entered the Cascade Mall in Burlington, Washington, about 65 miles north of Seattle, and 10 minutes later, at about 7 p.m. local time, opened fire in the makeup department of Macy's, police said.
Surveillance video images released by authorities showed that the suspect, whom police described as Hispanic and in his late teens or early 20s, went into the mall without the rifle that he shortly after brandished in the department store.
Four women, ranging in age from teens to seniors, were killed, and a man who had sustained life-threatening injuries died at Harborview Medical Center in Seattle early Saturday morning, several hours after he was taken there, said Sgt. Mark Francis, a public information officer with the Washington State Patrol.
Skagit County Coroner Hayley Thompson said at a press conference Saturday morning that the victims' identities will be released once autopsies are complete and next of kin notified.
Police believe the suspect acted alone, and the FBI said it has no indication at this point that the shooting is linked to terrorism.
"We have no indication this was a terrorism act," Michael Knutson, assistant special agent in charge of the Seattle FBI, said at the press conference. "There is no evidence to support that."
But Knutson cautioned, "I cannot discount it."
Mount Vernon Police Lt. Chris Cammock said the motive for the deadly shooting is unknown.
Law enforcement officers responding to the shooting locked down the mall and searched it thoroughly, but later found out that the suspect had fled prior to their arrival, police said, adding that they had recovered the suspected weapon.
Police said the suspect was last seen walking toward Interstate 5, and they appealed to the public for help in identifying and finding him.
"We could certainly use the community's help on that," Cammock told reporters this morning.
Police initially said four people were dead, but then revised the figure to three, before updating it back to four fatalities. And police initially said one female sustained non-life threatening injuries, but that was incorrect. Sgt. Francis of the state patrol said the numbers fluctuated as authorities searched the 434,000 square-foot mall and surrounding parking lot, which remain closed for the investigation.
Mall employees and shoppers said they hid in stores and fitting rooms during the shooting.
"Out of nowhere I just hear somebody yell and then after that, I turn around and just look at the Macy's and I just hear shots," Armando Patino, who was working at the mall's T-Mobile store, told ABC affiliate KOMO. "I hear one shot and then stand kinda still and like two three other people start running out saying gun."
Patino added, "I turn around and run to the store. Some people didn't know where to go. I just moved them into the [T-Mobile] store. We went in the back where we have a door and everything and we just stayed there until they told us to evacuate."
Stephanie Bose, an assistant general manager at Johnny Carino's Italian restaurant near Macy's department store at the mall, told The Associated Press she immediately locked the doors to the restaurant after hearing about the shooting from an employee's boyfriend.
"He was trying to go to the mall and people were screaming," Bose said. "It was frantic."
And Tari Caswell, a shopper in the women's dressing room in Macy's told the Skagit Valley Herald she heard "what sounded like four balloons popping."
"Then I heard seven or eight more, and I just stayed quiet in the dressing room because it just didn't feel right. And it got very quiet," Caswell said. "And then I heard a lady yelling for help, and a man came and got me and another lady, and we ran out of the store."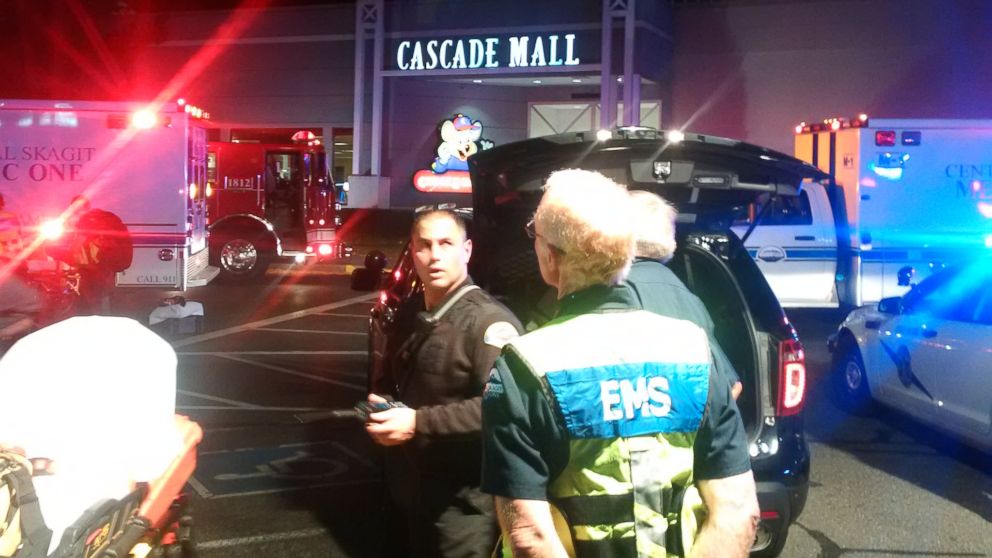 Approximately 200 local and regional law enforcement officers from more than 26 agencies responded to the shooting Friday night to secure the scene and evacuate employees and patrons. Authorities performed an initial sweep of the mall to ensure it had been evacuated, followed by a secondary search. Police said they spent at least an hour interviewing some 20 witnesses that evening.
Additionally, both the FBI and the federal Bureau of Alcohol, Tobacco, Firearms and Explosives are assisting the investigation.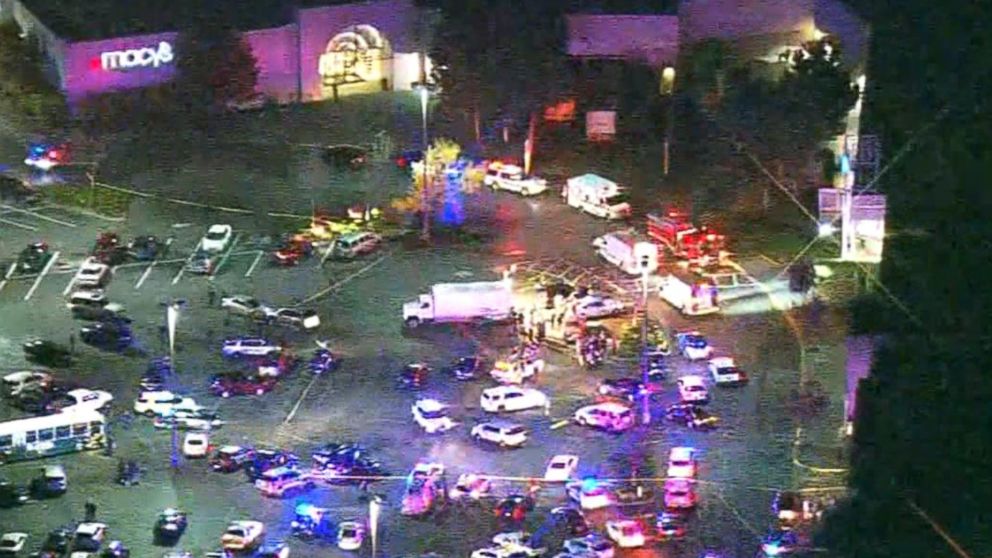 In a statement Friday night, Washington Gov. Jay Inslee urged residents "heed all safety and detour warnings. Stay close to your friends and loved ones as we await more information and, hopefully, news of the suspect's capture."
And at the news conference this morning, Burlington Mayor Steve Sexton called the shooting a "senseless act" that has forever changed the city.
"But I don't think our way of life needs to change forever," Sexton told reporters. "We're going to get beyond this.
ABC News' Matthew Fuhrman, Neal Karlinsky, Alyssa Pone, Jessica Rooney, Benjamin Stein and Devin Villacis contributed to this report.
This is a developing story. Please check back for updates.