— -- At least six people have died and more than 4,000 U.S. flights have been canceled due to a massive winter storm hitting the East Coast, with heavy snow, gusty winds and the coldest air of the season.
State officials said three of the deaths occurred in North Carolina and a fourth happened in South Carolina, as the weather system barreled up the eastern coast.
Among those killed were two men whose pickup truck slid off a road and overturned into a creek Wednesday night, North Carolina Gov. Roy Cooper said at a press conference this morning. The storm has also caused hundreds of car crashes around the Tar Heel State, Cooper said.
Two people were killed in Virginia on Thursday, according to authorities. A 75-year-old man in Hampton was clearing snow from a business parking lot when he suffered life-threatening injuries from a snowplow, while a young girl was killed while sledding down a driveway in Chester, police said.
The girl slid into the path of a Toyota Tacoma as it drove down the street. She was hit and later died at the hospital as a result of her injuries, according to police. Her age and identity were not released.
Meanwhile, U.S. airlines canceled at least 4,020 flights within, into and out of the United States as of 5 p.m. today, according to airline tracking firm FlightAware. Most of the cancellations were in New Jersey, Boston and New York.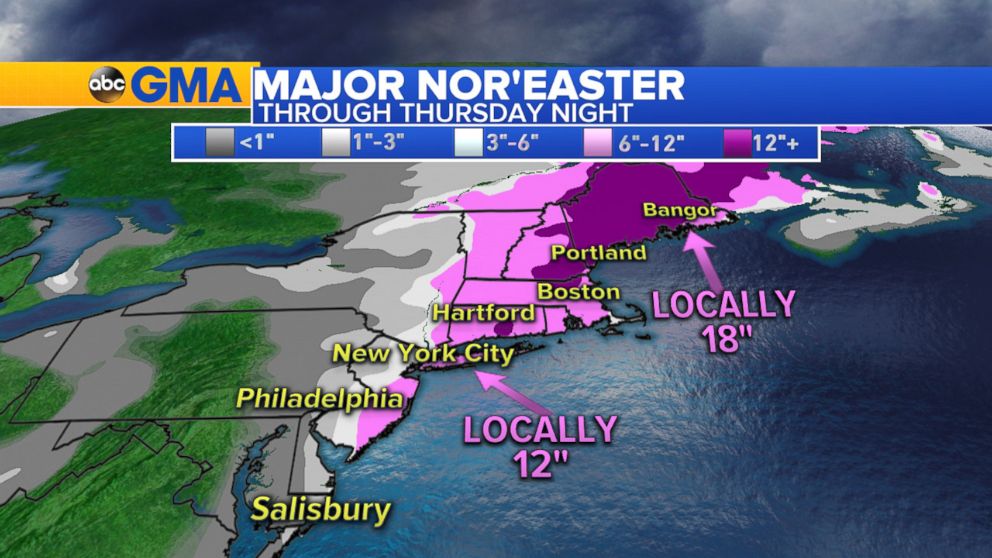 Major cities along the East Coast -- from North Carolina to Maine -- were under blizzard warnings, while others were placed under winter storm warnings.
Snowfall totals include nearly 17 inches in southern New Jersey and 16 inches on parts of the Jersey Shore. In New York City's outer boroughs, Brooklyn, Queens and the Bronx have all reported 11 to 13 inches of snow.
Maine Gov. Paul LePage announced that all state offices will be closed today. New Jersey Gov. Chris Christie also closed all state offices and declared a state of emergency in three coastal counties.
Flooding was causing some of the biggest issues in Massachusetts, where icy water was surging through coastal streets, including in Boston.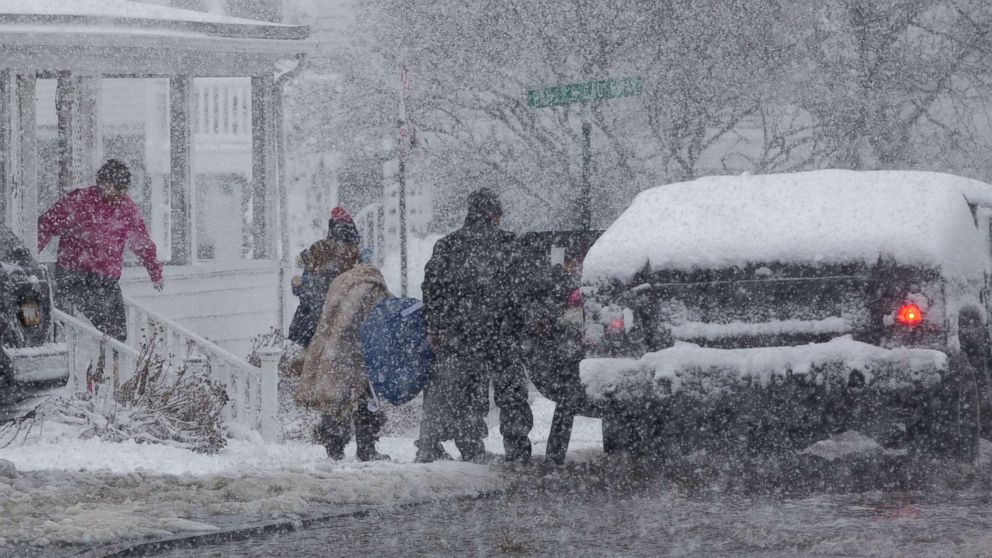 ABC News meteorologists spotted lightning on the radar this morning in Long Island, New York, as well as parts of Connecticut, which means residents there could be experiencing a "thundersnow." The rare weather phenomenon results in the unusual combination of thunder and lightning during a snowstorm.
As this coastal snowstorm moves over the warm waters of the Gulf Stream, the weather system is drawing moist, warm air into the atmosphere. That warm air rises and forms into a cloud where cold and warm air meet, producing turbulence that's needed for lightning to form. The water droplets and ice crystals inside the cloud bump together and move apart in the air, creating static electric charges in the clouds, according to meteorologists.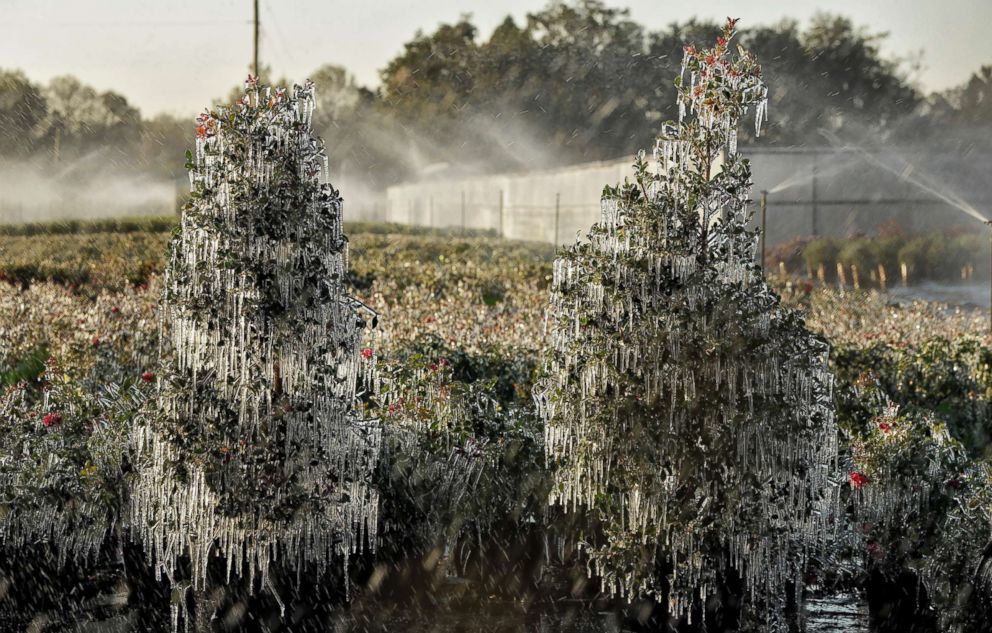 The storm brought record snowfall to cities like Tallahassee, Florida, where residents got the most snow since 1989, and Charleston, South Carolina, which received more than 5 inches of snow, also the most since 1989.
Meanwhile, some areas between Georgia and Virginia were blanketed with up to a foot of snow by this morning. A foot of snow was recorded in Atlantic County, New Jersey, this afternoon.
A state of emergency was declared in North Carolina, where parts of the state picked up a foot of snow and there were three fatalities from the story.
As of Thursday afternoon, nearly 79,000 people were without power from Maine to Georgia.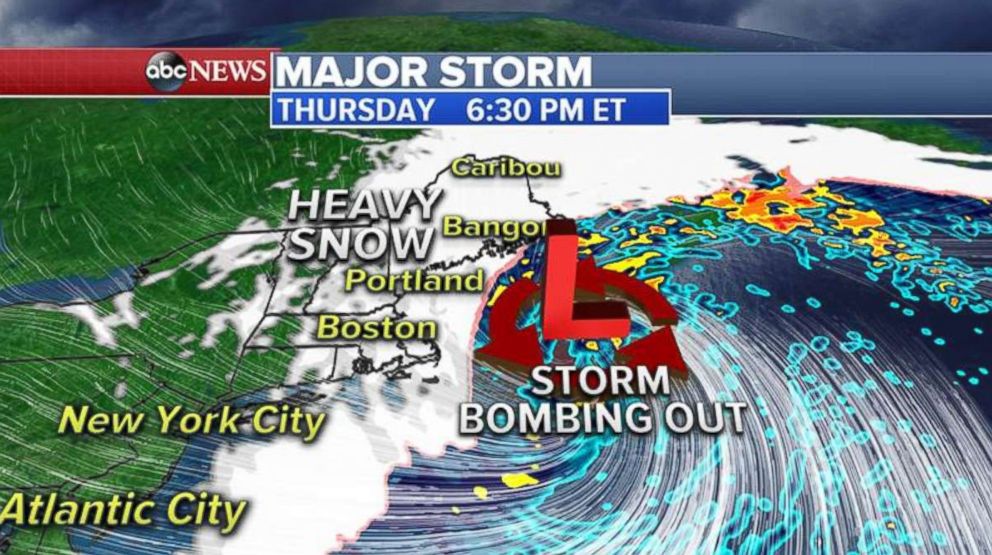 Snowfall in Boston should let up this evening, while the areas surrounding New York City should get some relief by midnight, meteorologists said. LaGuardia and John F. Kennedy airports are currently closed due to the weather.
Wind gusts were forecast to come in between 50 to 60 mph from Delaware to the Jersey Shore, but some areas, such as Norfolk, Virginia, saw gusts above 70 mph.
The peak wind from the storm thus far was reported in Nantucket, Massachusetts, at 76 mph.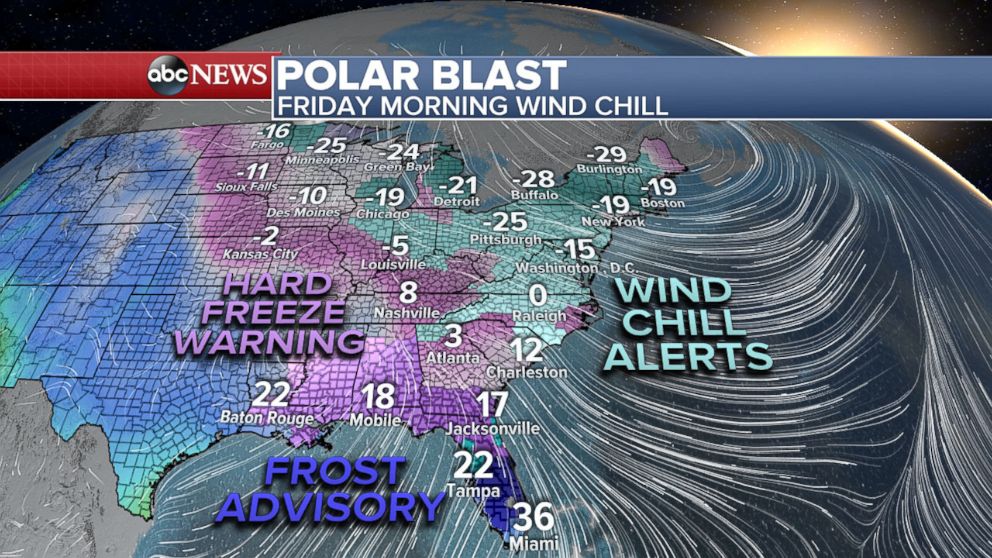 The storm will pull away from the Northeast by late Thursday night, with just lingering snow showers in New England before clearing out and turning very cold overnight.
The coldest air of the season is forecast to spill from Canada into the eastern United States, bringing wind chills to as low as 1 degree in some major cities, including Washington, D.C., and New York City.
The worst of the cold will be in the Northeast Saturday morning,, when wind chills are forecast to hit the minus 15s in major cities such as Washington, D.C., Philadelphia and New York City. Wind chills could dip to minus 40 in New England and Western New York.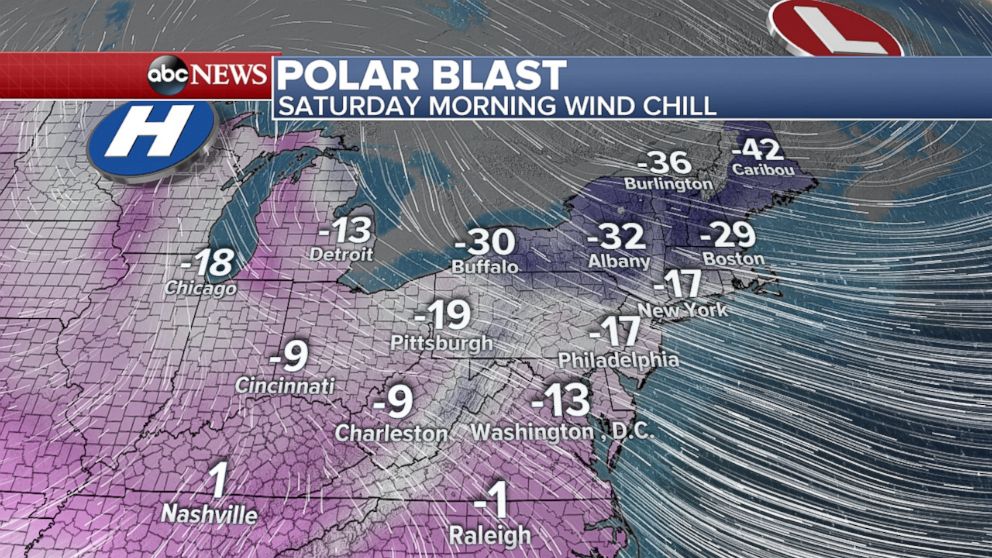 ABC News' Julia Jacobo, Rachel Katz and Morgan Winsor contributed to this report.