An accomplished California photographer and his former fiancee both face charges tied to his alleged year-long sexual relationship with a teenage girl that began when the girl was 14.
Jason Ellis, 33, was arraigned by the Orange County District Attorney's Office Tuesday on seven felony child-sex charges. He was released from jail on $100,000 bond, police said.
His former fiancee, 31-year-old Michelle Hecker, turned herself in to the Newport Beach (Calif.) Police Department this afternoon. She was scheduled to be arraigned on a felony charge of aiding and abetting Ellis, specifically by developing trust with the girl's parents and helping arrange rendezvous between the pair and concealing the relationship.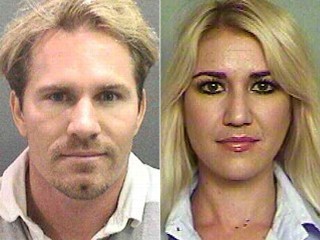 Orange County prosecutors say Hecker met the unidentified girl while horseback riding a year ago when the teen was 14. She allegedly introduced the girl to Ellis and drove her to and from a meeting with Ellis during which Ellis and the girl spent time alone together. She is accused of "having the victim change into and out of horseback riding clothes to hide her activities from Jane Doe's parents," the Orange County District Attorney wrote in a release.
"After meeting the victim, Ellis is accused of continuing to see Jane Doe and grooming her to develop a sexual relationship," the district attorney's office wrote. Ellis took the girl on dinner and movie dates, prosecutors said, and was physically affectionate in public and private.
The Newport Beach Police Department started investigating the case on June 25 when the girl's family showed up at the police station to report the illicit relationship. Police obtained a warrant for Ellis' arrest, but he and Hecker temporarily disappeared after apparently learning that police were looking for them.
On July 6, an officer in the neighborhood looking for Ellis stopped him in his vehicle and made the arrest, according to Evan Sailer, a spokesman for the Newport Beach Police Department. Authorities later obtained the warrant for Hecker's arrest.
The investigation originally began when a relative, concerned about the teen girl's relationship with Ellis, contacted private investigator Thomas Martin, president of the Newport Beach-based Martin Investigative Services. In an interview with ABC News, Martin, a former federal agent with the Justice Department and longtime PI, said the he was originally skeptical, but within hours of beginning surveillance, his team found enough evidence of an illegal relationship to contact police.
Martin said his team twice witnessed Ellis and the girl participating in what he categorized as "disturbing acts." But when he turned over the evidence, Newport Beach police initially told Martin, with whom they have worked before, that the evidence did not merit a warrant.
But Martin said the police welcomed any additional information he might find.
Martin said he then contacted the teenager's mother and arranged to meet. She was blindsided by the news of the alleged relationship with Ellis, but ultimately gave him permission to contact the teenager directly. Martin said the girl confirmed the relationship when he spoke with her.
"I then immediately took her and her mother to the Newport Beach Police Department," he said.
PI Catches 'Consensual Relationship'
Martin, who caught the relationship in surveillance footage, shed some light into what he described as a "consensual" relationship between the 33 year old and the teenage girl, now 15. Martin said one of his investigators followed Hecker from the teen's house to a shopping plaza 20 miles away, where Ellis was waiting for the teenager in a second vehicle in a parked car.
Martin also said that Ellis and Heckler somehow managed to take the girl on a vacation to France.
"It's one of the most egregious cases I have ever seen," Martin said. "Sometimes you have these 15-year-old girls who may look like they are 18 or 19, and these guys think the relationships are justified."
Ellis has extensive experience as a photographer, shooting covers for several major magazines and clients, including Maxim, Elle, Muscle & Fitness and Calvin Klein, according to the Jason Ellis Photography Web site. He specializes in physique photography and has worked with several well-known bodybuilders. He studied at Arizona State University, trained in Europe and is working on his first coffee-table book, according to his bio.
E-mail and phone messages left by ABC News at Jason Ellis Photography were not returned, nor was a call to the Orange County Public Defender's Office, which reportedly represented Ellis at his arraignment Tuesday.
The Orange County District Attorney's Office is asking any other potential victims to come forward.