LONDON — -- Two teens were arrested Wednesday for allegedly making terroristic threats -- including at least one that was racially charged -- in the wake of rising racial turmoil at the University of Missouri, police said.
Hunter Park, 19, was arrested at 1:50 a.m. for making a terrorist threat, the University of Missouri Police Department said in a statement. Park posted the threats on the social media app Yik Yak.
The threats allegedly said "I'm going to stand my ground tomorrow and shoot every black person I see" and "Well tomorrow mizzou will really make national news. Don't go to campus tomorrow," police reported earlier.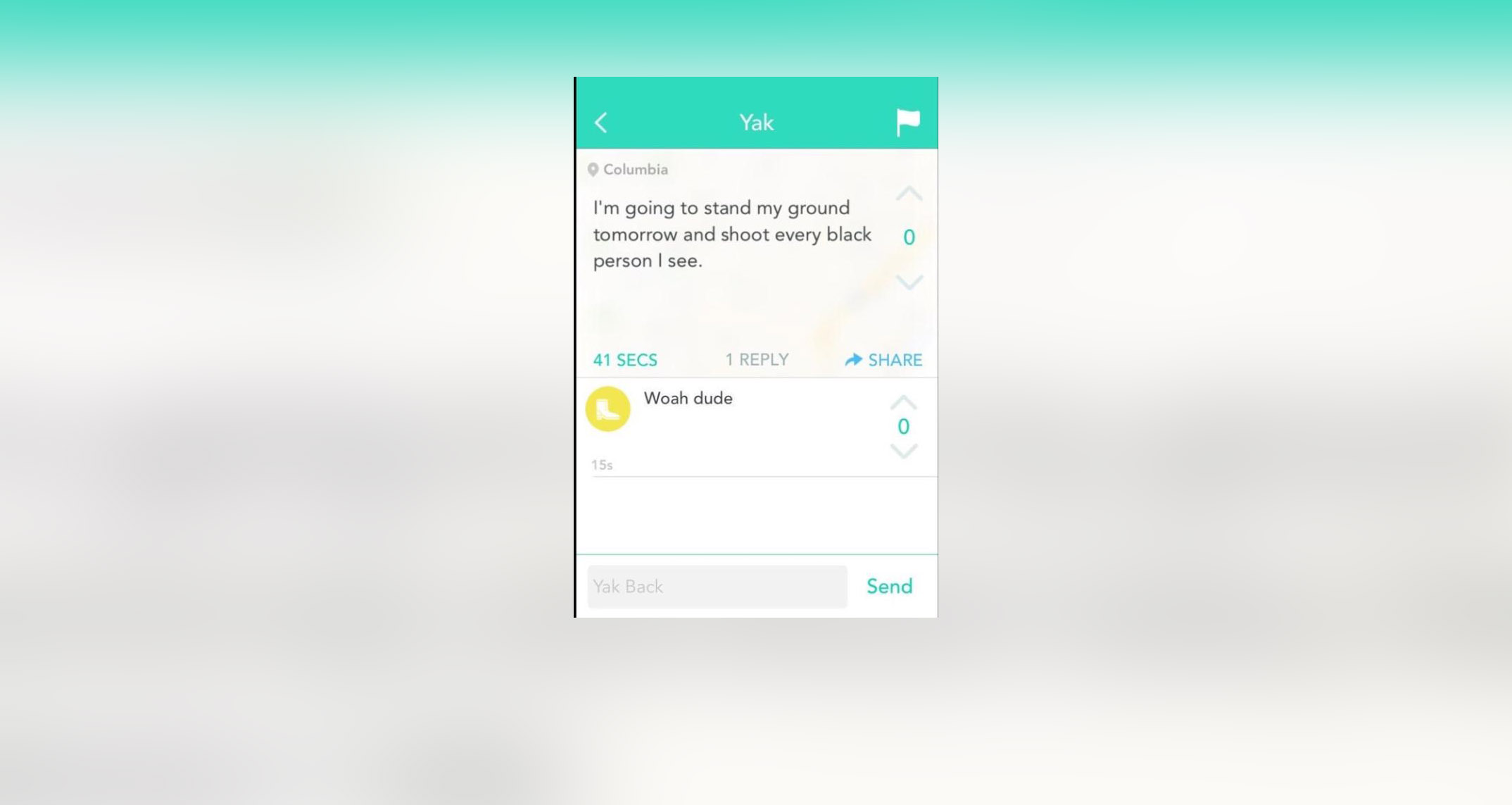 Park, who is white, was arrested in the town of Rolla, Mo., located about 90 miles south of the University of Missouri campus in Columbia.
Park is a student at Missouri University Science and Technology, according to the school. The campus is located in Rolla.
"Threats of violence of any kind are not tolerated," Missouri S&T Chancellor Cheryl B. Schrader said in a statement released by the school.
The school's statement said Park was arrested inside the Thomas Jefferson Residence Hall in Rolla and no weapons were found during an investigation.
He was being held on $4,500 bond at Boone County Jail in Columbia.
Meanwhile, a Northwest Missouri State University student was arrested Wednesday morning for allegedly making terrorist threats, according to the Nodaway County Sheriff's Department.
The 19-year-old student, from Blue Springs, was picked up at a residence hall on campus about 11 a.m.
"University Police had received a report that the suspect made threats on Yik Yak, a social media application, to harm others, and police immediately began to investigate," Northwest Missouri State University said in a statement.
The exact nature of the alleged threats was unclear.
In a statement, Yik Yak blasted the use of its system to make threats.
"Let's not waste any words here: This sort of misbehavior is NOT what Yik Yak is to be used for," the company said in a statement. "It is not condoned by Yik Yak, and it violates our Terms of Service."
Earlier this morning, there were also reports that members of the KKK were on campus and at least two campus buildings were locked down -- including the Black Culture Center -- but university officials have since given the all-clear and confirmed that there is "no immediate threat."
This incident comes just a day after racial tensions reached a boiling point, forcing the university's president, Tim Wolfe, to resign over the handling of what students called "institutional racism" on campus.
Melissa Click, an assistant professor in the university's communications department, resigned her courtesy appointment with Missouri's School of Journalism after she was caught on video demanding that Tim Tai, a student journalist, leave a demonstration celebrating Wolfe's resignation. Click released a statement Tuesday apologizing for her actions.
"I have reached out to the journalists involved to offer my sincerest apologies," Click said in the statement. "My actions were shaped by exasperation with a few spirited reporters. From this experience I have learned about humanity and humility."
Tai was on a freelance assignment for ESPN when he was blocked from taking pictures of hordes of students.
David Kurpius, dean of the Missouri School of Journalism, announced that Click had resigned on his Twitter page.
"While the J-School faculty were meeting, Dr. Melissa Click resigned her courtesy appointment with the school," he wrote.
Editor's note: A previous version of this story said that Melissa Click had resigned from the university. That is not correct. While Click has resigned her courtesy appointment, she remains an assistant professor in the Communications Department.