— -- The man suspected of opening fire in a baggage claim area of a Florida airport Friday, killing five people and wounding six, allegedly told the FBI he had planned the attack and bought a one-way ticket to Fort Lauderdale to carry it out, according to an FBI affidavit.
Esteban Santiago, 26, has been charged with federal crimes linked to the shooting, including performing an act of violence against a person at an airport, using a firearm in a crime of violence and causing death with a firearm. The charges come with the possibility of the death penalty.
Investigators have found "no specific reason" why he chose the Fort Lauderdale-Hollywood International Airport and have yet to determine a motive for the shooting, which took place Friday afternoon just before 1 p.m. ET in the baggage claim at Terminal 2, according to George Piro, special agent in charge of the FBI's Miami office.
"We have not identified any triggers that would have caused this attack," Pirro said at a press conference Saturday morning. "We're pursuing all angles on what prompted him to carry out this horrific attack."
Senior law enforcement officials briefed on the investigation told ABC News that Santiago arrived Friday at the airport in Fort Lauderdale on a flight from Minneapolis, Minnesota, where he had connected from a flight from Anchorage, Alaska, that he boarded Thursday night.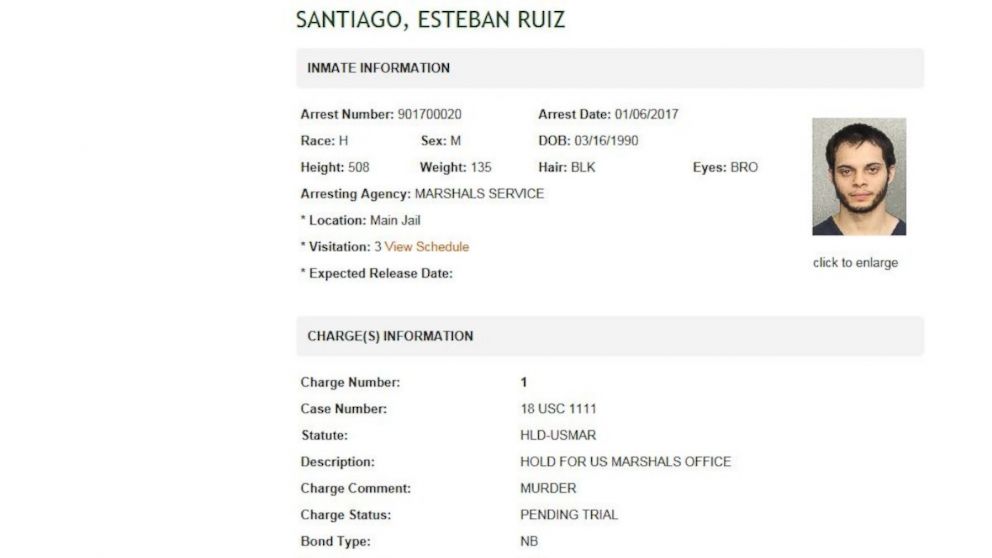 Anchorage Airport Police and Fire officials told ABC News Santiago only checked one bag -- a hard case carrying his gun. TSA regulations allow guns to be checked into baggage if they are stored in a locked, hard-sided container that cannot be easily accessed.
"That is absolutely something that I think we need to revisit," U.S. Rep. Debbie Wasserman Schultz of Florida said at the press conference Saturday morning. "We have revisited our security measures at airports every time we've had a security breach."
According to court records, Santiago told authorities he loaded a Walther 9mm semi-automatic handgun in a bathroom at the Fort Lauderdale-Hollywood International Airport, came out out and "shot the first people he encountered."
Santiago fired 10-15 rounds and was "aiming at victims' heads," the FBI said in a sworn affidavit to support the federal criminal charges. Agents saw surveillance video that support witness statements that Santiago was "walking while shooting in a methodical manner," the affidavit said.
At one point he exited Terminal 2 baggage claim, walked outside and then re-entered. At that point a sheriff's deputy confronted him, and Santiago dropped the weapon, its ammunition spent, according to the affidavit.
In his interview with the FBI, Santiago said "he had planned the attack, purchasing a one-way ticket," according to the affidavit. Santiago confirmed he claimed the box with the gun, brought it into a bathroom, put the gun in his waistband, left the men's room and "shot the first people he encountered." He emptied one magazine, reloaded, and then emptied another magazine, the affidavit said.
In addition to those wounded initially amid the gunfire, dozens of others were injured after the incident. A total of 54 patients have been taken to Broward Health Medical Center since Friday's shooting. Of those 54, nine patients were admitted, six of them with gunshot wounds. As of Saturday afternoon, eight patients remain hospitalized at Broward Health Medical Center -- six are listed in good condition and two are in critical condition, the hospital said in a press release.
Piro said law enforcement officials have identified the five victims and are in the process of notifying family members and loved ones. Their names have not been released.
According to authorities, Santiago did not try to take any hostages during the incident, nor did he make any statements while firing the weapon. The FBI said they are not aware of any incident on board the flight or at the baggage claim that might have triggered the shooting.
Law enforcement officials said Santiago was carrying military identification at the time of the incident. The suspect was apprehended and placed in federal custody. He was booked overnight at the Broward County Jail and is currently being held for murder, according to the Broward County Sheriff's Office.
Santiago will likely make his first court appearance Monday, Piro said at the press conference Saturday.
More details are beginning to emerge about the suspected gunman. Santiago, who spent nine years in the military, was a combat engineer with the Alaska Army National Guard and left the military in August, according to Lt. Col. Candis Olmstead, director of public affairs for the Alaska National Guard. He received a general discharge under honorable conditions at the rank of Private First Class.
Santiago joined the Puerto Rico National Guard in December 2007 and was deployed to Iraq from April 2010 to February 2011. Along the way, he earned a number of awards, including the Army Commendation Medal and the Army Good Conduct Medal, according to his service record.
A senior law enforcement official told ABC News that Santiago walked into the FBI's Anchorage field office in November last year after his discharge from the military and said he was under mind control by a U.S. intelligence agency. The official said he appeared incoherent and agitated, saying the U.S. government was trying to force him to watch ISIS videos.
The official said Santiago stated he didn't want to hurt anyone. Still, the FBI contacted local law enforcement, which, out of caution, had him medically evaluated. The FBI closed the probe after reviewing databases and interviewing family, the official told ABC News.
Sources told ABC News that Santiago had received mental health treatment after the encounter with the FBI in Anchorage. A person who answered the phone for Signal 88 -- a company in Anchorage where Santiago worked in a security capacity -- told ABC News it has no comment and is "currently under the advisement of federal authorities."
A senior law enforcement official briefed on the case told ABC News that authorities are "tearing apart" Santiago's service record to determine if he was suffering from PTSD. The FBI said investigators are also reviewing Santiago's social media accounts and online activity.
During a press conference Saturday morning, FBI special agent in charge Piro said they have interviewed Santiago and members of his family. Local and federal authorities now are in the process of conducting further interviews and pursuing leads in south Florida and several locations throughout the United States. So far, officials interviewed 175 witnesses and have recovered various video and physical evidence, Piro said.
"God have mercy not only for us but for everyone," Santiago's aunt, Maria Ruiz, speaking in Spanish, told reporters outside her Union City, N.J., home Friday. "I am really sorry. I am so sad."
Fort Lauderdale-Hollywood International Airport was closed to departing and arriving flights following the deadly shooting. Cargo and general aviation (private small planes, corporate jets) operations resumed at midnight, the airport said on its Twitter page.
Marke Gale, aviation director of Fort Lauderdale-Hollywood International Airport, said the airport resumed its operations for commercial and passenger services at 5 a.m. ET Saturday. But Gale warned that there may still be cancellations and delays due to poor weather conditions and the aftermath of the shooting.
Terminal 2, the location of the shooting, remained closed Saturday morning, Gale said.
Allan Siegel, the airport's committee outreach coordinator, told ABC News the two airlines that fly out of Terminal 2 -- Delta Airlines and Air Canada -- will operate from other terminals.
At the press conference Saturday morning, Gale said airport officials have collected more than 20,000 various personal items that were left behind during the evacuation, including luggage, cellphones and laptops. Passengers can call 1-866-435-9355 to report their missing items, Gale said.
"We are in the process of cataloguing all those items, protecting it, securing it so we can get it back to its rightful owner as soon as we possibly can," he told reporters. "Please understand it's going to take some time to process that large number of items."
Hundreds of passengers who spent the night at nearby Port Everglades were brought back on buses Saturday to the airport to catch their flights. The Red Cross provided bedding, food and water for the displaced passengers.
Wasserman Schultz said Florida is working with its partners in "a united front" to cope and heal from the mass shooting.
"This is obviously a horrific tragedy and we are devastated that this happened in our hometown, in our corner of paradise," she told reporters Saturday morning.
ABC News' Maia Davis Julia Jacobo, Randy Kreider, Troy McMullen, James Gordon Meek, Brian Ross, Rhonda Schwartz, Emily Shapiro and Benjamin Stein contributed to this report.