— -- An upcoming winter storm is expected to affect more than 75 million people from Arkansas to New York this weekend, the National Weather Service announced today.
The system was hitting the South Thursday night, sparking severe storms along the Gulf of Mexico. A tornado watch was issued for parts of Louisiana and Texas.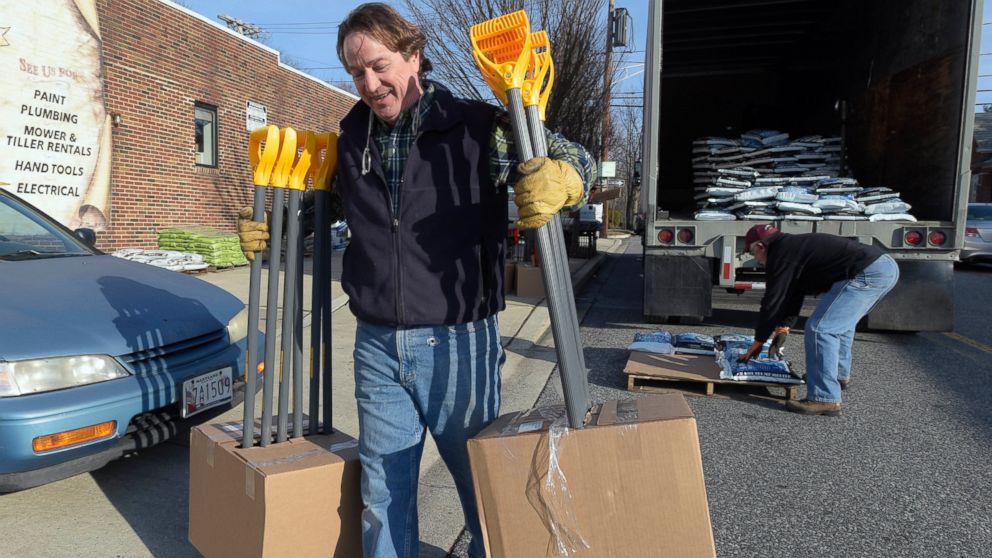 Here's what to expect with the current track of the storm:
Friday
In the morning, the storm moves into the southeast, through Georgia and Florida. Tornado threats will remain in effect Thursday night through Friday from Mississippi and Florida.
Parts of South Carolina and southern North Carolina from Charlotte to Raleigh should brace for where ice accumulations.
Some areas in the southeast will see snow, from Little Rock, Ark. and Memphis to Virginia and northern North Carolina. Heavy snow will develop across parts of Tennessee, Kentucky, and the Virginias.
Cities along the coast in Virginia and North and South Carolina will see heavy wind and rain from the snow.
The storm will move northeast Friday night into Saturday morning, bringing dangerous conditions to the mid-Atlantic. Blizzard watches and warnings will be in effect from Washington, D.C. to Philadelphia to New York City.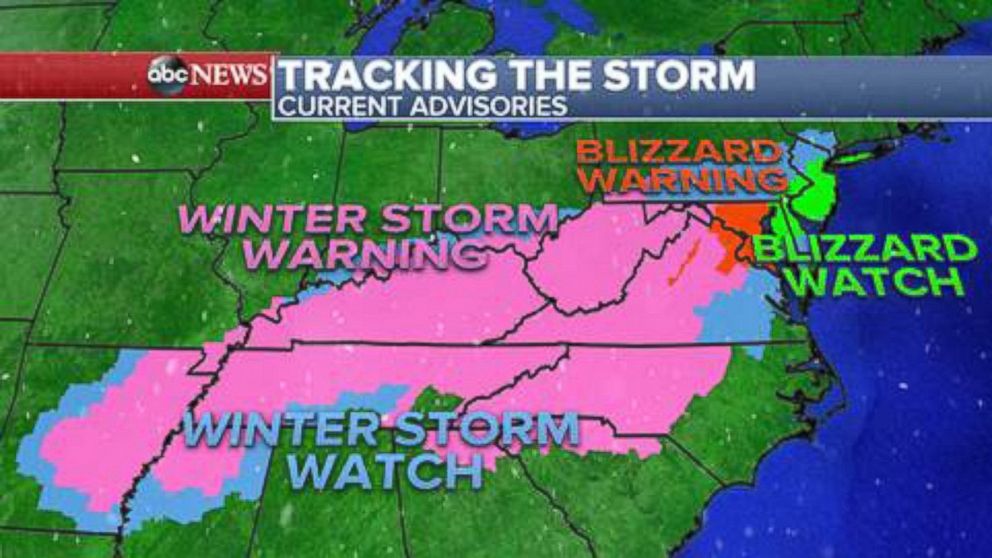 Saturday
The heaviest snow will begin to fall around midnight in Philadelphia and 6 a.m. New York City. Wind gusts will be from 40 to 60 mph with near-zero visibility, while high waves on the coast could reach up to 20 feet, making flooding in coastal areas in New York, New Jersey and Delaware possibility due to the lunar cycle.
The strength of the storm will increase off the mid-Atlantic east coast throughout the day Saturday. Blizzard conditions will be possible from Washington, D.C. to Philadelphia to New York City.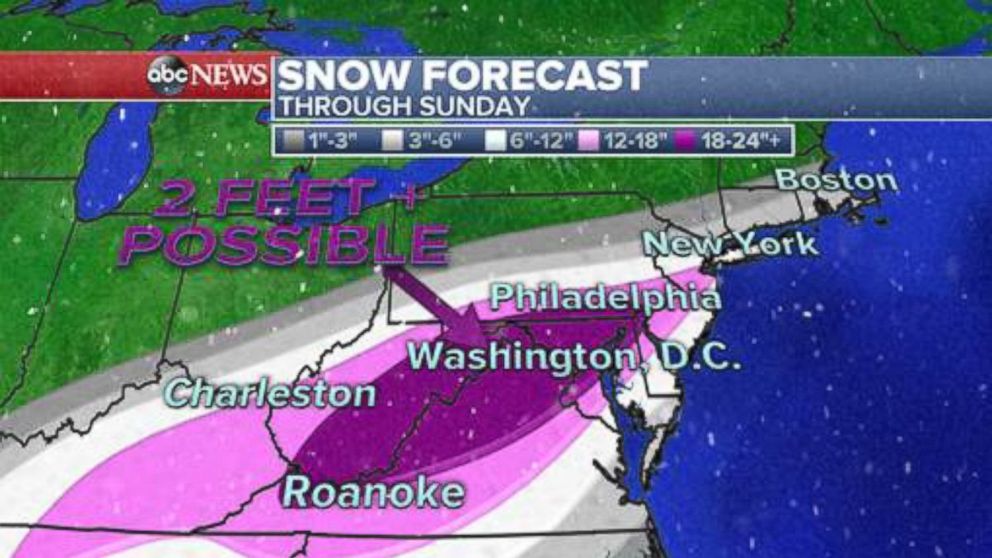 Areas near Washington, D.C. and Baltimore are expected to be the hardest hit in terms of snow accumulations, with models predicting anywhere from 18 to 24 inches. Some spots could see more than 2 feet of snow, which would make this storm the biggest to hit the area in more than 90 years.
New York City is expected to get 5 to 10 inches of snow, but even if the accumulation is on the low side, conditions will be rough with high winds blowing the snow around.
Cities north of New York City will likely only see 2 to 5 inches, and only 1 to 2 inches in southern New England.
Sunday
Leftover snow showers will hit some areas Sunday morning, but the storm should clear the east coast by noon.
Conditions will improve by the afternoon, and sunshine will even make an appearance before nightfall.