— -- Even at 25 months old, Bo Gray has a bit of a theme song: "You Are My Sunshine."
His mother, Amanda Bowman Gray, captured him trying to sing along to it with his 11-year-old sister, Lydia, and posted the video to Facebook Monday.
"My daughter Lydia was watching Bo while I was in the shower. Came out to this," wrote the mother of five from Heber City, Utah. "If she didn't have a guitar, I don't know if she would know how to babysit him. This is her go to."
The video has at least 17 million views.
But music has been more than a babysitting ploy in the Gray home, complete with dad Caleb Gray and brothers Thomas, 15; William, 13; and Hunter, 3.
According to Bowman Gray, music therapy -- and these daily jam sessions with big sister Lydia -- have helped Bo's vocabulary blossom.
Bo has Down syndrome. His mother said he was also born with several heart and lung conditions, and has been undergoing several treatments that doctors hope will make his heart beat normally.
It was in April 2016 that "You Are My Sunshine" became his go-to song, Bowman Gray said. Bo had undergone heart surgery.
"After weeks and weeks (which ended up in months) of being in the hospital in a silent room of the CICU (Cardiac Intensive Care Unit) we got special permission to bring a guitar in and sing to him in hopes that it would comfort him," she posted Monday.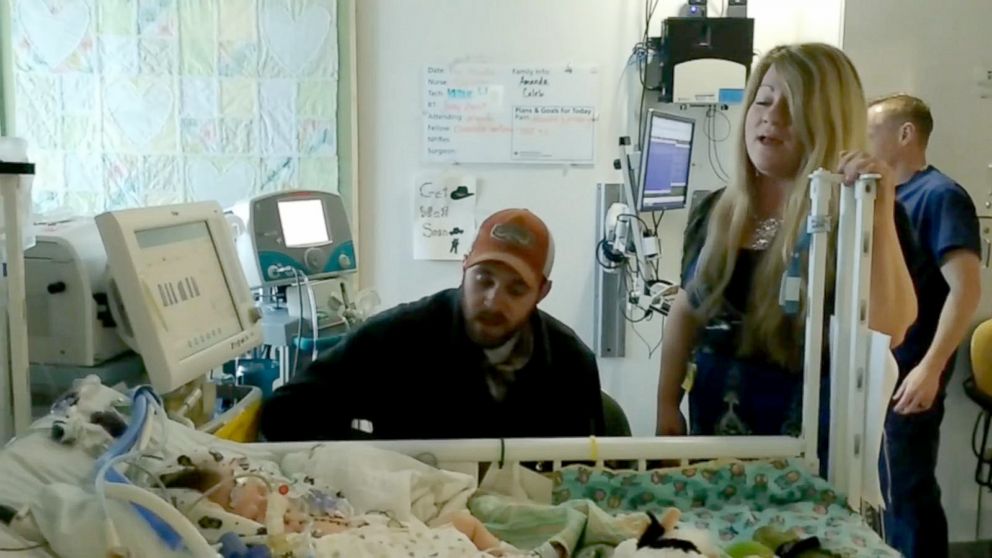 A separate video she posted to Facebook showed her and Caleb Gray, a local musician, singing the song to Bo as he lay in a hospital bed. She said it was a song that the two had sung to him before his surgery and then afterward.
Then came October, when Lydia -- who has played the guitar since age 4 -- was singing the song to Bo and noticed he could say the word "happy" as she sang to him.
Bowman Gray, however, didn't believe her.
He hadn't even said "Mama" yet and doctors had told the family that they should not expect Bo to speak much until he was at least 3 years old.
Sure enough, when Lydia began playing the song and singing, Bo said "happy" -- his very first word.
"It's proof that music therapy works," Bowman Gray said in her post. "Every word he has learned has been through music and singing."
He's up to 12 words now.
"We feel like he's defying the odds," Bowman Gray told ABC News today. "Thanks to Lydia and her determination, she pushed forward with music therapy. ... We're so proud of our kids."