Trial begins for white Tulsa cop charged in shooting death of unarmed black man
If convicted, Betty Shelby faces four years to life in prison.
— -- A manslaughter trial is underway for Betty Shelby, a white Tulsa police officer accused of fatally shooting Terence Crutcher, an unarmed black man.
Shelby, 43, shot and killed Crutcher, 40, after approaching him on the street on Sept. 16 after his car broke down. Video shows him walking away from her with his hands on his head.
The Tulsa County District Attorney's office claims Shelby "reacted unreasonably by escalating the situation from a confrontation with Mr. Crutcher, who was not responding to verbal commands and was walking away from her with his hands help up, becoming emotionally involved to the point that she overreacted."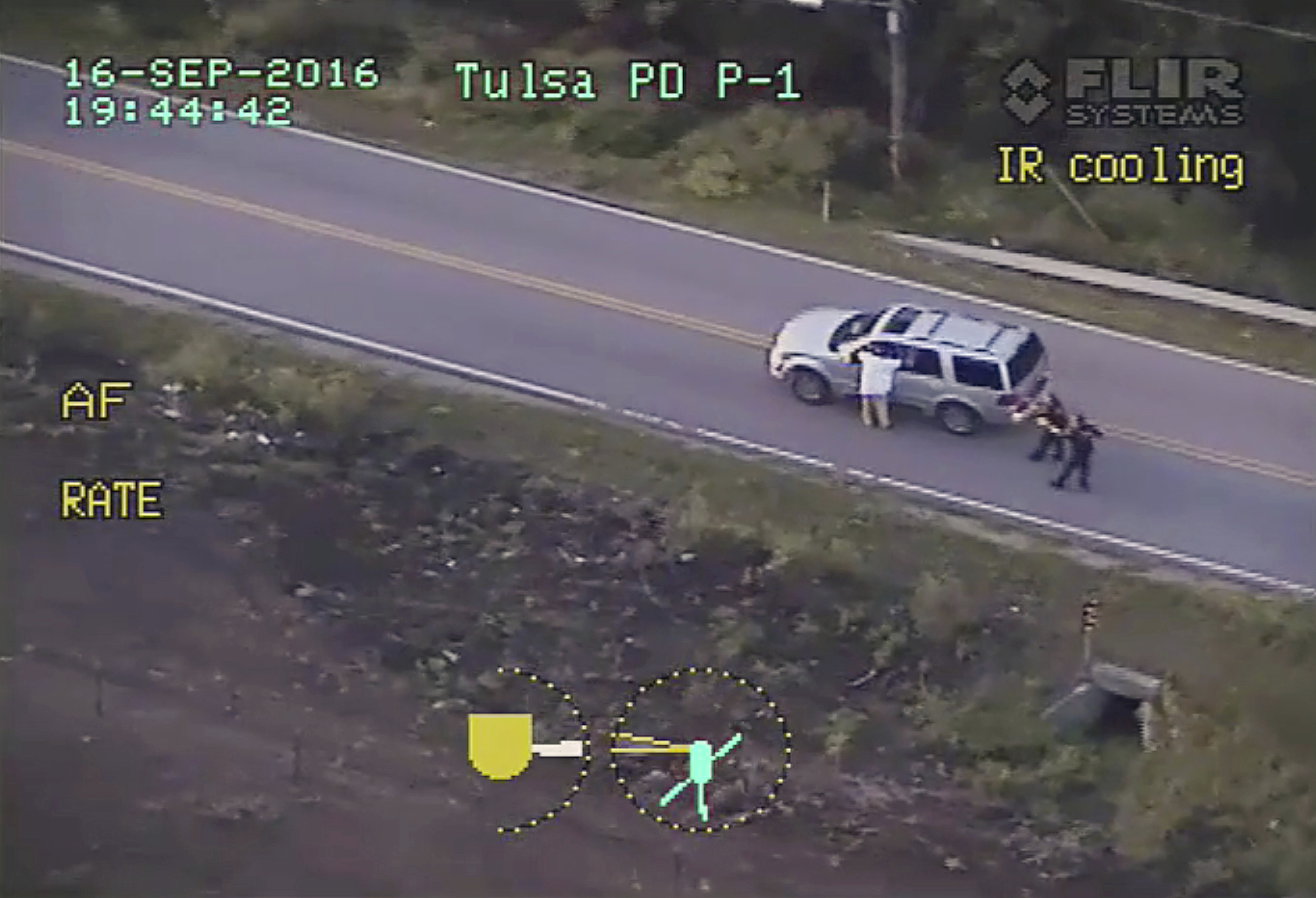 Attorneys for Shelby, who has been on unpaid leave since the shooting, said that before the video started Shelby had repeatedly ordered Crutcher to stop walking away and to get on the ground, The Associated Press reported. Shelby's attorneys have also said she feared for her life and thought Crutcher was reaching into his car for a gun, the AP reported.
An autopsy showed that PCP was in Crutcher's system, the AP said.
During opening statements today, prosecutor Kevin Grey said Shelby had just finished dinner at the nearby police substation and was en route to a domestic disturbance call when she came upon Crutcher's abandoned Lincoln Navigator.
Grey, referring to the dash and helicopter cameras, told the jury, "You will see what it looks like from a police officer's perspective."
Grey implied that Shelby received special treatment by the Tulsa Police Department when she was allowed to view all police videotape before making her statement to detectives days after the shooting.
Defense attorney Shannon McMurray told the jury that Shelby was a model officer who followed her training that day.
"She gave him every opportunity to comply, the evidence will show you," McMurray said.
"This was a rush to file charges," McMurray said. "And when you look at the whole picture, all the evidence will show this."
The prosecution's first witness, Tulsa police officer Tyler Turnbough, described coming to the scene where Shelby was attempting to get Crutcher to comply with her commands.
Turnbough said that he saw Shelby had drawn her gun, so he drew his Taser in order to offer up a less-lethal option. Turnbough testified that he told Shelby he had drawn his Taser, but Turnbough said he wasn't sure if Shelby acknowledged that she heard him.
Turnbough said he also saw Crutcher reach his left hand into the window of his Lincoln Navigator, which prompted him to fire his taser at the exact moment Shelby fired her gun.
Turnbough earlier told the National Center for Police Defense that Shelby's actions were appropriate and necessary, the AP said. "There is no way of knowing what he was reaching for and to take a chance could be deadly," Turnbough had said, according to the AP.
The jury consists of two black women, seven white women and three white men. The alternates are one black man and one white woman.
Shelby has pleaded not guilty. She faces four years to life in prison if convicted, the AP said.
A civil rights investigation into Crutcher's death was also opened by the Justice Department, the AP said.
The Associated Press contributed to this report.