— -- A tropical storm which killed 22 people in Central America is forecast to strengthen into a hurricane that could affect the U.S. Gulf Coast later this weekend.
Hurricane and storm surge watches have already been issued for the coastline from Morgan City, Louisiana to the Alabama/Mississippi border, an area that includes New Orleans. Officials in New Orleans have yet to call for any evacuations, but preparations for landfall were already well underway Thursday. On the current track, Nate is expected to make landfall at about 1 a.m. on Sunday just south or east of New Orleans as a Category 1 hurricane with winds around 80 mph.
As much as a foot of rain could fall in parts of Mississippi and Louisiana with storm surge of 4 to 8 feet along the coast.
As of 5 a.m. on Friday, Tropical Storm Nate was moving off Honduras and re-entering the Caribbean Sea, according to the National Hurricane Center. The system strengthened into a tropical storm near the coast of Nicaragua Thursday.
Maximum sustained winds had strengthened to 45 mph and it was moving northwest at 14 mph, as of early Friday. The storm is expected to continue to strengthen Friday as it moves over warm water and crosses over Mexico's Yucatan peninsula Friday night as a strong tropical storm with winds of about 60 mph, according to the National Hurricane Center. The resort cities of Cancun and Cozumel in Mexico will feel the full brunt of the storm.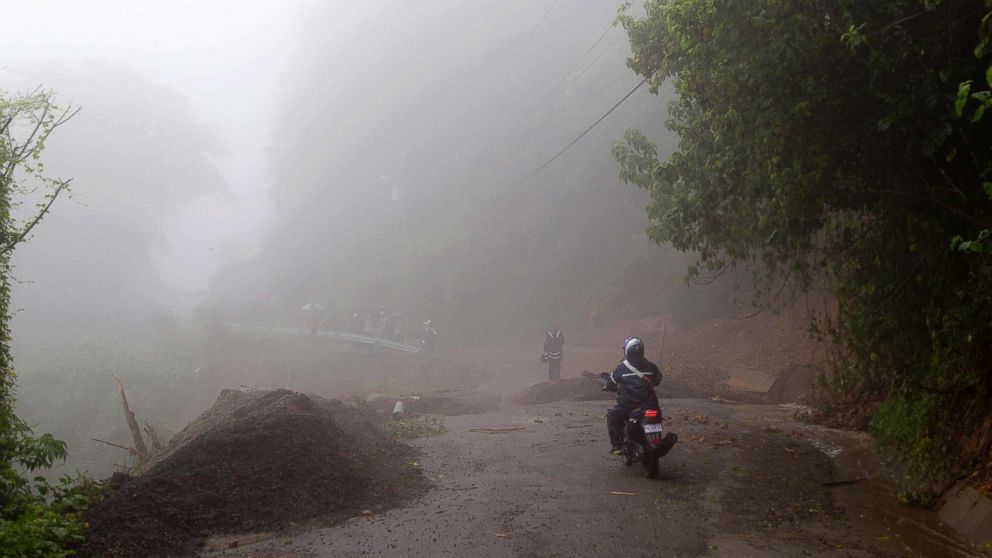 The tropical storm pounded Nicaragua with rain heavy enough to cause life-threatening flash floods and mudslides. Up to 30 inches of rain is possible in some areas of Central America through Friday night.
According to The Associated Press, 22 people were killed in Central America, including 15 in Nicaragua and seven in Costa Rica. Officials in Costa Rica said 15 people were missing as well.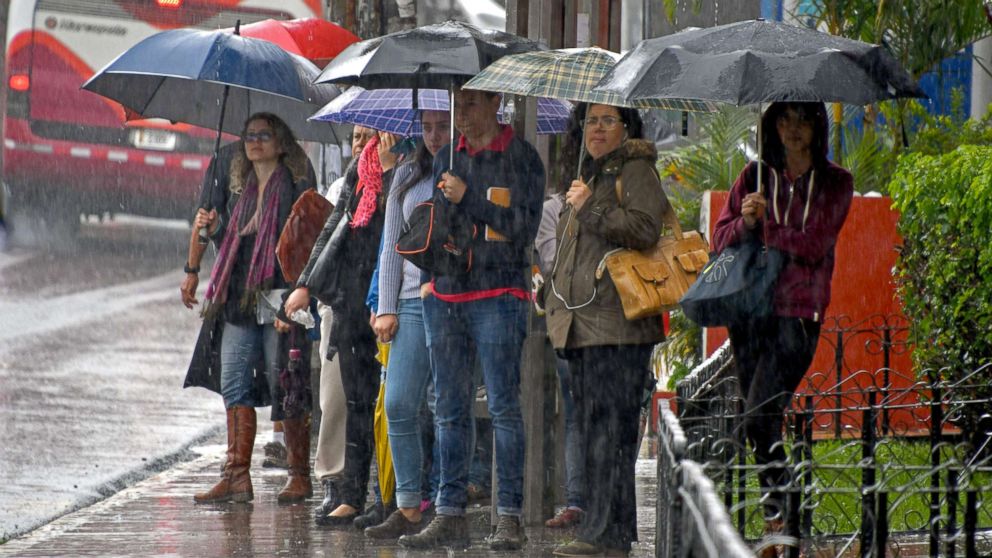 Nate could reach hurricane status as early as Saturday afternoon while entering the Gulf of Mexico. Its trajectory has it on track to make landfall somewhere between New Orleans, Louisiana, and Mobile, Alabama, on Saturday night or Sunday morning as a weak Category 1 hurricane, with winds of about 80 mph. Then, the storm is expected to weaken to a post-tropical system, according to the National Hurricane Center. But the track and the storm's strength are subject to change.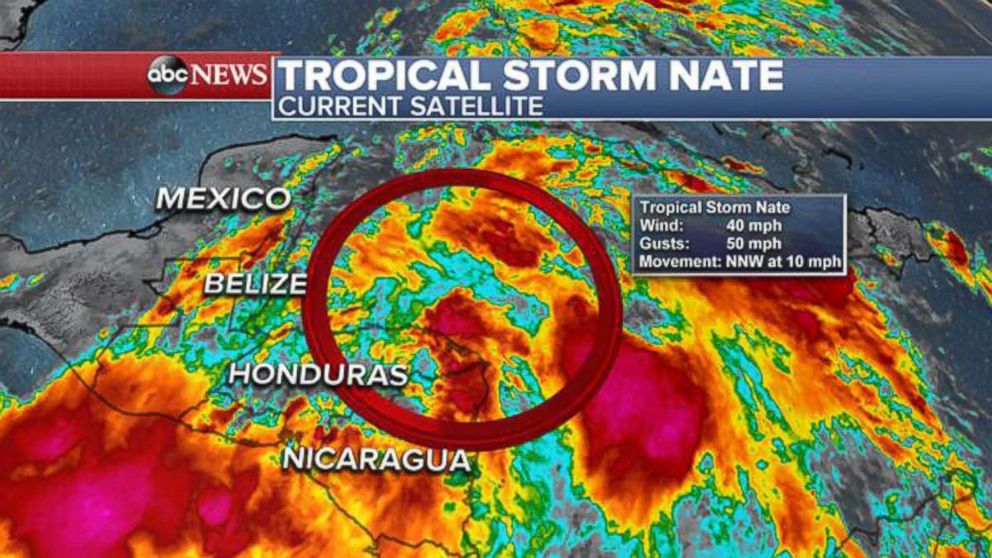 Residents from Louisiana to Florida are being warned to monitor the system as it approaches this weekend. The area is still feeling the effects of hurricanes Harvey and Irma.
Florida Gov. Rick Scott declared a state of emergency in 29 counties Thursday afternoon to prepare for the tropical storm's approach.
New Orleans Mayor Mitch Landrieu declared a state of emergency for the city, he said at a press conference Thursday afternoon. A coastal flood advisory is in effect for New Orleans until 12 p.m. on Sunday, and storm surge is possible throughout the weekend, according to the mayor's office.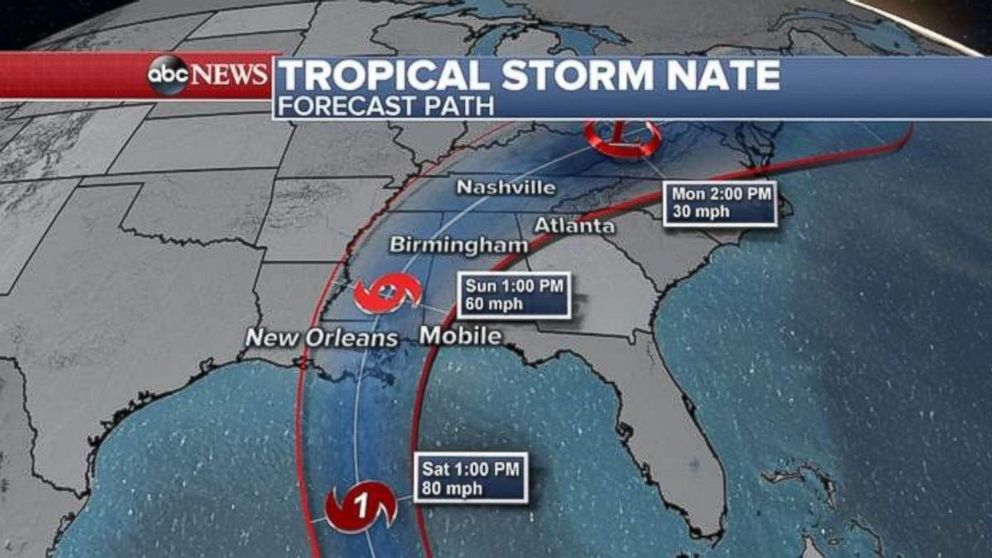 Officials are working "around the clock" to repair all power and pumps for the city's drainage system, Landrieu said. As of Thursday afternoon's press conference, 108 of the city's 120 pumps were working.
Alabama also issued a statewide state of emergency late Thursday in preparation for Nate. The emergency is effective as of 7 a.m. on Friday.
Oil and gas companies began evacuating six production platforms on Thursday, the Bureau of Safety Environmental Enforcement said in a report. While one movable rig was taken out of the storm's path, no drilling rigs have been evacuated, according to the report.
So far, the Atlantic has seen five major hurricanes (Category 3 or higher) during the 2017 season; two short of the record set in 2005, when seven major hurricanes hit.