— -- The East Coast is beginning to dig itself out of last weekend's historic blizzard, with some areas working to clear up to three feet of snow. With so much snow on the ground, many have wondered: where does it all go?
Contrary to popular belief, dumping excess snow in the nearest river is not a solution. As plows work to clear roadways of snow, they also collect pollutants and debris, which cities have to keep out of their waterways.
In Washington, D.C., the parking lot at Robert F. Kennedy (RFK) Memorial Stadium has become a mountain of snow. The stadium, next to the Anacostia River, has seen an endless flow of dump trucks from around the city. D.C. doesn't own any snow melters, so for now the snow is deposited, compacted, and left to melt naturally.
D.C. Department of Energy and Environment Director Tommy Wells told ABC News that RFK was chosen as the city's primary collection point because it's near a sewer that carries the water straight to a water treatment plant.
"We've put a silt fabric filter all around the site" to sift out debris, Wells said. "So when it melts it will go through the mesh."
Keeping pollutants out of the city's rivers is a major priority for D.C. officials. Christopher Geldart, director of the District of Columbia's Homeland Security and Emergency Management Agency, said that he is working closely with other departments to minimize the risk of contamination.
"We've done this before, and we are doing it again," Geldart said. "We're taking the appropriate precautions and making sure that in the areas that we're putting the snow and melting it, that we're doing it in a responsible manner."
In New York, where crews are faced with removing snow from the city's 6,000 miles worth of streets, one central snow dumping location isn't practical. The Department of Sanitation handles snow disposal, and Commissioner Kathryn Garcia said there are "snowfields" set up throughout the city.
"We are going to begin piling and hauling operations," Garcia said in a press conference, "which means we will literally put the snow in dump trucks and take it away."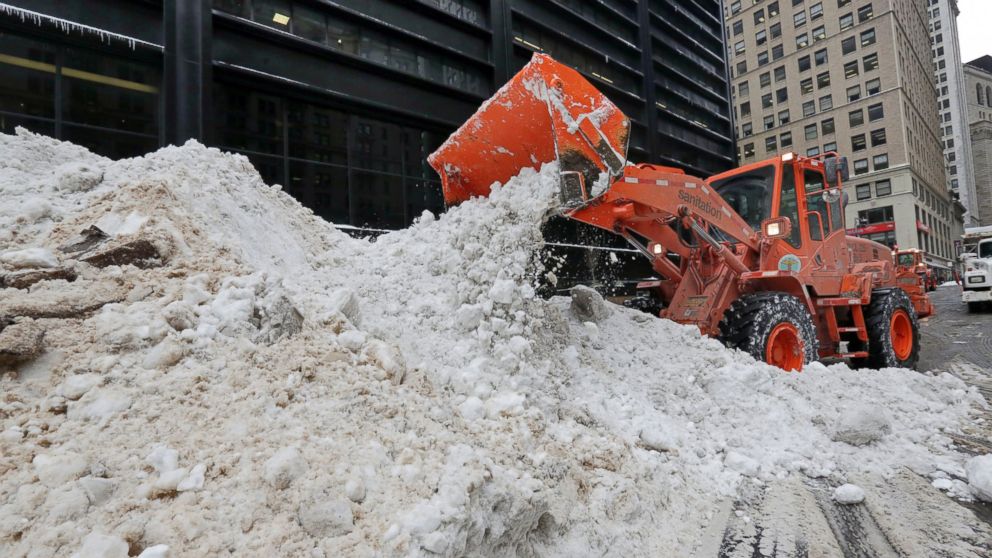 After reports in previous years of untreated snow being dumped in the East River, city officials are working to ensure that the process is done with an eye on the environment. Unlike D.C., New York has at its disposal 36 mobile snow melters, which can melt at least 60 tons of snow per hour. They filter out any debris and send the runoff into New York's wastewater system to be treated.
No matter how thorough the process is, this amount of snow, will be here for sometime. New York Mayor Bill de Blasio admitted as much this weekend.
"The snow pile is going to be with us for a while," he said.