— -- An impossible dream was realized today for Yosemite climbers Tommy Caldwell and Kevin Jorgeson, as they became the first to free-climb to the top of the nearly vertical El Capitan's "Dawn Wall."
Caldwell and Jorgeson used only their hands and feet to inch up the 3,000-foot rock. The Dawn Wall is the steepest half-mile stretch of granite that faces east toward the sun.
Caldwell and Jorgeson used no climbing equipment, just ropes and harnesses to prevent deadly falls.
Big Up Productions filmmaker Brett Lowell filmed the pair's climb.
"If you look at that wall, it looks like glass," Lowell said previously. "It's really difficult to imagine how anyone could free-climb it."
During Caldwell and Jorgeson's 19-day journey -- a dream seven years in the making -- the climbers slept in hanging tents attached to the wall, even braving a windstorm and clinging to razor-sharp edges with bloodied fingers.
"What makes it hard is the holds are very small. They are far apart. ... Basically just hard to climb," friend and professional climber Alex Honnold said recently.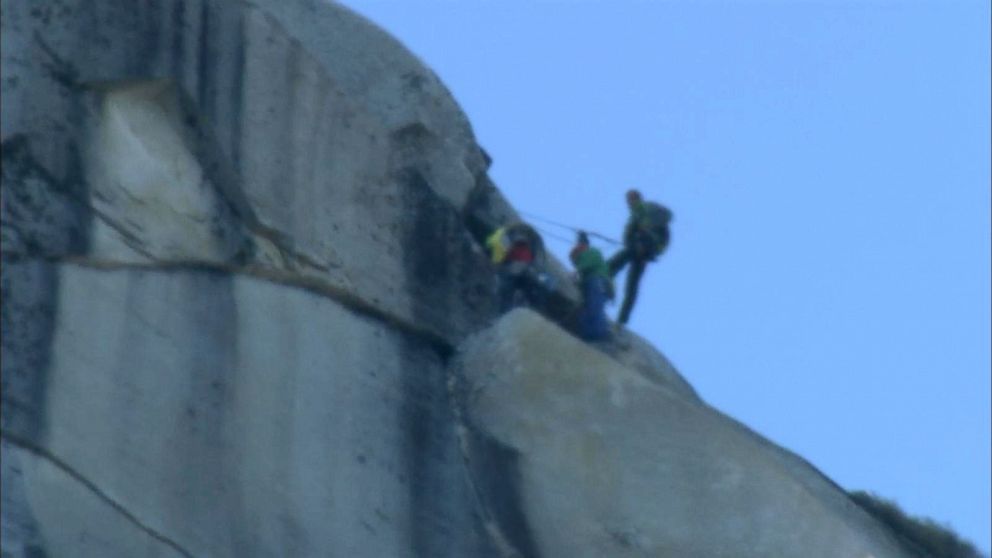 On Day 8, Jorgeson struggled at one of the toughest points.
"It was a true cliffhanger," he said in a video blog from the Dawn Wall. "Thoughts crossed my mind that I should just throw in the towel."
It was game on from there though.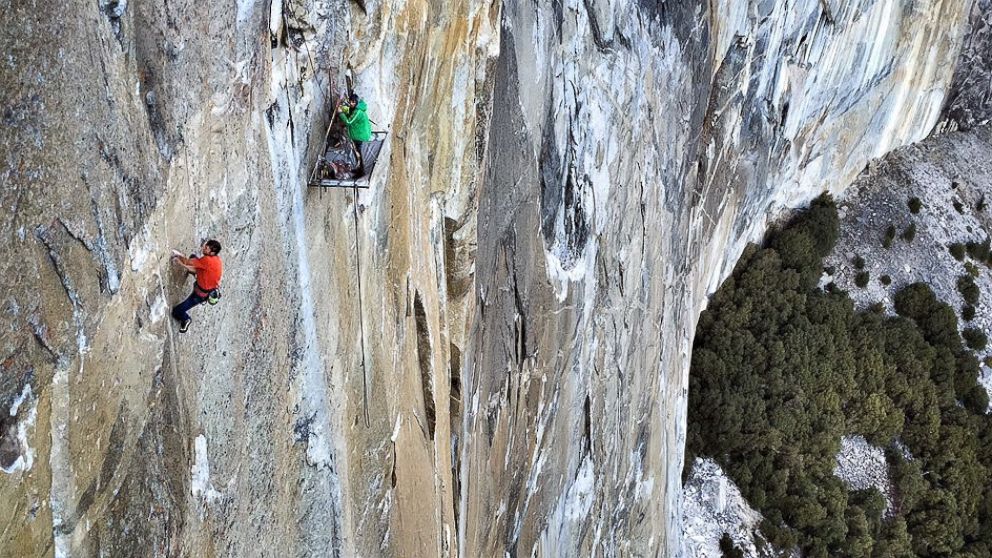 Over the course of the climb, which began Dec. 27, they ate packed hard-boiled eggs, breakfast sandwiches with salmon and got caffeine boosts from their flasks of coffee.
The men were met by an entourage up at the top -- from climbing buddies to family members.
It will take them a few hours to come back down through a combination of hiking and rappelling.
"I feel like the most proud person in the world right now," Caldwell's sister Sandy Van Nieuwenhuyzen told The Associated Press. "I'm just going to hug. Just hug. No words necessary."