The rising tensions along the United States border with Mexico took on a painful, human face with the shooting death Monday of a young Mexican man attempting to cross the border near El Paso, Texas.
Grainy cell phone video released today showed four young Mexicans running from the U.S. border patrol on Monday, June 7, at 6:30 p.m. On the video is the sound of gunfire, and then it shows 14-year-old Sergio Huereka lying on the ground, dying.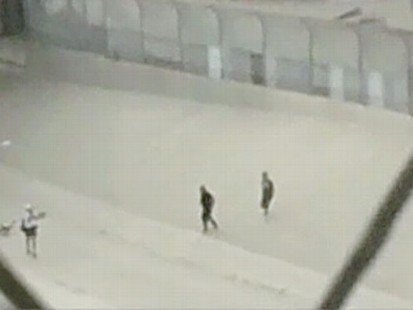 His mother is seen screaming. In a later interview, she blamed a U.S. Border Patrol officer.
"He says he didn't realize that he was a child, how come?" she said.
'Extremely Regrettable'
Attorney General Eric Holder told reporters Thursday that the incident is "extremely regrettable." The FBI is investigating the shooting.
Exactly what happened is in dispute, but it appears the young Mexican men were trying to escape American authorities after they were sighted on the U.S. side of the border.
One of the Mexicans was captured as they raced below a railroad bridge connecting Ciudad Juarez, Mexico and El Paso,Texas. Customs officials say the officer fired in self-defense as he was being pelted by rocks by the suspects who got away.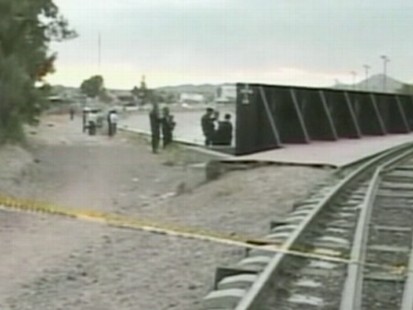 Minutes later, angry Mexican authorities arrived at the scene flashing their weapons, forcing U.S. border officers to retreat.
Outrage
The violence has left Mexicans outraged. Mexican President Felipe Calderon said he would "use all resources available to protect the rights of Mexican migrants." Mexico's foreign secretary said that Mexico wasn't taking the Americans' word for it that the border patrol agent had been defending himself from rock throwers when he opened fire.
An American eyewitness, who asked not to be identified, said Heureka was not the one who threw the rocks.
"I don't believe the kid that was killed this evening was the kid with the rock, it was a different one," the eyewitness said.
Officials from the Mexican embassy claim that this year, 17 of their citizens have been injured or killed by U.S. immigration authorities. That's double the number reported in 2008.
Violence On The Rise
Attorney General Holder confirmed Thursday that the FBI is also investigating the death of Anastasio Hernandez, who died Saturday after a U.S. Customs and Border Protection officer shocked him with a stun gun at a border crossing near San Diego.
U.S. officials say violence along the border has been rising and officers there face increasing danger.
In the last three years, there have been more than 3,000 assaults against U.S. authorities at the southern border. Attacks against U.S. border patrol officers in the El Paso area alone have nearly tripled in that time.
"Rock throwing changes the game from cat and mouse to life and death," said Lou Patch, a border patrol agent.
The Associated Press contributed to this report.