The first time Lisa O'Brien knew something bizarre was happening was when she found her 4-year-old daughter Jacie having a conversation in an empty room.
"I'd say, 'Jacie, who are you talking to?' 'My dad! Talking to daddy,'" O'Brien recalled. "She would tell me she could see him."
Jacie's father had recently died in the 9/11 attack on the World Trade Center. O'Brien said she tried to gently probe Jacie, who revealed that her daddy had been telling her "knock, knock" jokes. Jacie also could recite the names of her father's co-workers, who had all died in the attack -- many of whom her mother said she had never met.
"I showed her a picture and said, 'Do you know who these guys are?', and she said, 'Mommy, those are the boys,'" said O'Brien, who was in awe of her daughter's connection with her deceased dad. "I was jealous…because she got to see them and I didn't."
The O'Briens are just two of many people coming forward in what may be the strangest aftermath of 9/11. For most, the attack on the World Trade Center remains a national and emotional scar, but for some relatives left behind it has also been a step into a spiritual world they say they never could have imagined.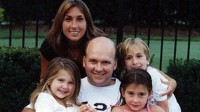 9/11 Widow Recalls Husband's Premonitions
Bonnie McEneaney's strange journey began with premonitions. Her 46-year old husband, Eamon, a legendary athlete turned trader who worked at the World Trade Center, seemed to have a foreboding feeling in the weeks before September 11th. On September 2, 2001 she said they were at a barbecue where Eamon spoke to his brother about the possibility of the World Trade Center being hit again. He was debating whether he should take people to the roof this time or whether he should try to bring them down the stairs, McEneaney recalled. And in the days that followed, she said it was clear that Eamon suspected he didn't have long to live.
"One night, I was cooking, he walked in and he said, 'You had better become more of a disciplinarian with the children because when I'm gone it's going to be hard,'" McEneaney said.
The morning of 9/11, as Eamon got ready to go to work, his wife said there was another sign. In the shower, Eamon had a vertigo attack -- a problem he had developed years before but hadn't affected him in over nine months.
'Goose-Bump' Experiences Common
Speaking with others in the 9/11 community, McEneaney discovered that "goose-bump" experiences like hers were common.
"I think there's probably been close to 200 people that I've interviewed or had discussions with," said McEneaney, who turned their stories into a book called "Messages: Signs, Visits, and Premonitions from Loved Ones Lost on 9/11."
Click here to read an excerpt from the book.
Once a doubter, the former corporate vice president now says she is a firm believer in premonitions. She points to stories like Monica and Michael Iken's. The couple got married on September 11, 2000, and Monica said Michael felt that something was off that morning. During the outdoor service, a jet buzzed overhead, so loud and so close, that they had to stop the service precisely at "I do."
"He just was horrified. He turned to me and was like, 'We're jinxed,'" Monica Iken recalled.
Nearly a year later, on September 9, 2001, the Ikens checked into a hotel at Boston airport.
"He's like, 'Monica, I have to get out of here, right now, we have to check out right now,'" she said.