Arizona's maximum security prison at Florence was not a place suburban parents Tracy and Darien Biggs ever expected to visit. But their former neighbor, Dee Blalock, was serving a 187-year prison sentence at the facility, and the Biggses were determined to speak to him, believing he had the key to what happened to their eldest daughter, Mikelle.
Mikelle disappeared Jan. 2, 1999, at age 11 while waiting for an ice cream truck on a corner of her Mesa, Ariz., neighborhood. Her bicycle was found with the wheels still spinning and two quarters for ice cream discarded on the ground. There were no witnesses, no body found and little evidence.
If you have information that might help solve the mystery of what happened to Mikelle Biggs, please contact the Arizona Police Department on their website, http://mesaaz.gov/police/, or by phone (480) 644-2211.
When Mikelle vanished, police immediately ran a check on all the registered sex offenders in the area. They were surprised to discover that dozens of sex offenders were living within a mile radius of the Biggs house in the child-filled neighborhood.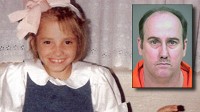 Courtesy Biggs Family/Mesa Police Department
As police searched for any trace of Mikelle, local families launched block-watch meetings to keep an eye on strangers ... and on each other.
"If you're my neighbor, and I see that you're living next to me, and I see something suspicious going on, I guarantee you I'll be calling 911," Blalock told a local newscast at the time.
Blalock appeared to be an outspoken advocate for law and order. He lived about two blocks from the Biggses and was described by neighbors as "friendly" and "personable."
But nearly two years after Mikelle Biggs vanished, the neighborhood got another shock when Blalock was convicted of raping and brutally attacking his neighbor, Susan Quinnett.
"He tried to snap my neck three times," said Quinnett. " He did successfully break it in one place. He put me in a chokehold. ... He choked me until I gave over and fainted."
Quinnett said she had complained to police about Blalock's unwanted advances.
"He was coming up on me. He was drunk. He reeked of beer," she said. "He was putting his hands on me ... in my yard. I called the police. I said, 'The guy is just creeping me out. He's stalking me. ... I've tried to tell his wife.'"
Neighbor Attacked in Her Home
Quinnett did not know that Blalock was more than a local nuisance, but was, in fact, a registered sex offender. He had convictions in three states, but the law at the time did not require the community be notified.
Quinnett said police never followed up on her complaint, and on the night of the attack, he was waiting for her inside her home.
"He was hiding behind the refrigerator and ... had his pants unzipped, and he was exposing himself to me."
Quinnett said she was shocked and asked him what he was doing there.
"I tried to take a few steps, and he already ... had come forward and grabbed me ... and twisted my arm, and started ... forcing me to the ground."
Mesa police described Blalock's attack on Quinnett as brutal.
"One of the worst beatings I've ever seen," said Det. Jerry Gissel.
Quinnett survived the attack. She said she immediately suspected Blalock might also be responsible for Mikelle's disappearance and contacted the Biggses to tell them about her suspicions.
"I had talked to Tracy," she said. "I told her I felt very strongly. He was their closure. He was the answer."