Going Native: 'I Am Trying to Win. Not Sure Everyone Is'
Once back in Afghanistan, Gant returned to Kunar province along the Pakistan border, an al Qaeda and Taliban haven that was the scene of the Navy SEALs' 2005 disaster portrayed in the hit film "Lone Survivor," as well as the location of the 2010 documentary "Restrepo," by war correspondent Sebastian Junger and the late photographer Tim Hetherington. In 2003, Gant's Green Beret team ODA 316 had fought with the Mohmand tribe in Mangwel village and he was still regarded as family by the tribal chief, Malik Noor Afzhal, nicknamed Sitting Bull.
But Gant was still skeptical of America's resolve in halting the enemy's momentum when he arrived at Sitting Bull's doorstep in early 2011.
"I am living in a qalat back in Mangwel, with my tribe in the Konar," Gant emailed a journalist, who later joined ABC News. "I am trying to win. Not sure everyone is."
For one thing, instead of handpicked special operators, Gant got a dozen infantrymen from a Kansas unit who were untested and in some cases barely knew how to use their weapons.
"I was absolutely shocked at how unprepared they were for the mission. But they had heart," Gant said.
He trained them literally overnight and they soon grew full beards and adopted tribal appearance, voluntarily shedding uniforms and body armor for shalwar kameez clothing, pokol caps and scarves. They had to show Sitting Bull's tribe that they did not fear being killed by their Afghan friends, Gant argued. Their Afghan clothing, therefore, was their protection.
"It wasn't about our weapons or our body armor... it was gonna be about how we treated them. And it worked. It worked in a big way," he said.
But Gant painted Spartan lambdas on his humvee guntrucks to let Taliban observers know they were his, which helped him avoid ambushes by intimidated insurgents, he says. Commanders later accused him of destroying government property with the spay-painted symbols.
He didn't fear a fight, taunting the enemy into attacking and often riding on the hood of his Humvee to use his uncanny ability at spotting and defusing roadside bombs -- though one finally hit him in early 2012, launching him from the hood of his vehicle. Gant reported the incident but refused to be medevaced. On another occasion, Tyson was in a guntruck hit by an IED but no one was injured.
"Tell everyone you come into contact with, I did not come here to fight. I came here to help the people," Gant told dozens of tribal police in one 2012 video Tyson shot. "But if someone wants to f***in' fight, they know where I am."
Gant said his challenge intimidated the Taliban and impressed the tribes, whose honor code demands violence for violence.
"You cannot let violence go unanswered and you have to be prepared to be more violent than they are," Gant said. Otherwise, he said, "they'll kill you."
When the Taliban did attack, villagers helped the Americans fight back ferociously -- and Tyson videotaped much of it with her steady hand.
"I'll never forget the courage to fight alongside the Americans, side by side. That was what we needed to win in Afghanistan," she said.
In 2011, Petraeus visited Mangwel, which by then had been dubbed the "petting zoo" by Special Forces commanders because so many VIPs such as Sens. John McCain, Lindsey Graham, Joseph Lieberman and Carl Levin and the leadership of U.S. Special Operations wanted to see Gant's success up close. Gant and his men greeted visitors in full tribal attire.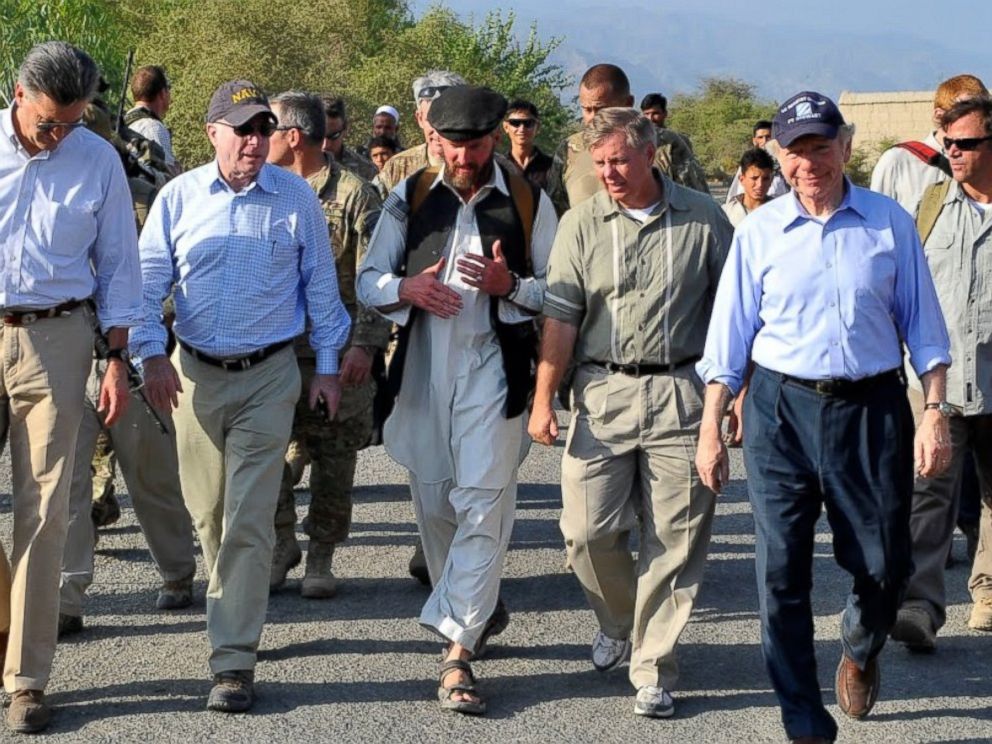 "[Gant] did go native. You go native so that the natives feel that you respect them and are comfortable with them and trust them, above all. And he really was adopted as a son by Sitting Bull... there was no question about the relationship between these two individuals. And that's what you want," Petraeus said.