New York City police and the FBI raided homes in New Jersey and arrested two men at New York's John F. Kennedy Airport Saturday as they allegedly attempted to board a flight to Egypt on their way to link up with a Somalia-based terror group.
The raids and arrests were the latest developments in an ongoing terror probe dubbed "Arabian Knights" that began in 2006 and used an undercover New York City police officer to infiltrate the group. The officer kept tabs on the men arrested right up until they purchased their airline tickets for separate flights to Egypt.
"As in gun trafficking and narcotics investigations, the NYPD cannot acknowledge publicly individual undercover police officers who have infiltrated suspects. Nonetheless, we are indebted to them," New York City Police Commissioner Ray Kelly said.
In a joint statement today, federal and local law enforcement officials laid out details on the arrests on charges of conspiring to kill, maim, and kidnap persons outside the United States.
"The defendants -- United States citizens Mohamed Mahmood Alessa, 20, of North Bergen, New Jersey, and Carlos Eduardo Almonte, 24, of Elmwood Park, New Jersey -- were taken into custody at JFK International Airport in New York on Saturday, where they intended to take separate flights to Egypt on their way to Somalia to join designated foreign terrorist organization Al-Shabaab and wage violent jihad," the statement said. "Waiting for the defendants at the airport was a law enforcement team holding arrest warrants issued by the United States District Court in Newark."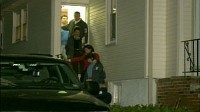 The two defendants were expected to appear in federal court in Newark on Monday. It was unclear whether or not they had legal representation.
Alessa was born in the United States of Palestinian and Jordanian parents. Almonte was born in the Dominican Republic but is a naturalized U.S. citizen.
Kelly said the two had traveled to Jordan in 2007 and tried to get into Iraq, but were ejected by Jordan.
Officials noted that there was no immediate threat from the suspects.
However, Kelly noted, "Even when individuals plan to support terrorist activity abroad, we remain concerned that once they reach their foreign destinations they may be redirected against targets back home, as we've seen in the past."
Alleged Suspect Statement: 'We'll Start Doing Killing'
According to the federal complaint, the case began in October 2006 with a tip to the FBI. An NYPD Intelligence Division undercover officer was enlisted and recorded "numerous meetings and conversations with them, during which the defendants discussed and prepared to carry out their plan."
The preparations included physical conditioning, engaging in paintball games "and other tactical training," as well as gathering thousands of dollars and "acquiring military gear and apparel for use overseas," the complaint said.
Authorities cited a statement by one of the defendants to his colleague and the undercover New York City detective as an example of the defendants' willingness to commit violence in the United States.
They claimed in the federal complaint that Alessa said, "They only fear you when you have a gun and when you -- when you start killing them, and when you -- when you take their head, and you go like this, and you behead it on camera ... We'll start doing killing here, if I can't do it over there."
Officials italicized certain words in the alleged statement to indicate they were translated.