If there is a toy heaven, it just might be here, in western Massachusetts, on a leafy residential street, inside Donald and Sally Kaufman's comfortable home.
It's a child's dream -- nothing but toys stacked floor-to-ceiling, packing the shelves that line the four floors of a special addition they added to display them all.
"People ask me, 'How many toys do you have?'" Donald Kaufman says. "I don't know. I don't really know. But I know I got a lot of toys.'"
Try about 7,000 toys, some more than 100 years old, many of them cars and trucks, a good number of them in just-out-of-the-box condition.
"Oh, it's truly one of the very best antique toy collections in the world," says Jeanne Bertoia, an antique toy collector herself and owner of Bertoia Auctions, in Vineland, N.J.
Now, after spending nearly 60 years amassing his astounding collection, Kaufman is selling his toys. All of them. There are so many toys, Bertoia is holding five to six auctions spread over more than two years to dismantle the collection.
To see more of Kaufman and his massive toy collection, watch John Berman's report Sunday on "World News." Check your local listings for air times.
The first auction of 1,400 toys garnered $4.2 million, easily surpassing pre-auction estimates. The next auction auction will be held by Bertoia Auctions on Sept. 25 and 26.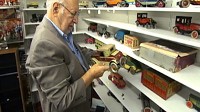 Kaufman does not need the money. He's in his late-70s now and says simply "it's time" to pass the toys on to other people.
Toys Are in Kaufman's Blood
Kaufman's family's dry goods business -- Kaufman Brothers -- eventually became a national chain of toy stores -- KB Toys -- that grew to hundreds of outlets.
Kaufman helped to run the company before the family sold it in the early 1980s for $62 million. KB Toys eventually fell on hard times, went bankrupt and closed this year.
But to Kaufman, toys have never been just business.
Walking amid the shelves of his collection, Kaufman displays a childlike sense of wonder as he stops to pick up a 1930s-era, Flash Gordon-style gun. He pulls the trigger, and the gun wheezes to life, emitting the sound of a siren.
A smile breaks across Kaufman's face. "It had to be fun for a kid. Imagine a kid 70 years ago with that toy," he says.
It's a feeling he has often.
Passion for Collecting Antique Toys Since 1950
"I think of everyone who was involved in it -- the people that took the cast iron out of the ground and brought it to the foundry, the manufacturers, the distributors, the wholesalers," Kaufman says.
"If this toy could talk -- I always think about that. I'd like to know, I'd love to know -- where it's been, who played with it, who made it," he says. "I'd like to know all those things, which you never do know, but you just imagine."
Kaufman began collecting antique toys in 1950.
"I loved toys when I was a kid, I was in the toy business, and they just had a great appeal to me. And they just turned me on. Old toys turn me on. They really did. They still do."
His hobby began slowly at first. "It took me a long time to really get started, but I did. I'd buy a few toys a year; it took me a long time to spend $100."
His collecting really took off after he met his second wife, Sally, whom he married in the early 1980s, and retired from the toy business. The two traveled around the Eastern U.S. to toy shows and auctions, often with a rented U-Haul trailer hitched to the back of their Ford Econoline van.