Diane Cerulli's colleagues have always sought her out for health advice, and as a certified medical assistant, she did a "pretty good job" of diagnosing their aches and pains.
But she couldn't see the scam coming -- an online offer to get a medical degree by taking a test based on life experience for a mere $1,400.
"I always wanted to be a doctor, and I thought this was a dream come true," said the 59-year-old from Matawan, N.J.
After taking the multiple-choice test, Cerulli received a letter from Belford University, one of many online schools that purport to be accredited. It read: "You are now a doctor. Diplomas and paperwork will be mailed to you after you pay $1,400 for the degree."
Cerulli said, "Foolishly, I did that. I was told I could see patients and prescribe medicine. What was I thinking?"
Cerulli is one of hundreds of victims of online scams that offer university and high school diplomas for cash, according to the Better Business Bureau (BBB).
These aspiring students were told by college admissions offices, potential employers and military recruiters that their credentials were worthless.
Online Education Up 12 percent
Online-based classes have become increasingly popular for students of all ages.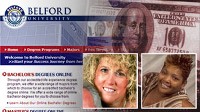 ABC News Photo Illustration
According to a 2008 survey from the Sloan Consortium and Babson Survey Research Group, 3.9 million students were enrolled in at least one online course in 2007, a 12 percent increase over the previous year.
Many of these online institutions are reputable, but many are being described as "diploma mills" that dupe those looking to advance their education.
"Today, my rational thinking is in full bloom, and I could get into a lot of trouble if I put up a shingle and called myself a doctor," said Cerulli.
The BBB has received 139 specific complaints about Belford High School and Belford University alone.
"It's amazing what people fall for," said Houston office spokeswoman Deana Turner, who is handling all the complaints.
If It's 'Quick and Easy,' Ask Questions
"People who want to further themselves see something that looks really quick and easy," Houston's BBB spokeswoman told ABCNews.com. "People should know that if they get a college degree, there is a lot of time involved."
Belford's Web site touts: "Get a degree for what you already know!" It also offers "easy access" to degrees in all fields for "as low as" $249!"
For some time, Cerulli had been looking online for scholarships to medical school.
Belford offered a slew of degrees in accounting, physician's assistant and more. Ten minutes after inquiring online, she received a call from a "student counselor."
She recalled, "It didn't seem right to me, that you could pay for a degree. I repeated, 'Are you sure it's legal?' and he said, 'Absolutely.'
"I was so excited, and he was so convincing," she said. "I just went ahead and did it."
ABCNews.com contacted Belford at its offices in Humble, Texas, and initially talked to Calvin McCloy, who identified himself as a "student counselor." He said the school's principal, Marsha Marshall, "does not accept calls."
Double-Scam Technique Common
The BBB says Belford High School also may be using a double-scam technique to lure visitors to its site, according to the BBB.
The Web site BelfordHighSchoolScam.com, rife with grammatical errors and oblique testimonies, offers "questions and confusions in your mind being answered here."