Far from the carnage on Wall Street, thousands of banks in the U.S. are still going strong, and still making loans on Main Street.
Union Bank and Trust has been anchored on the corner of Main and Madison streets in Evansville, Wis., since 1897.
For brothers Chris and Steve Eager, keeping this bank in the black is a point of family pride. The community bank has been part of the family since the Eager's great-grandmother bought it in 1916, and they still run it the old-fashioned way.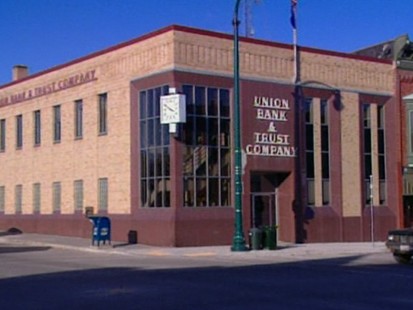 "We take the deposits from local customers. We turn around and re-lend that money to our neighbors and friends," said Chris Eager, the bank president. "There's still a lot of credit-worthy farmers out there."
For generations, conservative banking practices, like insisting on sizable down payments and plenty of collateral, have allowed many small-town banks to prosper by what they jokingly refer to as the "three-six-three" rule.
"You paid 3 percent on your deposits. You charged 6 percent on your loans. And you were on the golf course by 3 o'clock," said Eager.
Those days are long gone. Evansville, like so many other small towns around the country, is suffering. But small banks that are deeply rooted in their communities are foreclosing on far fewer properties than bigger banks.
"We're trying to help people stay in their homes, trying to help businesses survive," Eager said. "We're lending to people that we know and people that we believe can afford the house and can afford to repay us."
Out of their approximately 1,000 mortgages, Union Bank and Trust has foreclosed on only five. In Wisconsin, community banks -- those with assets of $1 billion or less -- account for only 5 percent of foreclosures, according to the state's Community Banker's Association.
Union Bank and Trust is extending loan terms and lowering interest rates to keep customers solvent. The Eagers have helped keep the beer flowing at the Night Owl Grill since 1985 -- through both good times and bad.
"Without them, I think Main Street would look a lot different than it does today," said Greg Ardisson, owner of Night Owl. "Because of their help, I'm going to survive this."
Wall Street Giving Small Banks a Bad Name
Farmer Glenn Brewer needs to borrow up to $100,000 dollars to plant his spring crops. After 35 years with the bank, he's not worried.
"We have to put the crops in. We have to feed the cows. Every two or three months now we're going to have to go into the bank to borrow several thousand dollars just to keep going," Brewers said. "They're keeping me...they're keeping a lot of farmers going."
In this small town and others like it, bankers on Main Street have some harsh words for their high-flying counterparts on Wall Street.
"They are giving us all a bad name. They are making too much money. They are taking too much risk," Eager said. "They have let greed and their own compensation override any sense of underlying economic principles."
Risks taken by Wall Street titans may have scored record profits, but old-fashioned bankers like the Eager brothers avoided it. The bank decided against sub-prime loans, despite their potentially lucrative fees, because they went against their lending principles.
Now, Union Bank and Trust is poised to weather this financial storm without taxpayer dollars and TARP funds. The Eagers don't want or need federal bailout money to stay afloat.
"We don't want the money and we don't want the government going home with us at night," he said.
On Main Street, community bankers believe a bank that's "too big to fail" is simply too big.