Naomi Campbell has continued to work as a supermodel despite being 39, but even though she's been able to defy fashion industry norms, she says black and other models of color are having a tough time in the recession.
"This year, we have gone back all the way that we had advanced," she told The Telegraph last week. "I don't see any black woman, or of any other race, in big advertising campaigns."
Naomi said Italian Vogue's Black Issue last summer "made some noise," but didn't actually cause any changes in how often minority models are booked. "People, in the panic of the recession, don't dare to put a girl of colour in their campaign, full stop," she added. "Nor of any other race. It's a shame. It's very sad."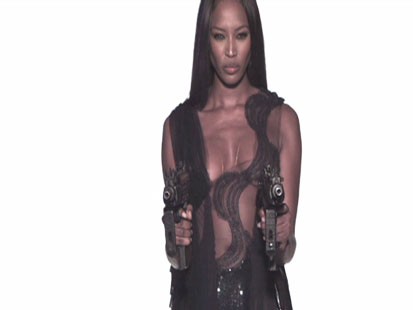 Naomi has been in the fashion biz for a loooong time, so she's seen a lot, but is she just talking out of no where with this attack? I mean, black, Hispanic, and Asian models have always taken a back seat to white models, so what's so different during the recession?
While her accusations are nothing new, they do actually hold weight, especially in this economic climate.
Blonde-haired, blue-eyed models are having a renaissance now as advertisers abandon quirky models that have dominated the runways in recent years. Advertisers are now searching for wholesome-looking blondes who will reassure consumers, instead of shock them.
"In a recession clients won't stick out their necks, they know what sells and they want to hire models with wide-ranging appeal. When every penny counts, they're much more likely to opt for the formula that sells the best," said Carol White, founder of Premier Model Management, to the Times Online.
Also, only one magazine, i-D, chose to put women of color on the cover of its September issue. We won't be able to tell for sure whether minority models are truly being abandoned by the fashion industry until New York Fashion Week. We'll be watching and we hope to see these following models of color -- and more -- strutting on the catwalks.