From the start, the odds were against them.
She was an American pop diva and worldwide celebrity worth millions. He was a British director of snarky gangster films with a love for the English countryside. Ten years his senior, she had changed men more often than many women change handbags.
When Madonna and Guy Ritchie announced on Wednesday that they were splitting up, few were surprised.
"Madonna and Guy Ritchie have agreed to divorce after seven-and-a-half years of marriage," her spokeswoman Liz Rosenberg said in a statement released yesterday. "They have both requested that the media maintain respect for their family at this difficult time."
Hours after confirming her divorce, Madonna was back on stage in Boston for the latest installment of her "Sticky & Sweet" tour. She seemed to take a swipe at her soon-to-be ex when she dedicated a song to the "emotionally retarded":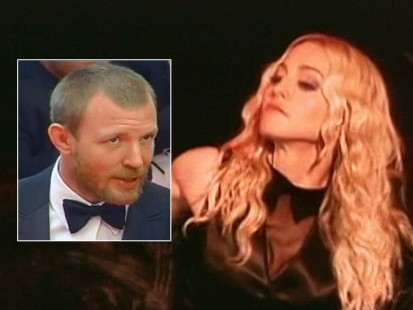 "This song is for the emotionally retarded. You might know a few people who fall into that category -- God knows I do," she said. Video from the show quickly became an Internet sensation.
"We saw it coming," Ian Drew, editor at large at Us Weekly, told ABCNews.com. "There have been reports of strife for such a long time and where there's smoke, there's fire."
Since the beginning of the year, speculation has grown that their marriage was on the rocks. Increasingly separate public appearances by the couple forced their rep to issue a statement in March saying, "Just because Madonna and Guy haven't been expressing themselves in public lately doesn't mean their seven-year marriage is on the rocks. I am delighted to confirm that Mr. and Mrs. Guy Ritchie remain happily married.
In July came the bombshell headlines linking Madonna to Yankees slugger Alex Rodriguez. Their "affair of the heart" put the nail in the coffin of A-Rod's marriage to Cynthia Rodriguez, according to her lawyer.
Madonna denied any romantic involvement with Rodriguez. She told People magazine on July 6: "My husband and I are not planning on getting a divorce. I know Alex Rodriguez through Guy Oseary, who manages both of us. I brought my kids to a Yankee game. I am not romantically involved in any way with Alex Rodriguez. I have nothing to do with the state of his marriage or what spiritual path he may choose to study."
But, since news broke of her divorce, a source told US Weekly that the singer and the slugger "are definitely romantic. A-Rod and Madonna are more involved than ever."
Was it the other guy, Madonna's larger-than-life career or the couple's age gap that doomed their marriage?
Drew said he thinks it's all the above and more.
"Age is one factor, but there are many factors," he said. "Obviously she's a massive pop star; she's known to be very controlling; there's Kabala, all the kids. I don't think it's one thing. It's such an unusual mix of things that led to this."
"It's the fact that he's with Madonna," Drew said. "There's just one Madonna. You're not going to find anyone who can be with her. She's extremely difficult to be with."
At first, it seemed the Material Girl had met her match after she was introduced to Ritchie by his friends Sting and wife Trudi Styler in 1998. The couple had a son Rocco in August 2000 and married three months later in the century-old Skibo Castle in Scotland.
"I think it's very challenging to have a successful marriage, especially when you're two strong-willed people, people that have, you know, very busy careers that have you working all over the world," she told ABC News Radio two months before the couple's fifth anniversary in 2005. "You know, it requires a lot of teamwork and compromise and I consider that to be an accomplishment."
Compromise was clearly something Madonna had to learn. In 2004 she told ABC News Radio that marriage taught her that "giving in and compromising and saying you're sorry does not make you a weaker person and in fact it often gives you the upper hand in the long run and that's a big lesson to learn, especially for a selfish pop star like me."
Relationship writer Valerie Gibson, author of "Cougar: A Guide for Older Women Dating Younger Men," thinks the couple's age discrepancy had little to do with their breakup.
Ritchie strikes Gibson as "strong, dominant, bossy, intractable," qualities that may have been attractive to Madonna for a while, she said. "She's had her younger man thing, the bossy guy who spanks her," Gibson said. "Now feels she's ready for something else. She's bores easily."
But Gibson said she is pretty sure the next man will also be younger.
"She's a forever young type of woman," Gibson said. "She will always look good, be in great shape and attract younger men. She's 50 going on 30 and Ritchie's 40 going on 50. She's probably in every way younger than he is."
Gibson points to other cougar women who have had successful relationships with younger men. Susan Sarandon and Tim Robbins have been together nearly 20 years and raised three children despite their 12-year difference.
"They are obviously very well matched, equally successful and similar in nature and they have goals and principles that are the same," Gibson said.
Demi Moore and Ashton Kutcher also share common goals despite their 15-year age difference. "They do adore each other," Gibson said. "There's no question those people are in love."
Psychologist Dorothy Cantor said a big age gap does put "additional stress on a relationship." And for women who are older, there's not only the generational gap but the going against societal expectations.
"In addition to the real issue of we come from a different place, now you have the cultural reversal," Cantor said. "You're not looking up to the man. I think it's harder for an older woman with a younger man."