Here's the scene: after a woman, tanked on tequila and antidepressants, throws up and passes out, her date proceeds to have sex with her.
Is it rape or comedy?
The makers of the new film "Observe and Report," which opened Friday and stars Seth Rogen and Anna Faris, are calling it comedy. While some movie critics say they get the joke, several women bloggers and sexual assault victim advocates are expressing outrage by what they call a mainstream validation of date rape.
"I think about all the women I know who have been raped, sitting in the theater, thinking they are getting a funny little respite from their serious lives, only to see an experience they've had depicted as a big joke," writer Courtney E. Martin, who blogged about the film for feministing.com but refuses to pay to see it, told ABCNews.com. "I think they will be traumatized."
From interviews with the film's stars and director, it's clear they are hoping many more in the audience will be entertained.
Rogen, known for playing harmless, if not immature, male characters in films such as "Knocked Up," takes a darker turn in "Observe and Report" as Ronnie, a bipolar mall security guard prone to fits of rage and violence.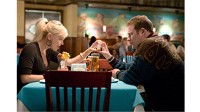 Peter Sorel/Warner Bros. Pictures
He talked about the controversial scene -- part of which can be seen in an R-rated trailer circulating on the Internet -- in an interview with the Washington City Paper: "You can literally feel the audience thinking, like, how the (expletive) are they going to make this OK? Like what can possibly be said or done that I'm not going to walk out of the movie theater in the next 30 seconds? And then she says, like the one thing that makes it all OK."
Rogen is referring to Brandi, a makeup counter saleswoman played by Faris, who is out cold while Ronnie obliviously carries on. When he pauses for a moment to take note of her unconscious state, she murmurs without opening her eyes, "Did I tell you to stop, mother f*****?"
In his review of "Observe and Report," Time magazine film critic Richard Corliss calls that scene "the finest thing" in the movie. Reports from some screenings are that it drew the biggest laughs.
'Observe and Report's' Faris Queasy About Date Rape Scene
Still, the scene makes a lot of people queasy, including Faris.
"It kind of gives you pause. It's like date rape," the star of the "Scary Movie" franchise and "The House Bunny" told New York magazine. "Like, hmmm, that's funny, uh, right?"
"When the scene was shot," she told the magazine, "I was lying there thinking, 'This is wrong on so many levels. There is no way Warner Bros. is going to keep this in.'"
Warner Bros. and the film's stars did not respond to requests for comment from ABCNews.com.
"I think that's what disturbs me the most is this scene was purposely put there to elicit humor," Jennifer Storm, a rape survivor and educator in Harrisburg, Pa., told ABCNews.com. "Obviously, everyone is pushing the limit, but it's even more appalling now that rape is a joke."
Storm, who wrote about being raped twice after drinking and blacking out in her memoir "Blackout Girl," is worried that the seriousness of date rape, which happens to a reported one in six women, will get lost in the laughter. She stopped short of seeing the film after seeing the R-rated trailer for it.