Fantastical and dreamy, dark and otherworldly, Tim Burton's "Alice in Wonderland" looks exactly as fans might expect, which is to say, not like any other adaptation of the Lewis Carroll fairy tale ever made.
The first official scenes from Burton's "Alice in Wonderland" debuted at pop culture convention Comic-Con today during Disney's 3-D panel, which also featured clips from Robert Zemeckis' "A Christmas Carol" and the sequel to the 1982 sci-fi film, "Tron." (Leaked "Alice" clips appeared on YouTube earlier this week and were promptly ordered down by Disney.)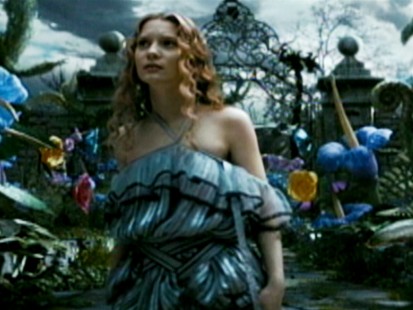 Burton's
"Alice" combines live-action footage with 3-D, CGI animation to create stunning visuals, or, as he called it in San Diego at
Comic-Con
, a "freak show." Although Burton's movie is a takeoff on the classic story -- a teenage Alice follows the White Rabbit from a high-society party back down into Wonderland, now ruled by the evil Red Queen -- the trailer features scenes familiar from the 1865 tale, including Alice drinking a bottle of magic potion and meeting the Cheshire Cat.
Below, take a look at the stars of Burton's "Alice in Wonderland," which hits theaters March 2010:
Johnny Depp
Not your ordinary Mad Hatter, Oscar-nominated actor Johnny Depp takes the role in what will be his seventh collaboration with Burton. The pair's other films together include "Edward Scissorhands," "Ed Wood," "Sleepy Hollow," "Corpse Bride," "Charlie and the Chocolate Factory," and "Sweeney Todd: The Demon Barber of Fleet Street."
Helena Bonham Carter
Helena Bonham Carter, Burton's real-life partner, plays the villainous Red Queen, who is most famous for the line "Off with their heads!" Like Depp, Carter has worked with Burton in a number of films including "Sweeney Todd," "Corpse Bride," "Charlie and the Chocolate Factory," "Big Fish," and "Planet of the Apes."
Anne Hathaway
A newcomer to Burton's films, Anne Hathaway plays the White Queen, the kinder monarch who is betrayed by her evil sister, the Red Queen. Hathaway has experience playing royalty: She starred in "The Princess Diaries" and its sequel.
Mia Wasikowska
Australian actress Mia Wasikowska, 19, best known for playing Sophie in the first season of HBO's "In Treatment," plays Alice.
On his decision to cast a relative newcomer in the lead role, Burton told USA Today, "We met a lot of people, but she just had that certain kind of emotional toughness, standing her ground in a way that makes her kind of an older person with a younger person's mentality."