English singing star Susan Boyle may be resting at the Priory Clinic in north London, but Britain's tabloids are hardly taking the day off.
Led by The Sun, the tabs today gushed with details about the overnight sensation's reported mental breakdown that led her to check into the well-known celebrity rehabilitation center Sunday.
The Sun reported that Boyle cried all day after placing second in "Britain's Got Talent," screamed "I hate this show" at producers and threw a glass at hotel staff before eventually fainting. As she was checked into the Priory Clinic, she was calling out for her cat "Pebbles," the Sun reported.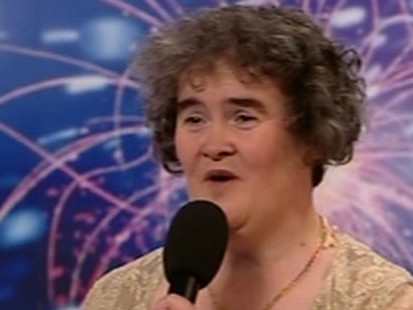 "I don't think anyone understood the far-reaching implications of Susan's learning disability," Sara Nathan, the Sun's television editor told "Good Morning America" today. "I don't think people quite realized how difficult she was and the extent of her problem."
Boyle would not be the first person to crack under the media scrutiny and pressure of television competition. In the "Britain's Got Talent" semifinals, 10-year-old Hollie Steele broke down in tears after flubbing her song.
"TV production companies need to think how they consent people for these kinds of programs because I wonder whether people are aware just how much publicity they are going to have," Chris Thompson, chief medical officer at the Priory Clinic, told the BBC.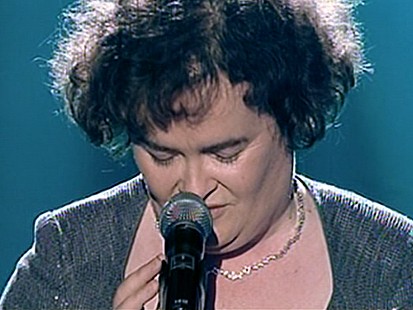 But "Britain's Got Talent" judge Piers Morgan downplayed Boyle's trip to rehab, saying some of the details were overblown.
"The reports of her running around half-naked were massively exaggerated," Morgan told "GMA." "She was feeling the heat... it wasn't because she lost, she was incredibly dignified in her defeat... Let me assure, she's fine."
Boyle Falls Short of Victory
Saturday, Millions of Brits decided Boyle didn't deserve the top prize on "Britain's Got Talent."
The television company talkbackThames, which produces "Britain's Got Talent," said the 48-year-old singer was "exhausted and emotionally drained" and was taking a few days off.
"She has been seen by her private GP who supports her decision to take a few days out for rest and recovery," the company said. "We offer her our ongoing support and wish her a speedy recovery."
In a post-show vote by fans, Boyle was bested by the 11-person street dance group Diversity, which performed a high-energy dance number that got the crowd and the country roaring.
Boyle fell back on familiar territory, performing "I Dreamed a Dream" from the musical "Les Miserables."
In April, Boyle's rendition of the same song made her an overnight global sensation. Tens of millions of people online watched the spectacle of the 48-year-old singer appearing out of place and unlikely to impress the judges or the audience, her attire frumpy, her haircut no-nonsense. Instead, she shocked the world by belting out the show tune favorite and commanding the stage.
Her unexpected performance got her on "Oprah" and "Larry King Live," and even won her accolades from London stage veterans like Elaine Paige and Hollywood power couple Demi Moore and Ashton Kutcher.
Diversity, from the suburban county of Essex, east of London, performed flawlessly. Their performance, a mix of break dancing and choreographed artistry, brought the judges and the crowd to their feet.
Judge Amanda Holden, a television host, told the group, "You have left me speechless. I think you've blown Flawless [another street dancing troupe in tonight's final] out of the water."
The crowd mostly cheered, but loud boos could be heard from supporters of other performers.
Simon Cowell, the notably ascerbic judge on "Britain's Got Talent" and the U.S. performance show "American Idol," gave a definitive blessing.
"All bets are off," he said. "This is the only performance tonight I would give a 10 to."
He called the choreography "sheer and utter perfection."
Talent agent Dane Millard said Diversity may have profited by the fact that it was the second-to-last act. However, Millard says of all the acts, "theirs was the best of the evening.
Saga of Susan Boyle: All You Need to Know
"Diversity had inventiveness, wit, energy and flawless execution," Millard said. "I could see them on tour soon and/or doing support dancing for any talent in the world."
Boyle Had a Rough Week
Boyle's performance tonight came after a hard week for her. The church volunteer from Broxburn, Scotland -- population 14,000 -- was caught on camera last Wednesday gesturing obscenely at a pair of reporters and reportedly was overheard by police shouting "How f***ing dare you! You can't f***ing talk to me like that."
Critics and detractors assumed Boyle had cracked under the pressure and reports surfaced that she was not going to make the final.
London's The Sun tabloid, never a newspaper to pull a punch, led with the headline "SuBo Goes Loco" the following day.
In a recent performance, Boyle glowed. Her silver sequined gown draped to the floor, her demeanor was confident and fully in control -- in every way a diva. Her performance garnered a standing ovation from the audience and the judges.
Judge Piers Morgan, who appears to have become one of Boyle's supporters, told her, "You've had a very difficult week boiling over, cracking up. All I kept thinking about was that all you had to do was sing the song you sang before. That to me was the greatest performance I have seen in any 'Britain's Got Talent.' You should win this competition."
Boyle beamed. The crowd cheered and jeered.
Cowell told Boyle, "You had a weird seven weeks. You could have walked away and you could have a lot of stuff coming at you from America. Win or lose, you have the guts to come back here tonight face your critics -- and you beat them."