The mud is flying on late-night television these days.
And it's coming from all corners. Jay Leno and Conan O'Brien have turned their ire toward NBC over the "Tonight Show" debacle toward each other.
Even David Letterman, no friend of NBC, is chiming in.
And plenty of other television personalities have piped in as well.
With so much mud flying, ABCNews.com thought it would be useful to have a primer on who said what. Below, late night's mudslinging match:
Rosie O'Donnell on Leno
O'Donnell blames Leno for pushing O'Brien from his "Tonight Show" perch.
"It was a really crappy move on Leno's part," O'Donnell told Us Weekly. "It was kind of career defining."
"Conan moved his family across the country and his entire staff to get a shot at what he worked 17 years for only to get it taken away by the bully on the playground who doesn't want to let go," she said.
O'Donnell compared Leno to Jeff Gillooly, who, along with wife figure skater Tonya Harding, orchestrated an assault on rival figure skater Nancy Kerrigan.
"At least Jeff Gillooly took a pipe and [admitted] he did it," O'Donnell said. "He didn't do it and go (imitating Jay Leno's voice), 'I don't know who hit her.' Gee, it was you, you're the one who hit her right in the knee, you know?"
Jon Stewart on Jeff Zucker
Stewart blamed NBC Universal chief Jeff Zucker for the late night brouhaha.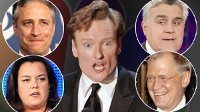 ABC News Photo Illustration
"He's the Cheney of television," Stewart said referring to former Vice President Dick Cheney, "just shooting shows in the face."
Letterman on Leno
After Leno told his audience Monday night that he had "no animosity" toward O'Brien and that the "Tonight Show" host was essentially not to blame in the late night debacle, Letterman decided to enter the fracas.
On Tuesday night, he ripped into Leno, calling him a "phony" who steals bits from other talk show hosts.
"Last night, Jay gave his state of the network speech, and he said that we should not blame Conan for what's going on. And I said to myself, 'No one is blaming Conan.'"
Letterman blamed Leno for not stepping aside the way Letterman did the last time the "Tonight Show" changed hands.
"Five years ago when NBC said to Jay, 'You know what, Conan is going to take over your job in five years.' That's when you say, 'OK, fine no hard feelings,'" Letterman said. "You call ABC. You call Fox. You try to get my job. But you leave."
"It's just part of evolution. You get fired and get another gig. Don't hang around waiting for somebody to drop dead," he joked.
Leno on Letterman
Leno fired back at Letterman Wednesday night, with a blow that may have been below the belt.
During his monologue, Leno told the crowd and band leader Kevin Eubanks that "Letterman has been hammering me every night."
Turning to Eubanks, he continued, "Hey Kev, you know the best way to get Letterman to ignore you? Marry him. He will not bother you. He won't look you in the eye."
Dick Ebersol on O'Brien
Ebersol, the chairman of NBC Universal Sports, came to Leno's defense, saying the reason for his return to late night came down to one thing: poor ratings for O'Brien's "Tonight Show."
"What this is really all about is an astounding failure by Conan," said Ebersol, a frequent consultant on changes to NBC's late-night lineup.
Referring to jabs made by O'Brien and Letterman, Ebersol said it was "chicken-hearted and gutless to blame a guy you couldn't beat in the ratings."
Jennifer Lopez on O'Brien, Leno and Letterman