It's true. Divorce and trying times go hand in hand but rarely does one partner attempt to split from another while on his deathbed.
That's what's happening with Dennis Hopper. The Hollywood actor said Monday that he is seeking a divorce from his fifth wife, Victoria Duffy-Hopper, while fighting an increasingly grim battle against prostate cancer.
In a statement, Hopper said, "I wish Victoria the best but only want to spend these difficult days surrounded by my children and close friends."
The 73-year-old actor announced his cancer diagnosis in September 2009. He and Duffy-Hopper, who married in 1996, have a 6-year-old daughter, Galen. Hopper also has three other children from previous marriages.
In a statement to Reuters, Hopper's oldest daughter, Marin, said, "Dennis is brave, and he is fighting a hell of a battle."
The 1969 film "Easy Rider," which Hopper directed and starred in, made him a major player in Hollywood. Before that, he'd acted alongside James Dean in "Rebel Without a Cause" and "Giant." In 1979, Hopper appeared in "Apocalypse Now" and in 1994, "Speed." HIs more recent work includes a major role in the TV series "Crash."
While Hopper's divorce may seem shocking given his failing health, the actor is no stranger to marital woes. In 1970, he wed Michelle Phillips of the Mamas and Papas -- their union lasted a grand total of eight days. Phillips later told Vanity Fair that she was subjected to "excruciating" treatment while with the actor.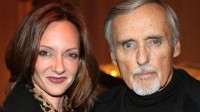 Hopper's far from the first star to undergo a nasty divorce. Being in the public eye can make a breakup burn like nothing else. Below, check out 10 other noteworthy divorces, and the salvos that made them infamous.
Jon and Kate Gosselin
Just when it seemed the couple made famous (then infamous) by TLC's "Jon & Kate Plus 8" couldn't spiral downward any further, last fall, Kate accused her ex-husband of draining $230,000 from their joint bank account.
"If I have to work at McDonald's, I will do what I have to for my kids," Kate told ABC's "The View" at the time.
Jon shot down Kate's story, claiming on "The Insider" that he withdrew only $22,000 and Kate should barely feel the hit since "she's hiding money." From there, things have only gotten worse for the Gosselins: a judge ordered Jon to stop blabbing about his personal life to the press, his New York City apartment was subsequently burglarized, and Kate got $7,000 hair extensions that, according to Us Weekly magazine, she now hates.
Charlie Sheen vs. Denise Richards
Most recently, Charlie Sheen has made headlines because of his marital woes with wife Brooke Mueller -- he was arrested on domestic violence charges Christmas Day. But not long ago, it was Sheen and ex-wife Denise Richards' back-and-forth that made their divorce the subject of countless tabloid headlines. The faux pas that took the cake came in June 2008, when Richards released a three-year-old, expletive-laced voice message from Sheen. The highlight: a curse-filled rant from Sheen calling his ex-wife -- and the mother of their two daughters Sam, 5, and Lola, 4 -- a "f***ing c**t" and a "f***ing n****r." Sheen, star of "Two and a Half Men," followed up by releasing an apology for what he called his "choice of words."
Christie Brinkley vs. Peter Cook